Local partners are vital to supporting millions affected by Ukraine war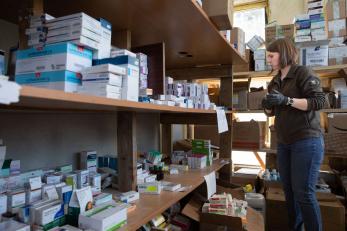 July 14, 2022
Providing shelter, delivering essential supplies, evacuating children and people with disabilities to safety—these are some of the life-saving work carried out by Mercy Corps' partners to meet the needs of millions affected by the war in Ukraine. Since the war began in February, we have supported local organizations in Ukraine, Poland, and Romania. We are now partnering with 40 organizations across the region who directly serve those who have been affected by the war.
In areas facing intense conflict, people are running out of supplies like food, water, medicine, and diapers. Towns and cities in the west of Ukraine have grown two or threefold with the influx of displaced people and are unable to respond to the needs. According to the U.N., 15.7 million people are in urgent need of humanitarian aid.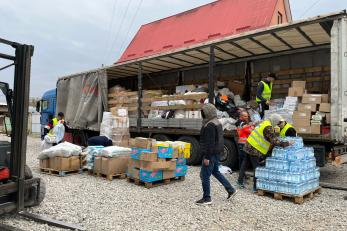 On the northern border of Romania, Șansa Ta Association ("Your Chance," in English) delivered supplies to more than 3,000 people who remained in Ukraine and transported 1,500 people out of Mariupol. Șansa Ta Association, one of the five local Romanian partners Mercy Corps financially supports, has delivered food, water, medicine, blankets, and hygiene products that were distributed to refugee centers across Ukraine. The NGO also runs shelters in Bucharest and helps transport refugees safely out of Ukraine.
In Ukraine, we're funding 17 local partners across the country to shelter some of the 1.7 million people who have fled their homes. In addition to distributing critical supplies, our partners are evacuating people in conflict-affected areas and providing childcare in western Ukraine. Around two-thirds of children in Ukraine are now displaced, either fleeing to nearby countries or are displaced within the country. Many children are crossing the borders alone and are especially vulnerable to being exploited. The damage of the war will have lasting effects on children for years to come, both mentally and academically.
NGO Kamyanytsya Austria is one of our local partners in Ivano-Frankivsk, Ukraine. Upon seeing how the children staying in the city were greatly affected by the conflict, they set up a daycare offering art therapy, safety and first-aid classes, and activities like drawing, reading, and cooking. There are currently 30 children, between the ages of 6-10, who are receiving support to improve their wellbeing. While the children are cared for, their parents can catch their breath and plan for what's next.
In eastern Ukraine, our partners have been evacuating people from unsafe areas and homes that had been destroyed. They have prioritized women, children, elderly people, and people with disabilities to relocate to safer areas in the country. People with disabilities have had limited or no access to information or accessible shelters.
There are 2.7 million people with disabilities registered in Ukraine and many have been separated from their support networks, making it extremely difficult to navigate the situation. Mercy Corps is partnering with local organizations who have a history of serving people with disabilities to provide shelter and legal information for children and adults with disabilities and their families.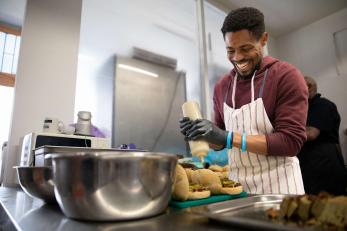 Our 18 partner organizations in Poland are delivering supplies to Ukraine, providing legal and psychological support to families, and supporting temporary shelters for the nearly 3.3 million people who have fled to Poland. Many Romani refugees and third-country nationals, including migrant workers and people in transit from one host country to another, fleeing Ukraine have faced discriminiation and have had a difficult time accessing transportation and other essential services.
With support from Mercy Corps, our partners have provided transportation and help with locating housing for Romani refugees who migrated to Poland, Germany, and Sweden. Non-Ukrainian citizens received emergency shelter and transportation, translation, food, and critical information for those arriving in Warsaw. Local organizations are hosting and providing aid vouchers to marginalized communities, including people who are LGBTQ, who face a greater hurdle in accessing services.
Mercy Corps' partnerships with community organizations are crucial to our emergency response in the region. From mental health services to providing legal support, we have worked with our partners on a holistic approach to help those affected by the war. Their organizational expertise and established relationships within their communities are invaluable as we continue to support the many people who need access to supplies, shelter, and vital information on how to keep their families safe.
Join us in building a more equitable world.