Parenting teens during COVID-19: Lessons from around the world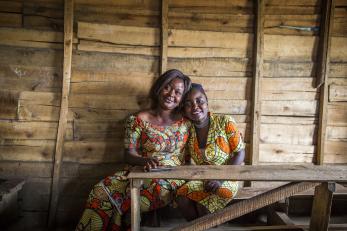 May 18, 2020
Remember when you were a teenager and your parents totally didn't get it. It's an awkward and exhilarating transition, stumbling towards being a grownup. Introduce a global pandemic, a mandate to stay home, an abrupt closure of schools and all activities—and being a teenager just became even more complicated. We're living through a moment in history without knowing what life is going to look like on the other side. And I'll be the first to say that I don't get it. 
In the midst of our own anxieties, how can we support teens during a time in their lives when social connection and experimentation is critical to who they are and who they become? Fairly new science tells us that the adolescent brain is nowhere near maturity and undergoing a process of immense structural change. One result is that adolescents are more vulnerable to stress and anxiety because those structures and connections that help manage emotions are not fully developed yet. 
As a humanitarian with Mercy Corps, I support adolescents living in some of the world's most fragile communities to build healthy lives. I have worked all over the world—with Syrian refugees fleeing conflict, Kenyan pastoralists contending with drought, and Liberian youth rebuilding after Ebola—and one thing is constant: the unflappable resilience of young people. 
Living through the uncertainty of a global pandemic is new for most of us in the US, but the young people I work with have experienced an incredible amount of trauma and loss. They get it. And they're still teenagers. 
I met a group of adolescent girls in rural Niger, where only thatched huts and sandy patches of sorghum dotted the landscape. Here, where the average girl attended school for just one year, The girls spent their days collecting water and caring for younger siblings. When I asked them if they have access to money and how they spend it, they all smiled big. One of the older girls showed me a single tube of lipstick (vibrant pink) and a small bag of lollipops that she had bought at a far-away market. Of course. Cosmetics and candy. That's what I spent my babysitting money on when I was young. I think of this story often because it reminds me that they're not quite children or adults —and that experimenting with bright lipstick is nearly universal among girls. 
In Niger and elsewhere, Mercy Corps provides adolescents with safe spaces to meet with mentors and friends, access to education or safe economic opportunities, and opportunities to gain new knowledge and skills that they need to navigate life. Central to our work is psychosocial support to meet the psychological and social needs of young people. Here is what I've learned when it comes to supporting adolescents in the face of COVID-19 (and beyond):
Show empathy
It's easy to throw up our hands in frustration with teens' unpredictable moods, but what they really need is empathy. Studies show that teens with empathy are better able to regulate emotions, listen to others, and approach the future with skills and strategies that enhance resiliency in diverse conditions. 

Empathy—the ability to understand and share the feelings of someone else—is at the heart of much of Mercy Corps' work in the Middle East. In Jordan, our youth mentors employed neuroscience-based instruction, which prioritizes relationship-building skills like expressing affection and empathy, to teach life skills and play sports with Syrian refugees and their host community peers. We partnered with Yale University in a randomized control trial, which showed positive results: Adolescents in the intervention group demonstrated a 30% reduction in cortisol (otherwise known as the stress hormone). In a subgroup with statistically low levels of cortisol (a phenomenon linked to higher risk of PTSD) cortisol production increased by nearly 60%, which is a healthy sign. 
Mentors matter 
Across Mercy Corps' programming—from Nigeria to Uganda to Nepal—we connect adolescents with mentors who support them in learning life skills, like setting goals and managing money; cultivating strong friendships, and making healthy choices on their way to adulthood. Global evidence shows that teenagers have improved self-esteem, problem-solving skills, and relationships when they connect with a mentor. This makes sense. As adolescents gain independence from their parents, they need other trusted adults to confide in and to seek guidance. A quick Google search returns a number of trusted programs that connect adolescents with mentors virtually.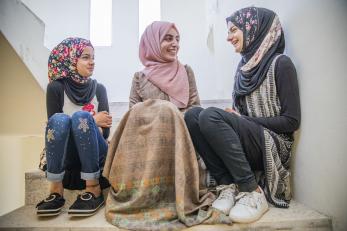 Make time for meditation
Meditation is having a moment (or two) and for good reason. Meditation has been shown to reduce stress and anxiety among teens, which is a serious threat to their well-being. A number of studies revealed that while adolescents experience as much stress as adults, they report having few healthy coping mechanisms. Meditation can take many forms including deep breathing, yoga or a quiet walk (while keeping a safe distance from others). In Iraq, Mercy Corps piloted virtual reality with adolescents so they could "experience" walking down a path surrounded by butterflies and flowers or standing in a tranquil lake. Mercy Corps' evaluation found that, following these sessions, adolescents' well-being scores improved by 48%. 
Connection is critical
Hours talking and texting with peers is critical for adolescents' development and sense of belonging. As teens move away from depending on their parents, their friends become increasingly important. A recent study found that following a difficult event, teenagers who were with friends (as compared to with their parents) reported lower levels of sadness and worry, and higher levels of happiness. Whether they were with their friends in-person or online didn't matter. Why? One reason may be the distraction that friends can offer. 

Mercy Corps operates safe spaces around the world, where adolescents meet weekly to connect with friends while they build relevant knowledge and skills for their lives. In Niger, adolescent girls who participated in our programming reported that they had made more friends outside of their family whom they could rely on in times of need. Give your teenager the time and space to genuinely connect with friends. Try to ensure that this connection goes beyond social media, particularly knowing that multiple studies now link social media and screen time with poor mental health outcomes.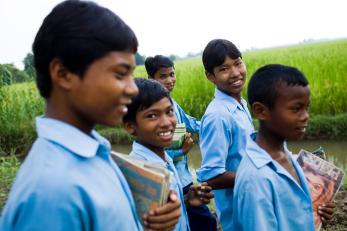 Challenges are inherent to being a teenager, but having a brain that is under construction has some positives as well. Young people are primed to try new things, come up with innovative ideas, and adapt more easily in the face of adversity. I see this in my work everyday. During this global crisis, let's make sure to learn from them as well. The kids are alright. 
Support our COVID-19 Resilience Fund today.