Devastation in Pakistan: Deadly floods displace millions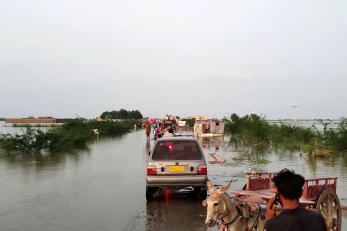 October 05, 2022
Across Pakistan, one in seven people have been affected by the devastation of unprecedented rainfall and flash floods. The U.N. estimates 33 million people have felt the effects of the deadly floods, which have killed more than a thousand people and displaced 7.9 million people since June.
Balochistan, a province that is not usually affected by monsoon season, has been inundated with flash floods. The economically under-developed province is the worst-affected, receiving more than 5 times its average rainfall. The floods have destroyed infrastructure, making the area extremely difficult to access. Mercy Corps Pakistan is responding in the province, distributing food, water, and cash, with a focus on reaching large families, women-led households, and people with disabilities.
The spread of waterborne disease is on the rise. The number of people with malaria, typhoid, diarrhea, skin diseases, and eye infections is growing exponentially in the camps for people who have been displaced. In the Sindh province, there has been a steep increase of patients with diarrhea. An estimated 650,000 pregnant women require assistance, 73,000 of them are due in October.
"It may take the country years to recover from a disaster of this scale," said Farah Naureen, Mercy Corps' country director for Pakistan. "The rising flood waters have extensively destroyed livestock and crops, jeopardizing millions of livelihoods, resulting in enormous immediate relief needs, and compounding the current humanitarian crisis in Pakistan."
Mercy Corps is already present in these areas with existing programming and has responded to this emergency by setting up health camps with partner organizations, including the Pakistani government, to provide immediate healthcare. Mercy Corps has been working in Pakistan since 1986 and was one of the first international relief agencies to respond to the 2010 floods by providing access to water, sanitation, hygiene, primary healthcare, cash-for-work, and infrastructure rehabilitation.
The floods are compounding existing challenges for many communities in Pakistan who are facing increased food prices and malnutrition. This humanitarian and climate catastrophe is yet another example of how countries that contribute the least to global warming are the ones that suffer the most. Pakistan contributes less than 1% of the world's greenhouse gas emissions. The growing consequences of climate change and limited infrastructure and preparedness have left millions of Pakistanis devastated and in need of support.
Join us in building a more equitable world.