Rural farming communities in Nepal build climate resilience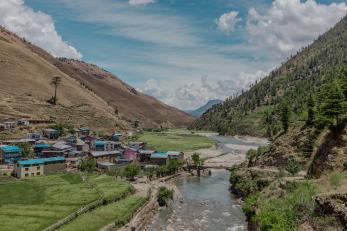 September 26, 2023
In Nepal, Jumla district is well-known for its cultivation of Marshi rice and Fuji apples. Their crops are shipped around the world and communities rely on farming for their livelihoods. However, in this region of the Himalayas and across Nepal, farmers must contend with the uncertainty of climate change.
"The extreme weather patterns we are seeing in Jumla wreak havoc on our community," said Ritu, a participant in the BHAKARI program. "Landslides are becoming more common in the monsoon season and can wipe out crops and homes. In the dry season our springs [physical water source] can be without water for months at a time."
As the climate crisis causes more frequent extreme weather, it is communities who contribute negligible amounts of greenhouse gasses and are least equipped to handle these storms that find themselves disproportionately impacted. Communities in areas like the Karnali River Basin are grappling with increased drought and unpredictable weather, compounding the challenges that impact their lands and lives.
Leah Thomas, an environmental justice advocate and author of the book "The Intersectional Environmentalist", recently visited Jumla to observe a Mercy Corps program working with residents to build food security and resilience for the future. "Mercy Corps' approach, working with local people to increase their tools, knowledge and resilience, puts the power back into the hands of communities towards addressing the inequalities and challenges they face, fostering a more just and sustainable world for all," said Leah.
Through Mercy Corps' BHAKARI (Building Hope Along the Karnali River Basin) program, participants are receiving support to decrease the impact of natural disasters and increase access to food and clean water. Communities have built gabion walls and bamboo embankments to prevent floods and landslides. They have also used bioengineering to build spring-fed water tanks and pipes, decreasing their reliance on not-so-seasonal rainfall and enabling them to better sustain their crops.
"In the past when there was minimal rain, which was worrying, as crops needed water to grow," said Sanjit Shrestha, Mercy Corps Agriculture and Livelihood Development Advisor. "The greatest concern was how would communities survive if there was no rain. Now, even if it doesn't rain, there is access to water. Life has become easier for everyone."
Environmental activists, like Leah Thomas, use their voice to bring these urgent issues to the attention of the global audience. This plays a critical role in inspiring action on a broader scale, increasing investment and amplifying the contributions of partners and community members who are directly confronting these challenges head-on. Together, we hold the power to forge a path towards a more sustainable and resilient future. By uniting our efforts, we can amplify this message, bridge the gap between awareness and action, and foster a collective commitment to protecting our planet for current and future generations.
Learn more about Mercy Corps' BHAKARI program and how families in Nepal are addressing the effects of climate change by playing our Matching Game at match.mercycorps.org.
Join us in building a more equitable world.