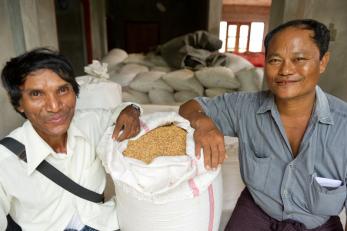 December 05, 2012
In rural Sit Kone village, accessible only by a two-hour boat ride from the closest town, Kyi (pictured left) depends on his land to support his family of eight.
Rice is the staple crop here in Myanmar's Irawaddy Delta region, but the delicate ecosystem is vulnerable to increasingly erratic rains — and the region is still trying to recover all that they lost to Cyclone Nagris in 2008.
It has been a struggle to rebuild, but four years after that natural disaster — the worst in the country's history — Kyi is harvesting three times as much rice thanks to stronger seeds he received from Mercy Corps. Not only are his harvests bigger, he can get a better price at market for the higher quality rice.
With the additional profits, Kyi has been able to expand his farm to 12 acres and is collecting his high quality seeds at the local seed bank and making them available to fellow farmers. Now that he has a strong foundation, his support is improving the economy of his entire village.
Your support makes a difference. Stand with us in the year ahead.