Growing a coffee business in West Java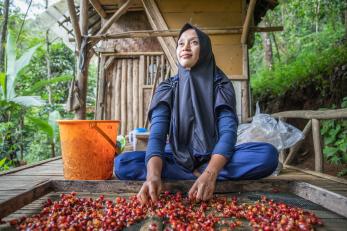 October 26, 2023
In West Java, Indonesia, Endah is a member of a coffee-farming community. "Yes, I grow coffee," Endah says. "I'm the daughter of coffee farmers, and also a wife of a coffee farmer." Indonesia has the third-most coffee farmers in the world, and coffee has surrounded Endah's life. In addition to helping her husband grow and cultivate coffee, she runs a warung, a village store where she sells coffee, food, and a number of staples like cascara tea, rice, sugar, and eggs.

Endah received training and financial support through BENTANI (Brewing Change: Women's Empowerment in Coffee Origin Communities in Indonesia), a program supported by Mercy Corps in partnership with The Starbucks Foundation. She honed skills in bookkeeping, financial management, and entrepreneurship. Endah has increased her income and created better economic opportunities for herself and her family through her new business acumen. She reinvests her income into her business and pays for school fees for her children and her younger siblings.
"Before I participated in BENTANI, it was hard for me to earn money to help my husband," Endah says. This work provided a valuable outlet for Endah to support her family both in and out of her home. While data from the International Coffee Organization shows that over 70% of global coffee cultivation is done by women, the makeup of the coffee industry in Indonesia is overwhelmingly male. The disparity can prevent women from supporting a household on their own through a career that much of the population relies on to provide for themselves. The support women like Endah received helps them to participate in a popular industry that strengthens both their individual households and their communities.
I could become a woman who didn't just stay in the kitchen, but could also run a business.

Endah,

program participant
Mercy Corps' entrepreneurship training helped Endah manage her profits and she came up with an idea to sell a unique product that is gaining popularity in the region—cascara. Cascara is a delicious and unique tea made from discarded coffee shells from the production process. Cascara has less than half the caffeine of coffee, but with the same antioxidants. Previously, the shells would be used as fertilizer. Endah cleans and repurposes the coffee shells and packages them so people can brew their own cascara.
BENTANI uplifts women in their own communities
Endah is part of a growing group of women entrepreneurs—over 3,500 women across 10 villages in Indonesia have received support from the BENTANI program. This work has positively impacted over 11,000 coffee farmers and their family members. The women are not only building businesses for themselves, but are working alongside like-minded entrepreneurs, supporting their families and their communities.
Indonesia is an archipelago, and as the impacts of climate change worsen, each island is more vulnerable to the impacts of climate-related natural disasters like flooding and tsunamis. This makes their industry increasingly difficult to navigate. With too much precipitation, the coffee fruits may take too long to ripen or may rot quickly. The robust coffee industry, and the surrounding community, benefits with more farmers to help manage crops, even with inconsistent seasonal patterns.
Working with WASH
Mercy Corps provides financial training and business mentorship through its programming, and also promotes sharing health education and access to improved water, sanitation, and hygiene (WASH). Clean water, improved sanitation, and waste management are all crucial to improving the health of individuals and their families. Mercy Corps helped to build a new water system through the village to supply more clean water to the community. Previously, Endah's family would purchase over three gallons of water each week for drinking and cooking. Easily accessible clean water saves them all money and effort so they can spend more time together.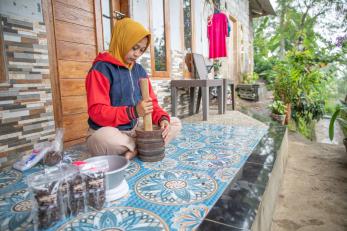 When communities have more support for their basic needs, they can all thrive. Economic stability supports entrepreneurs like Endah to use sustainable techniques to develop a new product like cascara. The program is successful because it promotes expanded opportunities for women-led and -owned businesses like Endah's. Helping the farmers learn how to navigate an uncertain industry increases sustainably for all families in the region. They can all grow together. The women can take part in a regional industry, contribute to their households, and improve the outcomes for themselves and their children. Communities are stronger when women have the opportunity to participate and lead.
Join us in building a more equitable world.