Sharing warm meals across Puerto Rico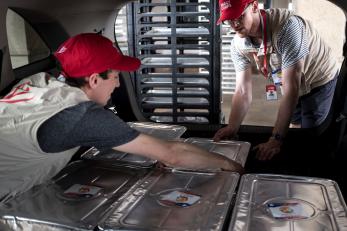 November 13, 2017
Editor's note: This article was originally published October 30, 2017; it was updated November 13, 2017 to reflect the latest information.
When Mercy Corps' Josh Bruno distributes meals across some of the hardest-hit neighborhoods in Puerto Rico, sometimes he gets turned away from people's houses, food still in hand.
Those he's trying to help insist that other families need the food more, and they direct him toward those homes.
"People are really sweet and caring," says Bruno, emergency program officer. "They would like to see their neighbors be well-nourished just as much as themselves."
As Puerto Ricans continue to cope with the aftermath of Hurricane Maria, Mercy Corps is on the ground responding to meet vulnerable families' most urgent needs. Ten percent of Puerto Rico's 3.4 million residents are still without access to clean water and more than half of residents are still without power.
Since arriving in Puerto Rico, Mercy Corps has established partnerships with several local nonprofits to identify and help those who need supplies the most.
Along with distributing emergency cash cards, we are working with World Central Kitchen, a nonprofit founded by celebrity chef José Andrés, to deliver hot meals around the island.
Each day our team works with the World Central Kitchen team to pack up about 500 trays of warm paella, sandwiches, apples, yogurt and bottled water to distribute to hard-hit communities.
While they wait, people pass by and tell us about other barrios (neighborhoods) that they hear need help. In the past week, we've delivered meals in San Juan, Canóvanas, Toa Alta, Juana Díaz and Ponce.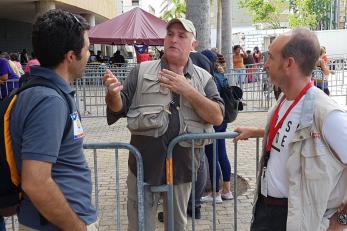 Mercy Corps also organized a community meal in Villa Sin Miedo. Community meals give us a chance to ask residents about our program plans and see what their needs are. The team is planning to offer community meals elsewhere, as well.
Many people we encounter say they have not been receiving a lot of attention.
"Puerto Ricans are grateful but they don't want to create tension. They all went through the same hurricane and they all suffered," Bruno says. "The food is a short-term solution, but it's very important at the same time. For some of these people, they don't have many options."
We are also working with community leaders in a few neighborhoods to provide help to people who lost their homes. We have partnered with Project ENLACE to distribute emergency cash cards in the community of Caño Martín Peña, which has about 25,000 residents.
So far, we have distributed nearly $50,000 in emergency cash cards.
Read more about our cash distributions in Puerto Rico ▸
Despite the challenges they're facing, people in Puerto Rico still find ways to show their gratitude toward our team.
"We got a flat tire and the man who fixed it at the shop wouldn't let us pay because he was grateful we were heading to help the people," says Jill Morehead, leader of Mercy Corps' Strategic Response and Global Emergencies Team. "Another man wouldn't allow us to pay for lunch. The people we have met have been so gracious and are happy to help each other."
Help us provide even more support to Puerto Rican families and families recovering from disaster around the world.
Ask your friends and family to contribute to our efforts to help families survive, recover and rebuild.