Why are Mali's youth taking up arms?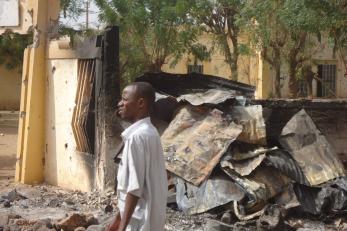 September 06, 2017
Despite a 2015 peace agreement, Mali remains gripped by violence. Recent attacks on U.N. workers have led to multiple fatalities and cemented the West African nation as the deadliest U.N. peacekeeping mission in the world.
The peace agreement brought fresh hopes that Mali could find sustainable peace, especially among its youth. But those expectations have been unfulfilled in the two years since, and today the plan remains stalled.
Mali is one of the youngest countries in the world. Young people make up more than two-thirds of Mali's population and play a key role in the country's fragile peace. Long-term peace starts with them.
Our new report reveals that efforts to discourage youth from turning to violence must engage entire communities, and go beyond just focusing on young people themselves.
Key findings: Why youth turn to violence
Mercy Corps researchers, in partnership with Think Peace, spoke with 149 people, mostly youth who were either current or former members of armed groups in conflict-hit areas in Timbuktu, Gao and Mopti. We surveyed members of about 10 different ethnic groups, including the Tuareg, Songhai and Peulh. Other respondents were community leaders and non-violent youth.
We found that while efforts to counter violence often focus on the most disenfranchised youth, many participants in the study expressed deep ties to their communities.
Widespread social support for armed groups meant that violence was seen as the norm and fed a sense of duty among youth to support groups affiliated with their communities, they told interviewers.
"My source of motivation is the support I receive from my community for the safeguarding of property and people," said one young man from an anti-government group in Timbuktu.
Some youth even said joining pro-government armed groups offered them a path to entering the military, promising them eventual economic stability and enhanced social status, even if joining initially offered little financial gain.
A perception of government neglect across Mali's northern communities also drove youth to join armed groups. In Gao and Timbuktu, respondents shared anti-government forces' complaints that authorities mistreated their communities. When youth had witnessed community-level injustice, including abuse and corruption by government figures, they were more likely to turn to violence. Conversely, youth who had avoided violence were more likely to say that their communities were the same as or better off than others, the study found.
Still, many youth, including those who have joined armed groups, retain their hopes for the peace process. They still believe the process will improve security, and they hope to benefit from the disarmament process. However, slow progress and previous failures have created skepticism.
"The agreement is good for Mali if it is applied in black and white, as it is written in the document," said one male youth from a pro-government armed group in Gao. "If not, then it is the start of the war and not the end."
Focus on the community
Based on the research findings, Mercy Corps recommends taking a whole-of-community approach to address and reduce the reasons youth join armed groups. We believe:
Solutions to prevent violence are found at the community level. If we can recognize the strong influence of the community and address risk factors at the group level, we are more likely to turn youth away from violence.
If local governance can become more inclusive and more effective at delivering state services, perceptions of exclusion that have led communities to support armed groups will change.
Broad, collaborative processes will better ensure a transparent peace process that is responsive to diverse communities' varying needs.
Communities need to develop action plans to transition youth in armed groups into non-violent roles. Young people will find an alternative path to violence if they feel they can achieve social status without joining armed groups.
Despite Mali's challenges, youth remain the country's biggest source of hope and possibility. While many fill the ranks of armed groups, many more have remained non-violent. They will play a critical role in deciding whether Mali achieves lasting peace or slides into a bigger humanitarian crisis.
A long-term solution to Mali's conflicts requires understanding the pathways youth take into violence and supporting those who remain peaceful — even when the odds are stacked against them.