"Life just seems impossible": From Mercy Corps' team in Gaza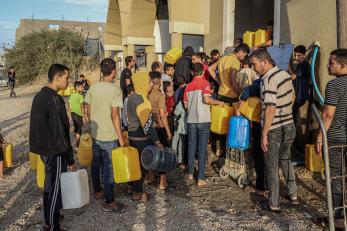 November 17, 2023
"In one month, death has approached me many times," said Nasma (all names have been changed for security purposes), a Mercy Corps team member who tried to find safety in southern Gaza. Her family had fled their home to stay with another relative, whose neighbor's house had been bombed and destroyed, with 20 people buried beneath the rubble. "We went two weeks without bread. People are so hungry and thirsty without enough clean water," she said. "To exist is a struggle. Life just seems impossible.
"I am losing hope," Nasma said. "I don't know what I fear more—losing a family member or suffocating under the rubble. Which is worse—to be alive and suffer or to die suffering." As this crisis continues, we fear for our team and for the two million civilians—half of whom are children—who are trapped in Gaza with nowhere safe to go.
There is no safe place as the bombing continues around us all day.

Yazan,

Mercy Corps Team Member
Gaza is in the midst of a humanitarian catastrophe of historic proportions. Most international aid organizations in Gaza continue to be unable to safely operate, with Mercy Corps' own staff displaced and trying to survive, living under constant fear of bombardment and resource scarcity. Civilians in Gaza must be protected in line with International Humanitarian Law, and that's why we're urgently calling for a ceasefire and an end to siege tactics in Gaza.
Humanitarian support must be made immediately available to people in Gaza who have been completely cut off from life-sustaining essentials. Right now, aid getting in is a trickle and entirely insufficient to provide meaningful relief. Only a sustained ceasefire, agreed to by all parties, and the massive scale-up of humanitarian assistance will mitigate the humanitarian crisis in Gaza, and allow organizations like Mercy Corps to deliver lifesaving assistance desperately needed by 2.3 million people.
Water and sanitation services have completely collapsed. All of Gaza's wastewater treatment plants have already stopped working due to lack of fuel and people are reportedly drinking salty seawater and contaminated well water to survive. Water entering through the border with Egypt on aid convoys is only 4% of what is needed.
It is becoming nearly impossible to find food. Wheat flour is reportedly no longer available in the market, and the only operative mill in Gaza was hit and destroyed on November 15th, leaving Gaza without access to locally produced flour for the foreseeable future. Team members are reporting eating only canned beans and vegetables and attempting to cook over an open fire.
"There is no safe place as the bombing continues around us all day," said Yazan, another Mercy Corps team member who left his home with his wife and four-month-old daughter. They are currently staying with his uncle, where nine people are sharing one room. "As for clean water, we have to wait in line for hours to fill a 15-liter jug, and we need to do this daily since the queues are usually long. After a few days, I lost hope of getting bread because the main bakery was bombed, and you had to wait 12 hours in line at the smaller branches to get a bit of bread.
"Currently, my daughter is sick, and her temperature is 39.5°C (103.1 F) as I write this message. I don't know what to do," Yazan said about his infant daughter. "There is no communication, no network, and no internet to reach a pediatrician. Unfortunately, even if we reach one, I don't know if they can diagnose her or provide her any medicine or relief. I feel so helpless. It's now after midnight, and we are awake with her. We are using cold compresses on her, and I just hope tomorrow will be better."
While hospitals have special protections under International Humanitarian Law, medical facilities are increasingly coming under fire. The UN has verified more than 250 attacks on healthcare facilities across Gaza and the West bank, including five hospitals. Hospitals are running out of fuel as they treat thousands of critically ill and injured patients. All but one hospital in northern Gaza are out of service due to lack of power, medical equipment, oxygen, bombardments, and nearby fighting.
"Currently, people who delayed evacuation are forced to walk long distances," Yazan said. "Along the way, you see the bodies of people—even children—being eaten by birds. Ambulances are not able to reach them. All the children are traumatized by the sights, sounds, and fear of what may come. It's not just the children, even adults have never seen anything like the horror we are witnessing now.
"Every day is a new horror. What I have shared is the least, but it is worse than I can bear to describe."
Mercy Corps is working to resume our humanitarian programs in Gaza. Our team members in Gaza remain committed to significantly ramping up much-needed lifesaving assistance when there is consistent, safe access. You can listen to Mercy Corps' Middle East Regional Director Arnaud Quemin on the Masters of Scale podcast in October 2023 discussing the humanitarian crisis in Gaza and sharing first-hand accounts from our team on the ground.
Join us to create a more inclusive, resilient world.