Wild weather: How we're helping Kenyans fight climate change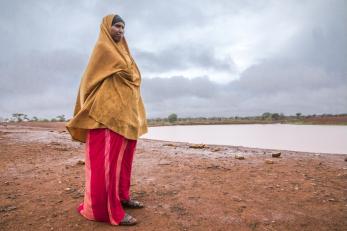 June 06, 2018
What should be a welcome change to the weather in Kenya — rain — has instead turned the country into a life-threatening disaster zone.
Rainfall so heavy it can't be absorbed by the dry, compacted ground has pelted counties across the country since March, overflowing reservoirs and rivers and causing extreme flooding that has wiped away crops, livestock and, at times, people.
Around 330,000 people have been displaced from their homes and another 183 killed by the flooding; water sources have been contaminated, skyrocketing the risk of disease.
These inundating rains — rainfall four times the normal average — come on the heels of a devastating four-year drought. Just a few months ago, many of the counties worst hit by the floods, like Wajir, were barren wastelands, packed red-clay ground pocked with dry brown trees and animal carcasses.
That dry spell had disastrous effects of its own. It dried up water sources, caused widespread death and disease of livestock, fueled inter-community conflict as resources dwindled, and plunged 3.4 million people into hunger.
While the number of people facing food insecurity in Kenya has dropped slightly with the recent rainfall, with these fluctuating weather patterns one threat remains a constant: climate change.
The effects of climate change in Kenya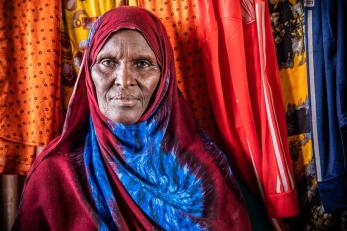 The effects of the changing climate are playing out across the globe. But as weather becomes more unpredictable and climate-fueled disasters become more frequent and intense, rural pastoralists like Salada, a mother of five in Wajir, feel it acutely.
"The weather has changed between now and when I was young," Salada says. "There was much drought even in those days, but it didn't last year in and year out. It wasn't as continuous as it is now."
A quarter of Kenya's population lives in arid or semi-arid climate areas like Wajir, a pastoral region with an economy based on raising livestock.
These areas, which are prone to being dry and receiving little rainfall, are already vulnerable to poverty, underdevelopment, conflict and disease. Families in these fragile areas rely on animals or related businesses to survive, so unexpected shifts in the rains that provide water and feed can be debilitating, sapping food sources and income, destabilizing communities and threatening future development.
The options pastoralists like Salada have to cope with these weather shocks are difficult and few in number. She makes her living solely by raising camels and selling their milk, but drought means limited food and water to keep animals healthy and maintain their productivity.
"If there is no milk, then there is nothing else for us to do," Salada says. "There are no other items we can trade. … We have no option but to stay without work."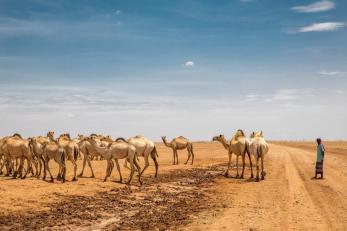 In these conditions, pastoralists are forced to travel long distances to find water, fodder or safe shelter. They face conflict over limited resources. They may skip meals. Or they may pull their children out of school to flee elsewhere or work to help the family survive.
In 2017, at least 175,000 children were out of school due to the drought alone — and the odds haven't been made better by the recent onslaught of rain. The flooding has displaced over 127,000 children and damaged schools and learning materials for more than 2 million students.
Halima, a mother of six, shares Salada's grief. She supports her family by operating a selling station where she distributes milk from local pastoralists, but the effects of climate change risk collapsing her business.
"The weather was good [when I was young]," Halima says. "Milk was in abundance." Now, there are periods when animals' productivity is low or pastoralists must move their herds to different areas, and Halima only collects a small fraction of the milk she used to, which affects her income and ability to provide for her children.
"Food is scarce now," she says. "It's possible that you won't find food for a whole day and will go to sleep hungry."
People in rural areas, like Halima, are chronically vulnerable to hunger. Even with the current rain, 2.6 million people in Kenya still don't have the food they need.
How we're helping Kenyans adapt to climate change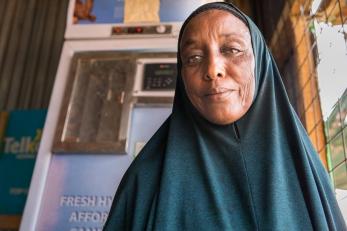 It's increasingly important to help fragile agricultural families in Kenya and around the world adapt to changes in the weather patterns they've relied for decades. But this work requires more than individual interventions — it means strengthening whole systems, communities and resources affected by the climate.
In Wajir, Mercy Corps is working to strengthen the market system for camel milk, so people like Salada and Halima can earn more reliable income and not be so vulnerable to precarious weather.
In the past, the process of selling milk was problematic — the only way to transport it to market towns was a long public bus ride in the searing heat, which often spoiled the milk before it could be sold.
Mercy Corps has made this process more efficient by providing a van with a solar-powered cooler to replace the public bus. Milk from rural pastoralists is stored safely in the van until enough is collected to transport it to a larger market town.
Once in the market town, the milk is directly transported to sellers like Halima who, as part of the program, received refrigerated milk dispensers to replace their previous selling stations. The milk is deposited in the dispensers and kept cool until customers come to purchase it.
Less waste of milk means more income for those involved in the process, which helps them support their families more consistently — and build resilience for times when production is lower.
Without these changes, "I would not have made it," Halima says.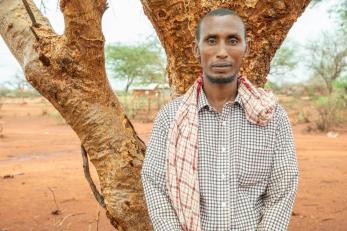 We're also focused on helping communities better manage their natural resources, which can mitigate the effects of climate change and help ease tensions over reduced water and grazing land.
Musa, 36, has experienced chronic weather shocks and knows the resulting struggles too well. "There is widespread inter-clan conflict because of resources," he explains. "When you are grazing an area it gets depleted, and you move to a different grazing area and find another clan living [there], you upset them. You have to fight to get access to those resources."
He has also seen the way deforestation for firewood and building has exacerbated the effects of drought in his community in Wajir.
The awareness campaigns Mercy Corps conducted have helped them make changes that will help them better cope with future dry spells.
"Community attitude and behaviors toward natural resources have already changed," Musa says. "People used to cut trees and use [them] for fencing their homes and for firewood. [Now] they are not cutting trees. They are only picking up dead trees."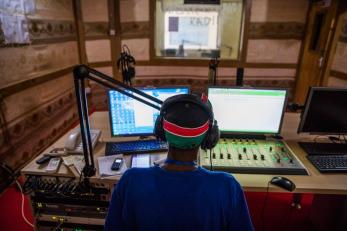 And because information can be lifesaving in fragile communities, we have partnered with a local radio station and developed Wajir Community Radio, a radio program that broadcasts climate information.
With our support, the station has doubled its reach and communicates important messages about the weather, so pastoralists know when to move their herds, as well as information on natural resource management and gender equity.
"The importance of reaching a larger audience is that … they are pastoralists," says Halima Kahiya, the station manager. "They have been affected by different climate changes. We need to tell them about all the climate information: When is it going to rain? Is it going to rain heavily? Will it be enough? What are they supposed to do?"
Combined, these interventions are meant to give families in rural Kenya access to knowledge and support that help them preserve their resources, prepare for upcoming weather and build futures that aren't left to the whims of climate disasters.
"From my business, I pay the school fees for my children," says Halima, from the kiosk where she has her milk dispenser. "Mercy Corps gave me this … and I believe it will bring us more good things."
How you can help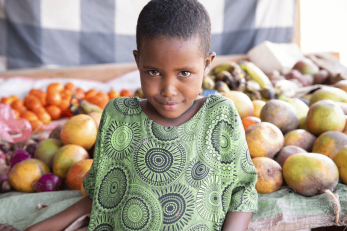 Our work to help communities adapt and adjust to climate change challenges is only possible because of people like you. With your support, we are able to reach more families with assistance and help more people build stronger, more resilient and peaceful communities for tomorrow.
Help us provide even more food, water, shelter and support to the people who need us around the world.
Tell Congress: People are in need of lifesaving assistance. We must continue to support them.