Sami wins the race
Mercy Corps Jordan supports young people with disabilities through adaptive designs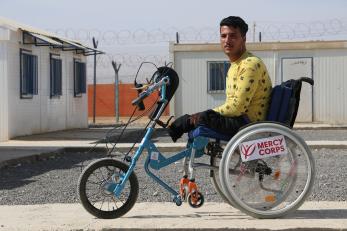 June 17, 2022
On a clear, bright day last autumn, racers excitedly lined up for their event in the 2021 Amman Marathon. Among them was 17-year-old Sami, a Syrian refugee, who couldn't wait to finally compete using the adaptive bicycle he had been training on. He had participated in races before, but this was his first time using the adaptive bike that had been modified specifically for him. "I felt like I was flying while I was using it," said Sami.
Due to injuries he sustained during the conflict in his native Syria, Sami had to undergo amputation of both his legs while living in the Zaatari Refugee Camp. Since 2014, Sami and his parents and four siblings have lived at the camp, where Mercy Corps supports physical therapy and adaptation workshops. As part of Mercy Corps Jordan's inclusive education program for young people with disabilities, the adaptation workshop develops low-cost tools, equipment, and smart solutions. Our team works with Syrian volunteers to do basic repairs on wheelchairs, eyeglasses, and hearing aids, in addition to building adaptive classroom equipment like desks and chairs. The workshop was first established in a small corner of multi-activity space in 2016, and eventually grew into two large studios with specialized tools and limitless ideas.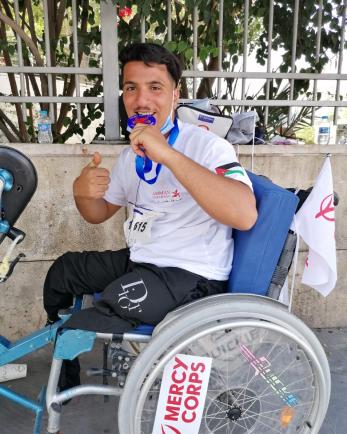 It was at the workshop where Sami saw volunteers building a wheelchair with hand pedals and immediately knew he wanted to try it for an upcoming 10K competition. In the races Sami had participated in previously, he had ridden a sports wheelchair without the adaptive hand pedals—which he knew would be a game changer. With training from the adaptive workshop team, Sami quickly learned how to use the hand pedals. "It's very safe and now I can race faster and more safely with this addition to my wheelchair," said Sami.
On the day of the race, Sami sped past cheering onlookers in downtown Amman and was the first in his division to cross the finish line. With a camera fastened across his chest, he shared his experience with viewers as he wound through the streets of Amman. His confidence and winning spirit propelled him throughout the race.
Through smart adaptive equipment, Mercy Corps supports young people with disabilities by increasing accessibility inside and outside of the classroom. Since 2008, Mercy Corps has led inclusive education programming for children with disabilities. This holistic approach has helped more than 5,400 young people with disabilities across the country. By ensuring equitable access to learning opportunities and raising awareness and support for people with disabilities, young people like Sami can continue to thrive through adaptive technology. Sami continues to train and practice at Zaatari camp for future sporting events—racing toward new goals everyday.
Join us in building a more equitable world.