How investing in women can help a community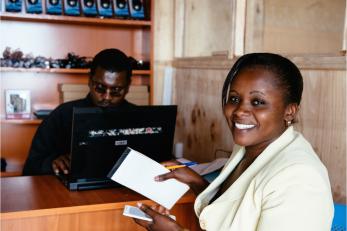 March 07, 2016
If there is one thing Lucy was certain about, even as a child, it was this: "I just knew I needed to be the best."
But like many women coming of age in Kenya, she had no clear path to success.
Despite a hard-earned degree in information technology, her marriage to a controlling man who forbade her to work or even interact with many people outside the home, threatened to stifle her ambitions.
Local hiring decisions were based on which tribe you belonged to, Lucy said. And few employers would give young people like herself a chance.
"The market is not so receptive to young people," she said. "They feel like you don't have the skills they need. They feel like you're so ambitious for what you can do."
Still, Lucy didn't give up.
Soon after she got involved in Mercy Corps' youth programs in Kenya, Lucy took what we had to offer and ran with it. She became involved in the youth bunge (Swahili for parliament). She learned about leadership, about how to become a mentor, and how to organize her community.
Now, Lucy is a chicken farmer and owns two motorcycles to lease out to boda-boda (taxi) drivers. She's an IT consultant helping small businesses and schools move forward with the help of technology.
She is secretary of a savings and loan for her local community and employs seven people across her business. She is a single mom to two children and pays to enroll them in private school — because she wants them to have the leg up she never got.
Lucy is a perfect example of what can happen when we connect women around the world with the resources and information they need to take control of their own lives: The impact spreads far and wide.
"When I started sharing what I had, sharing what I thought and people were like, 'Yes, it's a brilliant idea,' … it was so exciting," she said. "I never knew I had something to offer."
Finding connection
Lucy graduated from college with a degree in information technology just as Kenya's growing economy was put into a standstill shortly after disputes about the country's 2007 presidential election led to protests and violence between ethnic tribes.
Local hiring decisions were based on which tribe you belonged to, Lucy said. And few employers would give young people like herself a chance.
"Back then, dreams were shattered," Lucy said. "There was no hope, because there were no jobs."
At the same time, her husband did not want her to look for work and began isolating her from her family and friends. But the family needed more money.
Despite his disapproval, she bought her first motorbike and started earning an income renting it out to boda-boda (taxi) drivers. At the time, her natural entrepreneurial spirit motivated her more than making money.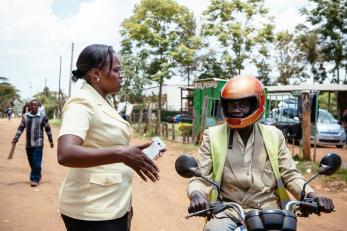 Our work in Kenya was created to help young people all over the country access the business opportunities they need to move forward, as well as develop leadership skills and engage their community in peacemaking — through the youth bunge.
Lucy learned about our program just as her marriage was ending.
"A friend just talked to me about the youth bunge, showed to me what Mercy Corps was intending to do," Lucy said. "… There was a new program for the youths. I knew I needed to be busy, I needed to engage my mind."
Taking a passion, finding a path
Through Mercy Corps, Lucy learned more about how to start and run a business, how to access the financial resources to help her businesses, as well as how to lead others.
We saw her spark, gave her the fuel, and Lucy became ignited.
Finally, the passion that drove her through college, despite the cost, and to start a boda-boda business despite her husband's protests, had found a path. And Lucy's path is wide and varied.
A typical day starts with Lucy in casual clothes, her hair tied up and with a bucket in hand, so she can feed and tend to the 100 chickens that she sells for meat and eggs. That business not only brings in money, but allows her to help feed her family.
After her morning, she gets dressed in business clothes and works as a self-employed IT consultant, helping schools, the local government offices and small businesses set up and network computers. She now owns two motorbikes and rents them out throughout the day to drivers who use them as boda-bodas.
Her children attend private school and are watched by a nanny when not in school and Lucy is at work.
In all, she employs seven people—providing them with income that may have been tough to find in Kenya's current economic climate.
As the secretary of her youth bunge's savings and credit operation, (the SACCO, as it is called,) she helps advise young people on how to save money and get credit so they can finance their own ideas and dreams.
For Lucy, the SACCO provided her with the money she needed to build her businesses, as well as the position to encourage others to do the same.
It also helped her gain respect in a community that once thought she didn't belong.
"Sometimes, it's like, 'I don't believe it's me doing it,'" Lucy said. "Sometimes, I'm like ok, fine. This thing is too big for me. But somehow, it gets working."
She believes she can do even more to help others.
"I've not done anything yet," she said. "That's what I believe, because I think there are still people outside there who still need some help of some kind."
Tell Congress: Protect foreign aid.