Chipping in to help India's farmers grow potatoes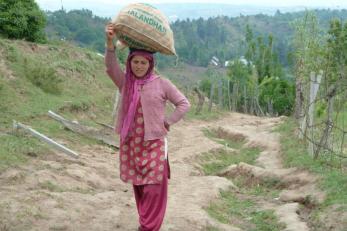 June 28, 2011
When you mention potatoes, most Americans would think "Idaho." Few would think the Kashmir Valley in the Himalaya Mountains.
But Mercy Corps did. In 2010, Mercy Corps supported an experiment growing seed potatoes in the upper regions of the Kashmir Valley.
India's Kashmir state was emerging from its latest round of violent protests which had shut down business, schools and government for months. Mercy Corps and its local partner were looking for ways to help get people back on their feet when it discovered from a detailed assessment that Kashmir — a region of fertile agricultural land — was importing nearly 85 percent of its potatoes, largely due to the unavailability of quality potato seed.
To grow potatoes, just like other crops, requires seed. But potato seed is not easily grown and hard to care for: it needs a cool climate and expertise to develop pest- and bacteria-free, quality seed. As potato consumption has grown in Kashmir over the years (more than 850 percent over the last 40 years), many farmers have jumped into cultivation. But they are limited by the amount of seed they can obtain.
Realizing the growing importance of potato cultivation in the Kashmir Valley, the Department of Agriculture developed a program for quality potato seed production and distribution through their Central Potato Research Institute, in conjunction with their potato multiplication farms. However, this network has not kept up with demand and would-be farmers have been left out when government seed has been exhausted. While some farmers have tried to replicate the quality of the government seeds — without training and expert support in the beginning —less than half a crop is fit to be used as potato seed.
Taking all of this into consideration, Mercy Corps hit upon the idea of helping some of Kashmir's most impoverished farmers grow potato seed, which demands three to five times the price of regular eating potatoes, by using the expertise of the Department of Agriculture and by providing the farmers with quality certified seed which they could not have afforded on their own.
The high altitude regions of Kashmir possess the perfect mix of climate and good soil for growing potato seed — but there are challenges. The hillsides are steep and the roads are often impassable except on foot. Lacking irrigation, the crop has to be rain-fed so they are more vulnerable to climate and crop loss. But the villagers here are tough, hard-working and ready to try new crop ventures, especially if it is risk-free at the beginning.
And the Jammu and Kashmir government agreed, becoming one of the project's biggest supporters providing experts and training for the farmers. The government has had a policy of involving the private sector in cultivation, so were pleased to become a partner with Mercy Corps. The government has agreed to certify the seeds through their certification agency so the farmers can get the same high price that the market sets.
The Mercy Corps Seeding Entrepreneurship Project produced mixed results in the first year. Some plots produced very well while others lost most of their crop. What happened and what was learned from it?
A visit to the Ashiq Hussain family provided some answers. We found five family members sowing the new seed recently provided to them for this season by Mercy Corps. They explained their excellent results from the last harvest. They were just lucky, they said.
"We worked in teams and helped each other. Our land was planted first, and then the rains came. And, they didn't stop. We kept waiting for the rain to stop but it never did for two months. But we planted the other plots anyway thinking it might be okay as there was no other option."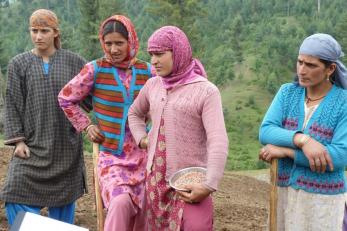 It wasn't okay, however, and those fields rotted and got blight from the moisture. The lucky Hussain family harvested more than 1,000 kilograms of potato seed, much of which they sold. This year, they are all working hard and fast to make sure the crop is planted before the rains come. Extended family members are chipping in.
Last year was an unusual year of rain. The Mercy Corps beneficiaries were not the only farmers who lost their potato crop; more than 90 percent of the seed crop was lost at the government farms due to the long, hard rainy season experienced.
All of the project's farmers are optimistic, however, that this year Mother Nature won't play the same trick. In a recent visit with the four villages involved in the Mercy Corps potato seed project, they all expressed enthusiasm for the new seed recently delivered. All were planting or would be planting within two days.
They were enthusiastic about the next crop and said they would continue with potatoes given the high return. And they were even dreaming of that future potato chip factory in their village.