Humanitarian needs spiral amid the crisis in Israel and Gaza
Millions need urgent support as humanitarian crisis deepens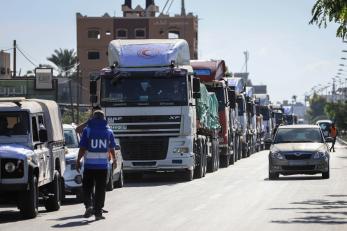 October 24, 2023
Pictures of trucks carrying food, water, and medicine through the Rafah border crossing into Gaza have been shown on news channels around the world in recent days, but Mercy Corps teams in the region are warning that these few limited supplies do not come close to providing the scale of support urgently needed by more than two million people in Gaza. Half the population have fled their homes. Hospitals are running out of resources to treat thousands of critically ill and injured patients. Water and sanitation services have collapsed. Food shortages are leaving people with no way to feed their families.
"These supplies will not come close to providing for hundreds of thousands of people trying to survive after two weeks under siege and bombardment, and completely cut off from aid," said Tjada D'Oyen McKenna, Mercy Corps CEO. "Without a cessation of violence, and an end of the siege, the appalling death toll will continue to rise and humanitarian needs will only continue to mount. All must take every possible action to protect civilians and guarantee the safety and security of those who are delivering and seeking to receive incoming aid."
For more than three decades, Mercy Corps has partnered with communities in Gaza and the West Bank to help people cope and adapt during crisis and open new economic opportunities. Today, our team members in Gaza are preparing to deliver immediate aid—clean water, food, hygiene supplies, and shelter materials—as soon as it is safe and possible to do so.
Last week, Mercy Corps joined more than 300 organizations calling for an immediate ceasefire in the Gaza Strip and Israel to prevent further loss of life. Together, we also urged all Heads of State, the UN Security Council, and actors on the ground to facilitate the delivery of urgently needed aid and prioritize preserving human life above all else. Only then can the aid community working in Gaza begin to respond to this worsening humanitarian catastrophe.
Join us to create a more inclusive, resilient world.