An in-depth look at how COVID-19 intensifies conflicts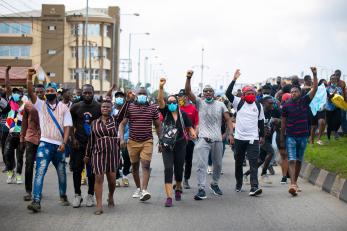 August 30, 2021
By Ryan Sheely, Governance and Conflict Research Director
and Jim Arbogast, Crisis Analytics Senior Director
While there have been medical, economic, and cultural shifts due to the impact of the COVID‑19 crises, limited research remains as to the effect of the pandemic on conflict—especially from the perspectives of communities who directly experience its repercussions. To fill this gap, our research and crisis analytics teams jointly led a year of in-depth research for our "Clash of Contagions" report. We spoke to over 600 men and women in Colombia, Nigeria, and Afghanistan—representing a cross section of communities in the more than 40 countries where our teams work.
What our interviewees told us is that COVID‑19 has exacerbated existing tensions and challenges in ways that are not obvious or expected. "It is like when something has been hidden, buried, and it rained and water ran through until eventually water unearths it. And that is what happened; COVID made our country's real problems visible," said a Colombian community leader in Cauca.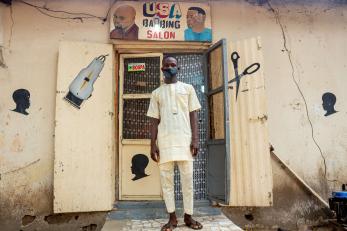 Although the three countries we focused on in "Clash of Contagions" faced different types of conflicts, there were overlaps in how the pandemic intensified existing drivers of violence. Our study covered three types of existing conflict: anti-state conflict (insurgencies); communal conflict (violence between and within different groups in society); and organized criminal conflict (violence perpetrated by gangs, drug cartels, and other illicit groups).
By analyzing and comparing the similarities and differences across these three types of conflict, we found that the pandemic has aggravated pre-existing drivers of conflict by:
Diminishing trust in government leaders and institutions;
Increasing economic hardship and intensifying resource competition;
Eroding social cohesion by stoking tensions within families, communities, and between different groups in society.
In Colombia and Nigeria, growing dissatisfaction with political leadership during the pandemic response led to an increase in anti-government protests. Mistrust of local governments has also been fueled by perceptions of corruption in COVID‑related relief in Nigeria and Afghanistan. In each country, the shutdown of businesses and schools, border closures, movement restrictions, and declines in government services due to COVID‑19 has pushed millions of people deeper into poverty. Although there was an initial lull in violent episodes across the three countries at the onset of the pandemic, it didn't last long. Conflicts erupted over scarcity of resources between communities, like Nigerian farmers disputing over farmland where their cattle grazed. Pandemic responses divided households in Afghanistan, where disagreements ensued on whether it was safe to go to the local mosque. Women and youth were more susceptible to domestic violence because of increased time spent at home and escalating tensions.
Across all three case studies, efforts that have been critical to containing COVID‑19 and limiting its casualties—such as lockdowns, social distancing, and border closures—may have helped curb violence in the short-term, while inadvertently laying the groundwork for longer-term conflict. The pandemic initially had a positive effect on social relations and civil society in some places, but it was short-lived. In Nigeria, the threat of COVID‑19 temporarily united communities and helped galvanize collective action to demand better governance. Over time, however, the economic ramifications and other disruptions stemming from the pandemic response have weakened cohesion within and between communities. In Afghanistan and Colombia, the pandemic has increased household and community tensions and hindered social organization, as fear of contracting the virus, restrictions on organized gatherings, and differing adherence to those restrictions have limited or soured social interactions.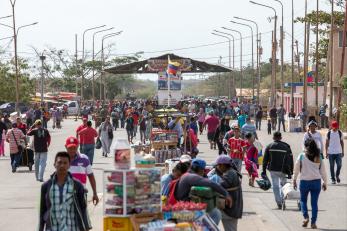 This study is a part of an ongoing effort by Mercy Corps to help governments, donors, and policymakers respond effectively to the impact of COVID‑19 and conflict. It serves as both a warning—and a call to action—for governments and the international community to:
Integrate conflict prevention into COVID‑19 response and adopt a holistic approach to pandemic recovery by building trust, supporting livelihoods, and strengthening social cohesion.
Expand and direct foreign assistance to support peacebuilding activities, reduce inequality, and prevent democratic backsliding through robust funding of humanitarian, development, and peacebuilding programs.
Consult directly with local communities, focusing on those most adversely affected by worsening security conditions, to ensure sustainable recovery programs are appropriate for community needs.
Prioritize research on the pandemic's secondary impacts and apply lessons-learned.
In the United States, Europe, and other countries with widespread access to COVID‑19 vaccines, there is an impending sense of a return to normalcy. But in most places, the pandemic is far from over. While the world is still in the early stages of grappling with the direct and indirect consequences of COVID‑19, understanding its effects on peace and stability is a political, humanitarian, and development imperative.
The COVID‑19 pandemic provides an impetus to invest in and support proactive measures to prevent conflict and reduce instability. Rather than continuing to rely on reactive measures when violence erupts, donors and governments should expand their peacebuilding efforts. By doing so, we can reverse some of the adverse consequences of COVID‑19 on peace and stability, preventing further conflict and bolstering communities' resilience to future shocks. Governments and the international community must work together to both end the pandemic and to address its cascading impacts in order to increase stability and security across the world.