Mercy Corps presents the first Global Envision Award to Vega Coffee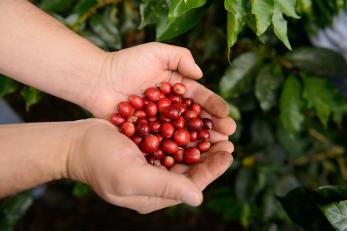 March 21, 2018
Global Envision is Mercy Corps' online forum for exploring innovative, market-driven solutions to poverty. It is dedicated to increasing awareness of two of the positive trends of our time — the spread of more open markets and the global fight against poverty.
As part of Global Envision, Mercy Corps is proud to give its first-ever Global Envision Award to celebrate a company that exemplifies the private sector as a force for good in the world. This award celebrates a small to medium-sized enterprise to show that companies of all sizes can think globally and have a positive social impact.
We are proud to give the first-ever Global Envision Award to Vega Coffee.
Vega Coffee is Mercy Corps' Social Venture Fund's newest investment in Latin America. Vega Coffee pushes all value-add coffee processing down to the farm level, allowing farmers to increase their incomes by 2 to 5 times. Vega then manages the sales, marketing and logistics to ship the roasted coffee from the farm directly to consumers, guaranteeing delivery within 5 days of roasting.
"Mercy Corps' Social Venture Fund is proud and excited to serve as a Lead Investor in Vega Coffee," said Social Ventures Fund Partner Timothy Rann. "We've been impressed by the strides they have made over the past year in ramping up sales and, in collaboration with Mercy Corps Colombia, successfully establishing farmer networks in Cauca, Colombia. With the support of the Mercy Corps' platform, we hope to see Vega catalyze the Fourth Wave of coffee: a more equitable and empowering coffee market for smallholder farmers."
Vega Coffee has been working with Mercy Corps programs in Colombia to bring their innovative model to the 80,000+ coffee farmers that Mercy Corps works with or has worked with in critical post-conflict areas of the country. Since May 2017, Vega and Mercy Corps have worked together to help marginalized women coffee farmers in Cauca to roast and package their own coffee locally for export direct to consumers in the USA.
Through a grant facilitated by the Linked Foundation, Mercy Corps is now providing farmers in the Vega Coffee program with supplementary financial literacy training and other support. This collaboration is groundbreaking for farmers that Mercy Corps has worked with for years, as the prices coffee farmers receive for beans (in real terms) have been the same since the 1970s. Farmers are trapped in a cycle of poverty and unable to capture much additional income from their crops, despite increases in quality, yield and the variety of new specialty coffee buyers (which still pay only a few cents above the low commodity grade coffee price).
"We are so grateful to be the inaugural recipient of the Global Envision Award and for our continuing collaboration with Mercy Corps," said Robert Terenzi, founder of Vega Coffee. "We sincerely appreciate the recognition of our efforts to deliver sustainable economic empowerment to coffee growing communities around the world. This transformative partnership between an organization as immensely respected as Mercy Corps and Vega Coffee represents a real opportunity to change the future of coffee and the millions of livelihoods that depend on coffee cultivation in Colombia and beyond."
Help us provide even more support to the people who need us around the world.