Libia's story: Farmer, nurse, community leader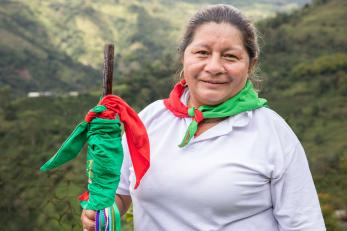 January 12, 2023
In the luscious and fertile green hills of Cauca in southwestern Colombia—one of the country's largest coffee growing regions—a coffee farmer and indigenous women's rights activist works tirelessly to improve the lives of her community and tend to the land where her family is from. Libia Armida Paz lives in La Sierra on the El Oso reserve, a village home to the indigenous Yanakona people.
Libia began farming coffee at seventeen years old, against her father's gendered expectations. "My dad never let us go work on his farm because he said we should be cooking or ironing." She took on a job on her neighbor's farm in secret, sneaking out every morning before her father woke. She was paid 300 pesos less than the adult workers to pick coffee, but she didn't mind because the experience was worth it.
She studied tirelessly, saving money she earned from working on farms to attend college and earn a nursing degree. She saved enough money over a 15-year nursing career to buy her own land—something most women are not able to do in Cauca. Libia understands the importance of ensuring that other women have access to the same opportunities.
"We want women to be empowered and love themselves and think about the future, and that helps their daughters, and that helps the whole family," Libia says. "If I work, that benefits my whole family. If I study, that benefits my whole family."
In Cauca, many people live in areas heavily affected by conflict and violence, often due to illicit crop and coca production. Libia admits that she and other leaders in her community have received threats simply for trying to protect their land from such activities. Libia's successful career as a coffee farmer has demonstrated that there is an alternative path outside of illicit crop production.
Edgar Meneses, the manager of Caficauca, a Mercy Corps-supported coffee cooperative that works with farmers like Libia to take their coffee to market, explains that the majority of people living in Cauca are smallholder farmers and 70% of the agriculture sector is coffee. He says, "I have always said that Cauca without coffee would not exist."
However, it's no secret to Libia or Edgar that increased rainfall and erratic, indeterminable weather patterns threaten the livelihoods of families who have been tending to this land for generations. Climate change is making coffee farming an increasingly vulnerable pursuit. "We know that in 15 or 20 years [coffee farming] may not be sustainable."
If we don't have our land, we don't have anything.

Libia Armida Paz,

Community Leader
Libia feels that it's crucial to engage young people to see the impact they can make right here in Cauca while caring for their land. "I feel very proud of my children," Libia says. Libia raised three children in Cauca, who are now raising their own families there, too. She understands deeply why they must protect their land for future generations—for Libia's grandchildren—and beyond.  "As indigenous people, we are very connected to our land and our region. That's our whole purpose, that is our essence, that's how we think. We want [our children] to plant and cultivate so that we can grow our own food. It's important to protect our land because that's our water, our environment, our health, our food: the most essential things to human life," she adds. "That's true wealth."
Libia ran for local government because she wanted to help with housing needs in her community. She began as a secretary and became the village governor in 2003—serving three terms in the following years. Libia's first project as governor was improving and refurbishing 60 houses, while still practicing as a nurse and coffee farmer.
Quickly, she rose to the title of "Crin minister," a highly respected position that represents indigenous people both in Cauca, and nationally across Colombia. "I was the first woman from my people to reach that position and no one else has been able to do so," she says proudly.  In October 2022, Libia was officially sworn before the governor of Cauca to be a member of the departmental women's advisory council.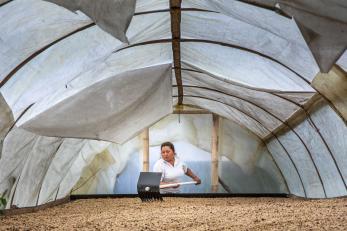 Through Mercy Corps' Rural Women of Cauca Program, Libia and 1,800 women have received agricultural and small business training in order to boost their incomes. The program also provides financial management to ensure that women have economic security. Land titling is also a crucial component, because as families acquire formal land rights, they are able to increase their agricultural productivity and build healthier communities.
In addition to economic support, the program has influenced public policy on preventing gender-based violence. Psychosocial care is a cornerstone of this program to help young people close the cycle of violence by building networks among teachers, parents, and government institutions at the local and national levels—an initiative that Libia was informally leading before the program.
About the impact of the program, Libia says, "It's one thing to be a woman and it's another thing to empower oneself as a woman. To make your rights respected as a woman. That was important."  Last year, Libia turned 57 years old and retired from nursing. But she feels there's still more work to be done and hopes to study law next. "I want to study to be a lawyer and help a lot of people," says Libia.
Join us in building a more equitable world.