The facts: Earthquake disaster in Syria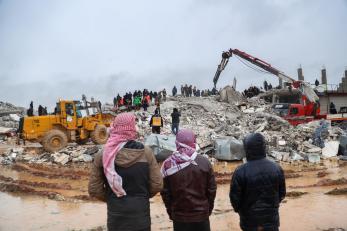 February 10, 2023 • UPDATED March 07, 2023
On February 6, 2023, a 7.8 magnitude earthquake struck Northwest Syria—including Idlib, where Mercy Corps currently works. The earthquake and aftershocks have caused widespread destruction across Syria and Turkey, with a death toll of over 50,000 people and expected to rise as search and rescue efforts continue. 
According to the U.N., nearly 11 million people across Syria have been affected by the earthquake. In Northwest Syria, at least 11,000 families are now displaced and only 5% of impacted areas are receiving search and rescue aid due to scarce resources. More than 1,700 buildings have collapsed or been damaged, and communities have only limited machinery to remove rubble.
"Our colleagues in Northwest Syria reported that the situation is catastrophic, with the area affected by the earthquake being the center for over 1.8 million displaced Syrians who were already suffering after a decade of conflict in Syria," said Kieren Barnes, Mercy Corps Syria Country Director. "Already, 4.1 million people were going hungry in Northwest Syria and food insecurity has worsened since the war in Ukraine started." 
This is a major humanitarian emergency—and it is devastating communities already pushed to the brink due to extreme food shortages and violent conflict. Learn more about Mercy Corps' work in Northwest Syria and what we're doing to help in the wake of the earthquake.
What was the situation like in Syria before the earthquake occurred?
What is Mercy Corps' experience working in Syria?
What is Mercy Corps doing to help in the wake of the earthquake disaster?
Does Mercy Corps work in Turkey?
What was the situation like in Syria before the earthquake occurred?
Even prior to the war in Ukraine, the turmoil in Syria was referred to as a "forgotten crisis." 
For more than a decade, millions of Syrians have been affected by violence, displacement, suffering, and loss. The conflict has killed hundreds of thousands of people in the twelve years since it began. Cities have been destroyed and human rights violations are widespread. Over half of Syria's pre-conflict population of 22 million has been forced to flee their homes in search of safety and opportunity, many of them more than once.
In Northwest Syria, one of the most fragile regions of the country, communities are unable to access basic necessities, and the delivery of critical aid across borders has become increasingly challenging. Across the country, only 59% of hospitals are fully functioning. 
From January 2021 to January 2022, food security deteriorated in Northwest Syria with an 86% increase in food prices—and has since been exacerbated by the war in Ukraine. Drought and high costs for supplies have driven a sharp decline in local crops, forcing families to remove staple foods from their diets. Many adults are making the difficult choice to cut back on how much they eat in order to feed their children.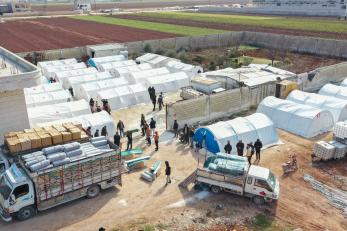 What is Mercy Corps' experience working in Syria?
Since 2008, Mercy Corps has been providing emergency aid and addressing sustained needs in Syria. Mercy Corps has provided essential support including access to water, food, shelter, sanitation services, and livelihoods assistance to Syrians displaced multiple times throughout the course of the conflict. From March 2020 to March 2021, Mercy Corps reached more than 1.6 million people during the height of the COVID-19 pandemic.
Currently, Mercy Corps Syria collaborates with 12 partner organizations in Northwest Syria to reach about 300,000 people. Due to our existing partnerships and relationships in the area, we're able to work with local suppliers to quickly secure additional necessities for distribution in emergencies.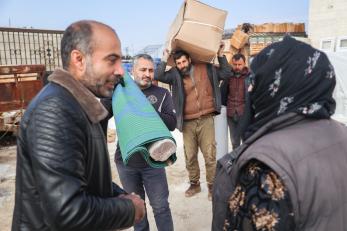 What is Mercy Corps doing to help in the wake of the February 2023 earthquake disaster?
Mercy Corps is on the ground in Northwest Syria working to deliver essential supplies to affected communities. In the first days following the earthquake, we are distributing 1,700 kits in 98 displacement camps and 136 communities within Northwest Syria. The kits include solar lamps, jerry cans, blankets, mats, and more essential supplies. We're working with local suppliers to secure essential items and shelter supplies, tailoring our response as we gain a deeper understanding of the evolving needs of affected communities.
Prior to the earthquake, Mercy Corps provided access to clean water and sanitation, helping to prevent the spread of waterborne illnesses. Damage to boreholes has limited access to clean water. Concerns are growing over mud and soil in the water leading to an increase in waterborne diseases, especially with the current cholera outbreak in Syria. Our teams are on the ground assessing the damage and water quality in camps for displaced people and communities we serve. 
As part of our comprehensive response, Mercy Corps' shelter team will analyze repair needs and help set up shelter. We are aiming to provide cash aid so families may purchase fuel during the winter, food, and other essential supplies. 
Does Mercy Corps work in Turkey?
Mercy Corps does not currently operate in Turkey, but we stand ready to assist in aid efforts should the Turkish government request our assistance. Currently, Mercy Corps is focused on providing immediate support to affected communities in Northwest Syria where we already work, and which already faced a significant humanitarian crisis after over a decade of conflict.
Join us in building a more equitable world.