The facts: What you need to know about the Nepal earthquake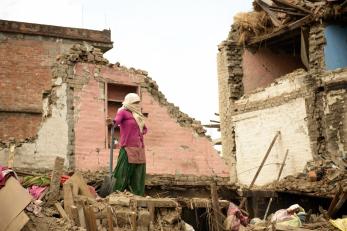 April 19, 2018
Editor's note: This article was originally published April 26, 2015; it was updated April 19, 2018, to reflect the latest information.
If Sushma, 24, remembers one thing about the earthquake three years ago, it's the destruction. She watched with terror that day as her neighbor's mud and stone homes began to crumble, the earth violently trembling beneath her feet as she rushed toward her own collapsing home. She managed to pull her sleeping baby daughter from the wreckage — but nothing else.
When the worst was over and the dust had cleared, Sushma and her family were buried in loss: Their home was destroyed — everyone's was — and their farm was damaged. With no way to meet their basic needs, they were paralyzed with uncertainty.
Mercy Corps has been on the ground supporting earthquake survivors like Sushma, pictured here with her son Rashik, since the disaster struck three years ago. Press play above to hear her story.
Her district in Nepal, Sindhupalchok, was hit hard by the massive April 25, 2015 earthquake: a 7.8 magnitude quake that struck just northwest of the capital of Kathmandu. It was the worst to strike the region in more than 80 years.
The area suffered a second 7.3 magnitude quake just 17 days later, on May 12, causing further damage and hardship for those who had survived the initial disaster.
Nepal, well known for its rich cultural heritage and extreme tourism, is one of the poorest countries in Southeast Asia. The damage done by the quake put a strain on the country's citizens that has lasted many years.
Mercy Corps was working in Nepal long before the earthquake. And with expertise in large-scale disaster response and a team of over 100 staff members on the ground there, we were able to mobilize quickly to help people survive the immediate aftermath of the catastrophe. Within days after the quake, we were distributing emergency kits to Sushma and other survivors.
In the years since, we've remained committed to helping people like her rebuild their lives. Get the facts and figures below, and learn what we've been doing to help.
The earthquake in Nepal
Strength: 7.8 on the Richter scale.
Epicenter: Less than 50 miles northwest of Kathmandu, the country's capital in central Nepal.
Depth: 11 km/6.8 miles. The source of the earthquake was relatively shallow, contributing to its strength and the resulting damage.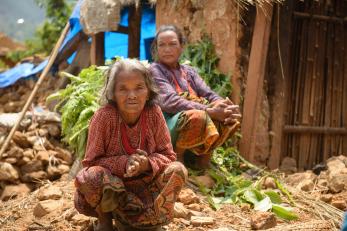 Aftershocks: Hundreds in total; two major aftershocks of 6.6 and 6.7 magnitude, and a second 7.3 magnitude quake on May 12.
Worst quake since: 8.4 earthquake in 1934, which killed more than 10,000 people, damaged over 125,000 homes and destroyed over 80,000 buildings.
Impact of the earthquake
People affected: Approximately 8 million
Death toll: Around 8,900
People injured: At least 22,000
Number of children who needed urgent assistance: 1.1 million
Number of people who needed humanitarian assistance: 2.8 million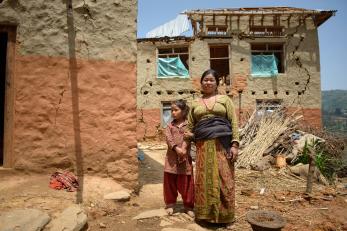 Damage: Homes and historic temples crumbled, roads damaged and communications made sporadic. Avalanches on Mt. Everest. We received reports from more remote areas that entire villages were destroyed without a single home left standing. Water systems in hillside villages were wrecked. Terraced farms and cattle were wiped out by the quake or subsequent landslides, destroying people's entire livelihoods.
Number of homes destroyed: More than 800,000
Number of homes damaged: More than 298,000
Areas affected: Over 50 out of 75 districts reported damage. Deaths were also reported in neighboring Tibet and India.
Most affected areas: Gorkha, Lamjung, Dhading, Nuwakot, Rashuwa, Kavre, Sindhupalchok, Dolakha, Ramechhap, Okhaldhunga, Sindhuli, Kathmandu, Bhaktapur, and Lalitpur Districts.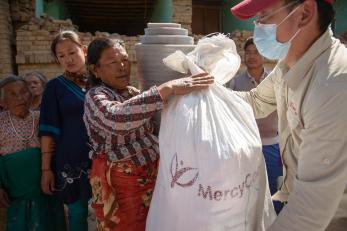 Weather: Annual monsoon rains from June to September regularly trigger flooding and landslides, which can cause extensive loss of life, land and livelihoods, and exacerbate the humanitarian situation. Heavy rains can also impair infrastructure like roads, dams and footpaths.
During the last monsoon season, in August of 2017, floods affected as many as 1.7 million people across 35 districts — displacing 461,000 people and destroying 65,000 houses.
Logistical challenges: The extreme terrain makes getting to remote communities difficult. Many roads were made impassable due to earthquake damage, and new flooding and landslides continue to hinder access. Those that are serviceable are often too narrow for large equipment. In the aftermath of the quake, much of the aid distribution needed to be done by helicopter.
Additionally, between September 2015 and February 2016, a crippling fuel shortage temporarily suspended relief operations throughout Nepal and disconnected people from the resources they needed to rebuild.
Facts about Nepal
Population: 28.9 million people
People living on less than $0.50 per day: About 7 million (25 percent of the population)
Population of Kathmandu: 2.87 million people
Human Development Index: Nepal ranks among the poorest — 144 out of 188 countries
Risk of earthquakes: Nepal ranks 11th in the world for vulnerability to earthquakes.
Percentage of population in urban areas: 20 percent
Percentage of population in rural areas: 80 percent
Mercy Corps' work in Nepal
Years Mercy Corps has worked in Nepal: 12
Staff members in the country: 100+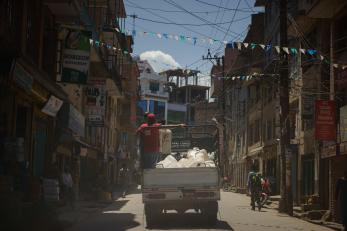 Our work: Since 2006 we have focused on protecting, strengthening and expanding resilience strategies and opportunities among the poor, vulnerable and disadvantaged families through economic, financial and risk management programs.
Our emergency response
Our priorities in the immediate aftermath: Clean water, hygiene and temporary shelter
Our response: Distributed emergency supplies like tarps, blankets, clothing, water purification tools, cooking utensils, towels, mosquito nets and hygiene supplies to help families survive in the days and weeks after the disaster. Provided cash to help the most vulnerable families buy urgently-needed supplies and begin to rebuild in the months following the quake. 
Cost of emergency supplies: $80 per family/$18 per individual
People we supported with emergency aid: 135,000
Families assisted with cash transfers: 23,000
Dollars infused into local economies: $1.7 million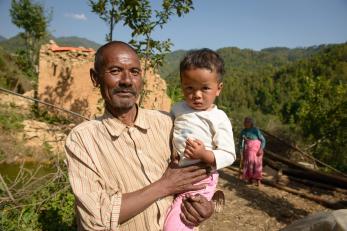 Working toward recovery
During the fuel shortage, we worked to finalize logistics and strengthen our relationships with communities, partners and the government of Nepal, which allowed our teams on the ground to quickly resume our long-term recovery efforts when fuel became available. Learn more about the first year of recovery ▸
Since then, we've been focused on helping the people of Nepal rebuild their homes, recover their livelihoods and prepare for the next disaster.
We implemented a cash-for-work program that employs local people to strengthen hillsides against landslides near vulnerable communities. We're also working with our partners to help families rebuild stronger, safer homes using affordable, accessible materials. And we're helping people access financial services so they can successfully invest in their homes, businesses and futures.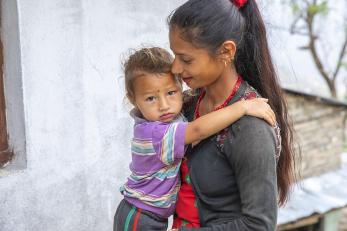 In the aftermath of the earthquake, Sushma received emergency supplies, cash and vegetable farming training to boost her family's long-term recovery.
"Right after the earthquake, we felt powerless. We didn't even know how we would manage the essentials," she says. "With that help, we started moving forward."
Rebuilding has been slow and arduous but, over the past three years, she and her husband have slowly been able to construct a new home. And Sushma has developed her vegetable farming enough to feed her family and earn income to cover all their household expenses.
Seated in her sprawling fields, surrounded by barley, wheat and vegetables, she even boasts a bit of optimism as she explains her plans to expand her farm so she can send her children to school. She has a long way to go, she says, but she has come a long way, too.
"When the earthquake struck, I was very afraid," she says. "Now, I have the courage to do things and move ahead."
Support our emergency response efforts to crises around the world.
The more people who come together to help, the more people we can reach.