One year later, recovery in Nepal forges on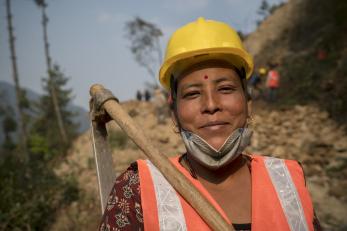 April 18, 2016
Last year, a powerful earthquake in Nepal devastated the country. As we look back, one year later, the numbers tell a story about the disaster itself, recovery efforts, and your impact.
135,000 — The number of people we reached with emergency supplies immediately after the disaster, thanks to the compassion of people like you.
7.8 — The magnitude of the initial earthquake, strong enough to shake historical sites to the ground, break roads apart and send homes sliding down Nepal's beautiful green hillsides.
8 million — The number of people, about 40 percent of Nepal, who were affected by the earthquake and its powerful aftershocks.
Because of you, our team has been able to stand with Nepalis during this difficult time — and help them get the tools and information they need to build back stronger than before. But the road to recovery has been filled with challenges.
Monsoon season threatens recovery
After the deadly earthquakes in April and May, the monsoon season — normally from June through September — came early. Torrential rains pounded Nepal, soaking families who only had thin tarps or makeshift tents for shelter.
"The earthquake was the big event, but we still have aftershocks. The earthquake hit, and then the monsoon season came early — so just as people were forced out of their houses, the rains came pouring down," said Jeff Shannon, director of programs in Nepal.
Rebuilding during the monsoon season was difficult. For people who could afford it, often the best they could do was purchase tin sheeting to create temporary shelters or repair areas of their damaged homes.
We offered unconditional cash to 23,000 people so they could purchase emergency supplies or buy the items needed to repair their homes or create better shelters for their families. By working with local shops, the cash transfers infused $1.7 million into the economy.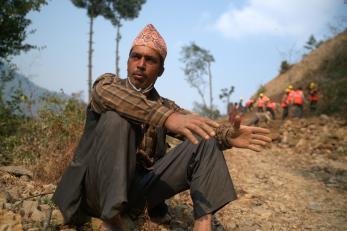 Fuel crisis slows relief efforts
Just as the monsoon season was coming to an end — offering an opportunity for the people of Nepal, and organizations like Mercy Corps, to ramp up recovery efforts — a widespread fuel crisis crippled the economy even further.
From September of last year through February, there was almost no fuel available. People were trapped, hospitals began to shut down, and medicine ran out. "Things just stopped moving around the country," Shannon said. "Prices for everything doubled, and quadrupled. At just the moment when you wanted to rebuild and get investment going, everything came to a dead stop."
For families who had already lost almost everything when the earthquake hit, the effects of the fuel crisis were another tough blow. Most people were already vulnerable, with little or no savings, so whatever they did have was spent quickly on food and emergency supplies.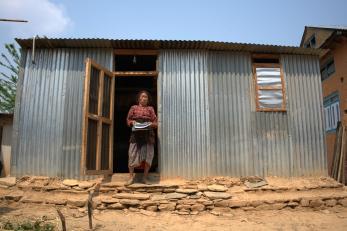 "People had already lost their houses, their seeds, and their livestock. They couldn't buy more of anything, because of the prices," Shannon said. "Farmers couldn't sell their crops because there were no trucks. So they started eating seed stock — but then you have nothing to plant. You have no money and no seeds. As a farmer, what do you do?"
The prolonged fuel crisis made Mercy Corps' work extremely difficult. Many of the earthquake's hardest-hit areas are rural and isolated. With no fuel, it was impossible to reach them for much of that time period. The team did meet with local communities as they were able to understand their needs and lay the groundwork for a more robust, long-term response.
As the winter temperatures dropped, the needs of recovering Nepalis became even more apparent. "It was morally devastating to see that people were sleeping under tin sheets in snow, ice and freezing winter," Shannon said. Some even went back into their crumbling houses just to escape the elements.
Despite the tremendous challenges brought on by the fuel crisis, Shannon and his team were able to distribute extra winter supplies to more than 36,000 people in need. "We were able to go out and help the really vulnerable with extra blankets."
Fuel crisis ends, optimism begins
The fuel crisis eventually ended, and things are slowly returning to the way they were last summer. "There is a cautious sigh of relief," Shannon said . "Prices for staples have slowly decreased — they are almost back to normal levels. Fuel supplies are much improved, but still in somewhat short supply, while cooking and heating gas is still often difficult to get."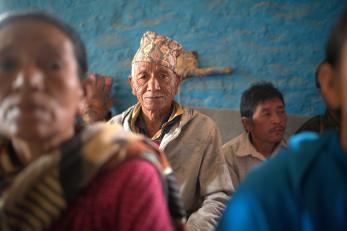 When fuel became available after so many months, the team in Nepal couldn't wait to get to work helping people get back on their feet. The team shifted from only being able to work sporadically to working in the field every day since the fuel crisis ended. "Everyone's racing just as fast as they can go," Shannon said.
Now, our biggest goals are helping Nepalis rebuild their homes, access financial services like banking, and physically strengthen their communities against landslides, flooding and future disasters.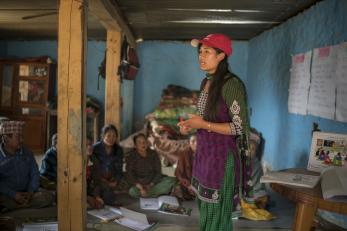 Nepal's lush green hillsides are particularly vulnerable to landslides during disasters — which makes evacuating, or delivering aid, extremely difficult. "We saw more landslides in the two weeks after the earthquake than in the last five years," Shannon said.
To strengthen those fragile areas and help Nepalis earn more income, we're hiring locals to build infrastructure that will make the hillsides safer. Efforts like this are bringing communities together. "As an individual, I can't make that hillside safer, but as a community we can do that — and Mercy Corps can help," Shannon said.
We're also working with our partners, like Build Change, again to help earthquake survivors rebuild their homes with affordable and accessible materials.
Most people in the rural, hardest-hit areas don't have access to any financial services, so we are working with local banks to provide financial literacy training and extend their services into these areas to help Nepalis save, and invest in their homes and businesses.
Nepalis show resilience in the face of disaster
Despite the many challenges they've faced in the last year alone, Jeff Shannon is confident in the resilience of the people of Nepal.
"These are some of the most amazing, kind, generous and welcoming people I've ever met. In the midst of devastation, you saw people who were happy that they survived, happy their neighbors were there, and they were celebrating the fact that they were alive," Shannon said.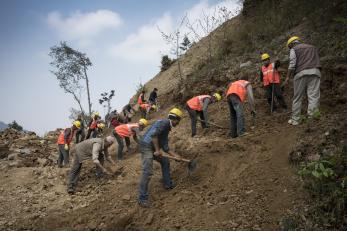 "You go to communities where nothing is left standing, and people are putting flowers around your neck and offering you tea. The unbreakable spirit of Nepalis will see them through this. It's awe-inspiring. They're quite sure they're going to get through it — and we want to be there to help them do that."
As the people of Nepal continue their recovery, the team is working hard to help in whatever way they can. Now that the fuel crisis is over, the monsoon season is on its way — it's a race against the clock to get as much done as possible before the rains set in.
Recovery is possible because of you
When the 7.8 magnitude earthquake hit Nepal last year, 50,000 people like you stepped up to donate to our emergency relief efforts. One year later, Jeff Shannon, his team, and the people of Nepal remain grateful for your compassion.
"It's only because of the people who gave $5 that we are able to help. Because people gave, we've been able to build up a response that is really focused on the people in those villages who offered us cups of tea when they had no house around them," Shannon said.
"We would never be able to do what we're doing now if it weren't for the people who gave at that time. All the little donations have enabled us to respond, and a year on, we're still doing it. Thank you."
Help us provide even more support to the people who need us around the world.