Chapter 6: The effects of an Ebola outbreak on children in Africa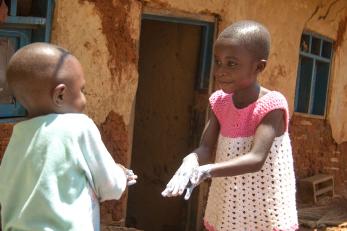 March 07, 2019
Of the thousands who suffer the effects of Ebola, children are among the most vulnerable. During the biggest Ebola epidemic, almost 20 percent of all Ebola cases occurred in children under the age of 15. Children are greatly affected by an Ebola outbreak in several different ways. In this last chapter, we'll look at the effects Ebola has on children and their mental and physical health. Together we can help reduce Ebola's impact on children and their families.
How an Ebola outbreak impacts children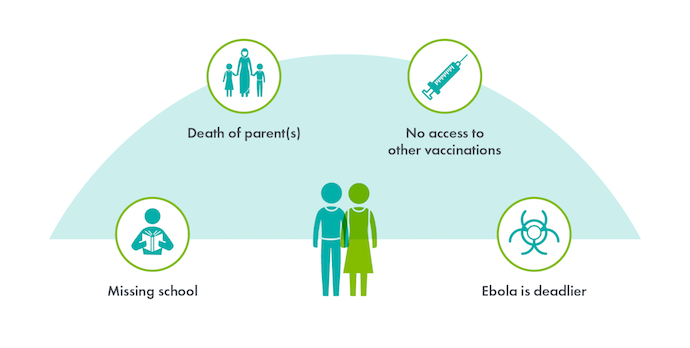 Childhood is an essential period of life for growing, learning and playing. When Ebola breaks out in a community, all childhood priorities are put on the back burner. Suddenly, school is less important and regular checkups seem too risky to parents who want to keep their children safe from Ebola.
Children may face the trauma of losing loved ones or fleeing from a community and leaving their home and friends behind. As you'll see, the effects of Ebola reach far beyond the infection itself.
1. Children may lose one or both parents
During the middle of an Ebola outbreak, children may lose family members who are close to them and needed to support them. This can be siblings, grandparents, or often the primary people who provide them with food, shelter and love — their parents. During the 2014 epidemic, for example, 17,300 children lost one or both parents due to Ebola. Research shows that children who lose a parent are at increased risk of developing mental health issues such as depression and anxiety. Children may also be at increased risk of mortality during childhood into early adulthood after the death of a parent. The loss of a parent is linked with increased long-term risk of suicide, concentration and behavioral problems affecting children's academic performance and future.
With Ebola, many children watched their parents die in front of them, battled the infection themselves or worried they would catch the disease. Overall, losing a parent or both parents is an extremely stressful event for a child during a time in their life when they need support the most. Support interventions may help children from developing mental health issues.
Many times relatives take the role of caregiver for a child who lost their parents, but in an event such as an Ebola outbreak, family members are hesitant to welcome the child into their home for fear they will get infected. Money needed to care for the child may also be an issue. Many children were orphaned as a result of the epidemic.
2. Children miss school
During the 2014 epidemic, more than 33 weeks of school were missed due to school closures. In Guinea, nearly 10 percent of households withdrew their children from school due to Ebola as a major factor. Parents may have feared their child would get infected or lacked transportation as a result of an outbreak to get a child to school. Missing only three weeks of school is enough to impact a child's level of achievement and causes a loss of learning opportunities.
3. Children lose access to vaccinations
During the 2014 Ebola epidemic, there was a 30 percent decline in childhood vaccination coverage due to funding being redirected towards fighting Ebola. However, childhood vaccination is essential to preventing many major diseases and prevents 2 million deaths a year according to WHO. However, 2.5 million deaths occur each year in Africa and Asia among children under the age of 5 from diseases that can be prevented by vaccination. Educating parents about the importance of vaccinations can help make it a priority in families. For instance, a study published in 2012 suggests maternal education is associated with childhood vaccinations. Nevertheless, strong healthcare systems require more funding to have the supplies need to complete vaccinations safely in the event of an Ebola outbreak.
4. Ebola is worse for children
Ebola is deadlier in children than adults, although infection rates are lower in children. Ebola kills 90 percent of infants and about 80 percent of children under the age of 4 who get infected. However, older children between the ages of 10 and fifteen have a better chance of survival. There have also been some differences noted in symptoms between children and adults. For example, children are more likely to have a fever at the start of the virus and less likely to have difficulty breathing, unlike adults. The current research suggests the need to develop specialized care for children infected with Ebola. Other factors that increase the risk of transmission include:
A lonely child might leave their bed in a hospital to seek attention from others, increasing the risk of exposure.
Children may cry and parents comfort them without yet having results of an Ebola test.
Ebola outbreak zones contain bins of sharp objects and buckets of solution children may touch or try to drink.
In addition to health consequences and risks, many children experience psychological trauma resulting from an Ebola epidemic including fear of death and grief of losing a loved one. Children survivors of Ebola require psychological support to help them cope with the trauma of Ebola.
How is Mercy Corps helping children?
We're in schools in Ebola-affected areas of DRC working on infection prevention and control and conducting health and hygiene education and communication campaigns in schools.
During the worst epidemic, we worked to support children who faced longer-term emotional effects from experiencing the Ebola crisis. We ran a 12-month program funded by the World Bank to provide "Comfort for Kids," centered on providing psychosocial support for 10,000 children in Liberia.