Chapter 5: Ebola's effect on healthcare systems in Africa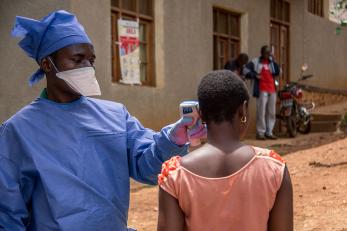 March 07, 2019
Many of the countries most impacted by Ebola have weak healthcare systems that make it difficult to effectively intervene and treat patients. There is an increased demand for healthcare professionals during an outbreak, but many are terrified of the virus. Lack of medical supplies and healthcare professionals can have a devastating effect. In addition, healthcare workers are more at risk of contracting the virus than the general public due to direct contact with sick patients.
The last epidemic taught many important lessons to countries around the globe, such as the value of investing in healthcare systems. In this chapter, we'll explore the effects an Ebola outbreak has on healthcare, especially healthcare workers who have fought and continue to fight the virus from the frontlines.
How many healthcare workers died from Ebola?
Ebola made a direct impact on healthcare systems around the world. Healthcare workers are at high risk of getting infected. For example, 881 doctors, nurses and midwives were infected with the virus during the 2014 epidemic in West Africa, and 513 died. As a result, there was an 8 percent reduction of healthcare workers in Liberia and a 23 percent decrease in services in Sierra Leone.
There is already a severe shortage of healthcare staff in these countries. For example, Sierra Leone has one of the highest patient-to-physician ratios in the world with 50,000 patients per physician. To put this in perspective, there are about 400 patients per physician in the United States. Reasons West African countries saw a drastic decrease in healthcare workers were:
Workers became infected and died from Ebola
Workers were afraid to get Ebola and left the healthcare industry
Workers were sent to prioritize Ebola treatment over other illnesses, limiting availability
Many foreign healthcare workers move home during an Ebola outbreak. According to the World Health Organization, healthcare workers are up to 32 times more likely to get infected with Ebola than the general public. Healthcare workers include doctors and nurses as well as cleaners, burial workers and community workers, among others. However, nurses and nurses aides accounted for more than half of all reported health worker infections between 2014 and 2015 in West Africa. Causes included:
Delayed lab diagnosis of Ebola cases
Exposure to patients who died from Ebola
Contact with infected bodily fluids
Lack of supplies and training
Lack of adequate isolation and barriers
Lack of sufficient hand hygiene stations
Contaminated equipment and surfaces
Needle stick injuries
Touching mucous membranes or mobile phones while wearing PPE
Embracing infected individuals
However, healthcare workers can also prevent an infection by taking precautions. The infection rate of healthcare workers drops when prevention measures improve. Funding for PPE, health teams and strengthening health systems can help prevent future outbreaks. Educating and training healthcare staff about Ebola and infection control best practices can also help.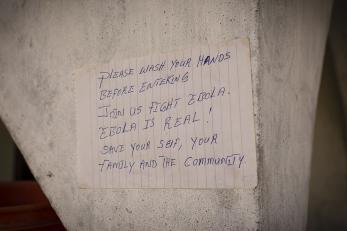 What is Ebola's indirect impact on healthcare systems in Africa?
Ebola impacts healthcare systems beyond hospital doors. For example, people lose trust in the healthcare system and fear getting Ebola if they go to a health facility. They may resist seeking treatment for an infection or other illness, or sending a loved one for medical care due to this fear, and this reluctance could produce dire results. Community education could help bring understanding about the virus and the risks of getting infected so that patients are not afraid to set foot in a hospital.
One of the greatest indirect impacts of Ebola on healthcare is an Ebola outbreak causes setbacks in the treatment and control of other diseases such as HIV, tuberculosis and malaria. Due to the lack of healthcare supplies and services, an estimated 10,600 lives were lost due to other serious diseases during the epidemic. An increase in patients and a decrease in healthcare workers led to closures of clinics and disrupted services for routine healthcare, vaccinations and maternity care. Border closures, curfews and transportation disruptions also affected the number of people seeking healthcare because it made it more challenging.
International donors and community-based organizations played critical roles in curtailing the Ebola outbreak and without that, there would have many more deaths. Join us to take action and help save more lives.