Earthquake strikes Indonesia's most populated island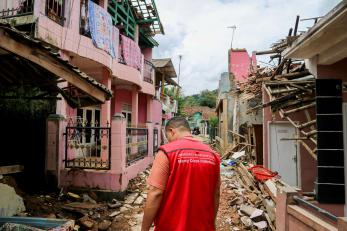 January 06, 2023
On Monday afternoon, November 21, 2022, an earthquake struck the most populated island in Indonesia. The epicenter of the magnitude 5.6 earthquake was in Cianjur Regency, in West Java, killing more than 300 people, injuring thousands, displacing more than 73,000 people, and damaging and destroying about 62,000 housing units, according to the U.N.
In the immediate aftermath, frequent strong aftershocks hampered relief efforts and caused further damage to buildings in the region. Emergency workers scrambled to search for people trapped in debris, but hospitals had been badly damaged and lost electricity, further impeding rescue efforts. Many victims were children because they were attending schools that had collapsed. Mercy Corps Indonesia Response Team quickly provided emergency support to communities in Cianjur who urgently needed food, water, and shelter.
In Ciwalen Village, Warungkondang, where homes are heavily damaged, Mercy Corps distributed 100 kitchen kits and blankets, and 50 shelter kits, and continues to work with local officials and organizations to scale support to more communities to meet basic needs. The Mercy Corps team is coordinating access to clean water, like setting up a water point in Cijedil Village for community members to wash dishes, clothes, and bathe children, helping to decrease waterborne illnesses.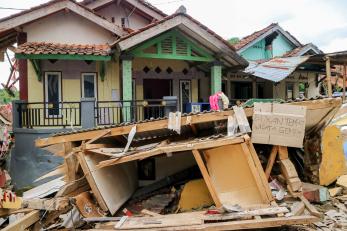 "By conducting a needs analysis so that it is right on target, we will distribute aid as soon as possible to vulnerable families affected by the Cianjur earthquake," said Ade Soekadis, Executive Director of Mercy Corps Indonesia. "Clean water and meeting nutritional needs are difficult during a disaster. Hopefully, what we do can help affected communities meet their needs and contribute to the economy of the surrounding area."
Cianjur is one of the most high-risk areas in Indonesia for natural disasters, according to the Indonesia Disaster Risk Index. The region is prone to landslides since it's an agricultural region with hilly terrain. Because of its geographic location along the Pacific Ring of Fire, Indonesia has experienced hundreds of natural disasters including earthquakes, tsunamis, volcanic eruptions, and floods.
Just two weeks after the devastating earthquake, on the other end of the island, Mount Semeru erupted and covered nearby villages in volcanic ash. Almost 2,000 people were displaced, with no reported casualties, according to the U.N. One year ago, to the day, Mount Semeru's previous deadly eruption displaced and injured thousands, and killed almost 60 people. Mercy Corps Indonesia Response Team provided emergency support for hundreds of families to recover and rebuild in the wake of the 2021 disaster.
Mercy Corps has worked in Indonesia for more than 20 years, and its Indonesia Response Team has delivered emergency and long-term support to communities in the aftermath of recent natural disasters, including the 2018 Sulawesi earthquake and 2016 Aceh earthquake. The Indonesia Response Team has extensive experience in providing critical support during emergencies, connecting with people and communities to meet their urgent needs.
Join us in building a more equitable world.