The dream that launched Lourdes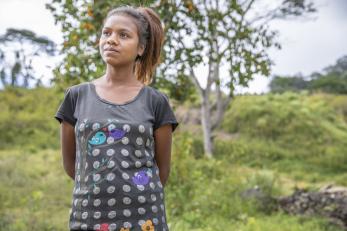 October 05, 2018
Timor-Leste is not an island of dreams. It's a nation of struggle, from its hard-won independence in 1975 to the subsistence farming that sustains 80 percent of its people. It's a remote and vulnerable island, isolated in many ways from the rest of Asia. Though only the size of Connecticut, Timor-Leste's challenges are substantial, especially for its rural poor: poverty is common, hunger is widespread, opportunity is rare, and climate change is threatening.
In 2015, we traveled to Timor-Leste and met a 15-year-old girl named Lourdes, who was trying to change that narrative. Living high in the island's mountains, Lourdes harbored a dream that seemed almost impossible: to graduate from school and become Minister of Education.
There were hurdles in the way. Lourdes' family are farmers, one of the most vulnerable ways of life on earth. She lives in a small, remote village of 800 people nearly a four-hour drive from Dili, on a road so perilous that it would take only 15 minutes as the crow flies. She loved school, but she didn't have electricity. She dreamed big, but she didn't know whether that would be enough.
Thanks to a solar lamp from Mercy Corps, Lourdes studied long into the night. Her favorite subject was economics, and even as a teenager she was a leader in her school and her family.
This year, we visited Lourdes again. Standing next to the solar lamp she still uses, she told us how she was preparing to graduate from high school — the second person in her family to do so, and the first girl. Soon she would be leaving home and making the long drive to Dili to go to university.
But her longshot dream of becoming Minister of Education was no longer her dream. Now, she said, it was her plan.
Timor-Leste ranks 132nd out of 189 countries on the Human Development Index, a statistic that measures life expectancy, education, and income levels. But one area where the country has made significant progress is education: In 2000, the average child in Timor-Leste could only expect to go to school for nine years. Today, the number is up to 12, while enrollment rates have grown from 67 percent to 83 percent. Gender disparities have decreased, though girls still average fewer years in school than boys.
In many ways, Timor-Leste's future depends on trends like these. The nation hasn't yet known a generation of educated young people: The average person over 25 went to school for just three years, and the adult literacy rate is just 58 percent.
"My parents weren't educated," Lourdes says. "Now they're helping educate all of us kids, so it's very important to me to finish my education to make sure all of my parents' efforts are useful."
It's a sacrifice she feels deeply. Lourdes' house sits in a valley off the main road in her village. Three families live here, totaling 24 mouths to feed. During the rainy season, landslides can swallow "noodle road," so named by locals for its harrowing twists and turns. When that happens, there's no way to get to the other side of the mountains.
A single bulb illuminates the room where Lourdes studies. On the wall, a picture of her older brother receiving his diploma looks down over the family. When Lourdes graduates, her father says, she'll be up on the wall next to him.
"Whatever she does, in terms of chasing her education and her dreams, we are really supporting her," Lourdes' mom, Isabel, says. "But one thing that we want her to keep in mind is if you want to take this path of chasing your dreams, to make sure you see your journey to the end."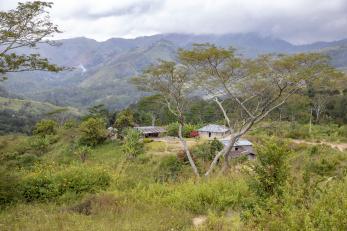 Lourdes' dream represents more than just her goal; it also illustrates a newfound sense of possibility felt among the nation's girls, who in many ways still lag behind men. Women in Timor-Leste earn less than one-third of men and are more likely to be unemployed. Early marriage rates still hover around 20 percent, and more than half of women have experienced violence from a partner.
Even dreaming of becoming Minister of Education represents something major — for Lourdes, for her family, and for girls like her across the country. It means there is no barrier a girl can't overcome. Achieving it would give Lourdes a chance, in her words, to increase the quality of education in rural communities everywhere, to give girls here a better path to the future, and to give back to her parents.
Today, she's three years closer to realizing it. When she talks about it, she can't help but speak like she already has.
"Being a young girl is something to be grateful for," Lourdes says. "Take the opportunity to chase your dreams — while your parents are still here, while they're still able to educate you and send you to school. Go to school, and take advantage of any opportunity to focus on your dreams. Don't think about something else.
"Most girls in Timor marry young. Please, don't get married young. Finish your education, find a job, and help your parents," she says. "Give back to your parents for helping educate you."
Help us provide more support to youth and families who need us around the world.
Turn your knowledge into action by setting up a personal fundraising page.