The facts: The humanitarian crisis in the Democratic Republic of Congo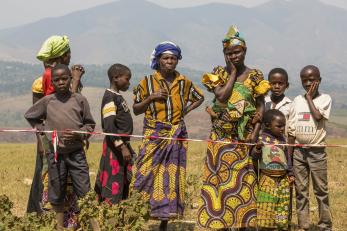 July 17, 2019
The Democratic Republic of Congo (DRC) is a country rich in resources, yet fraught with conflict and violence. The country is currently experiencing the largest displacement crisis in Africa.
Many of its people have not seen peace in more than 20 years.
---
Read on to learn more about the crisis in DRC and find out how we're helping families survive — and build stronger futures.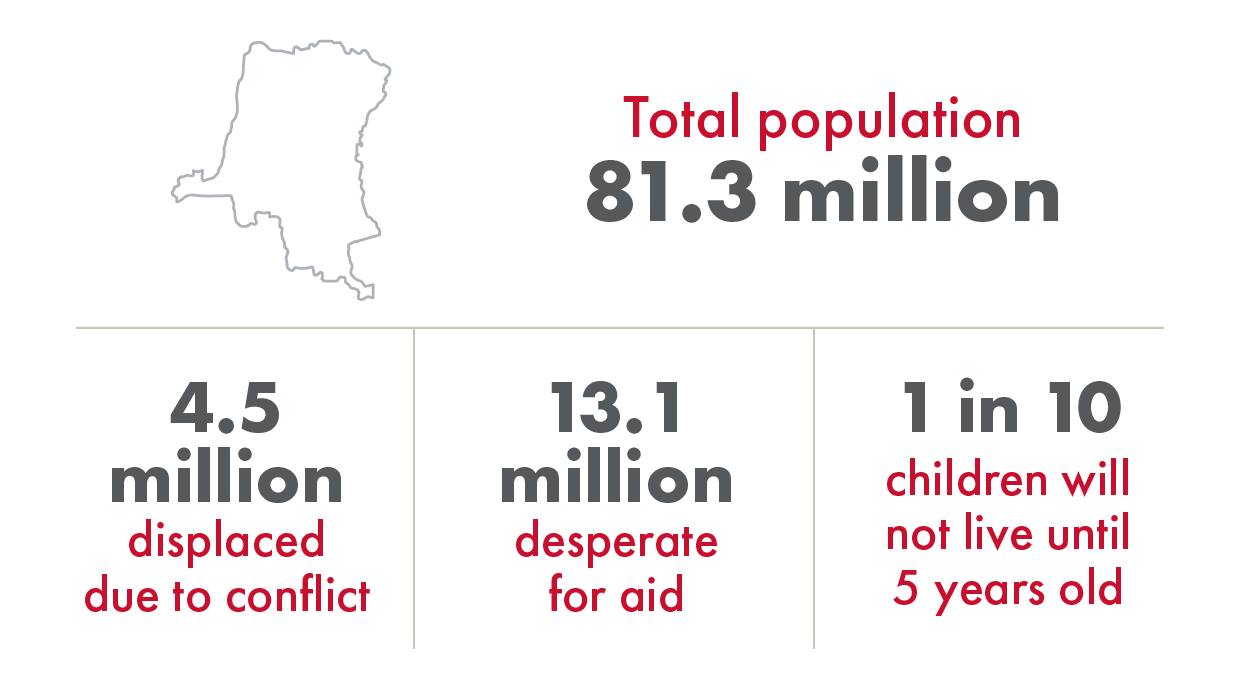 What is the DRC crisis?
The Democratic Republic of Congo (DRC) is host to one of the world's most complex and long-standing humanitarian crises, centered particularly in the east of the country. More than 2.1 million people were forced to flee their homes in 2017 alone — equivalent to an average of 50 families fleeing every hour, every day.
Weak governance, a lack of infrastructure and stunted economy, coupled with two decades of conflict, have led to one of the most ignored and forgotten crises in the world. That's why we're there to help.
What is the current conflict in the Democratic Republic of Congo?
There are currently more than 100 different armed groups vying for territory and control in eastern DRC. This conflict is causing massive displacement and urgent humanitarian needs as families flee their homes for safety.
The armed conflict and insecurity has displaced 4.5 million people within the country. 13.1 million people need humanitarian assistance — 5.6 million more than in 2017. Over the last year with intensified fighting, the humanitarian situation has dramatically worsened.
The rise of Ebola has made the situation even more dire.
Is there Ebola in DRC?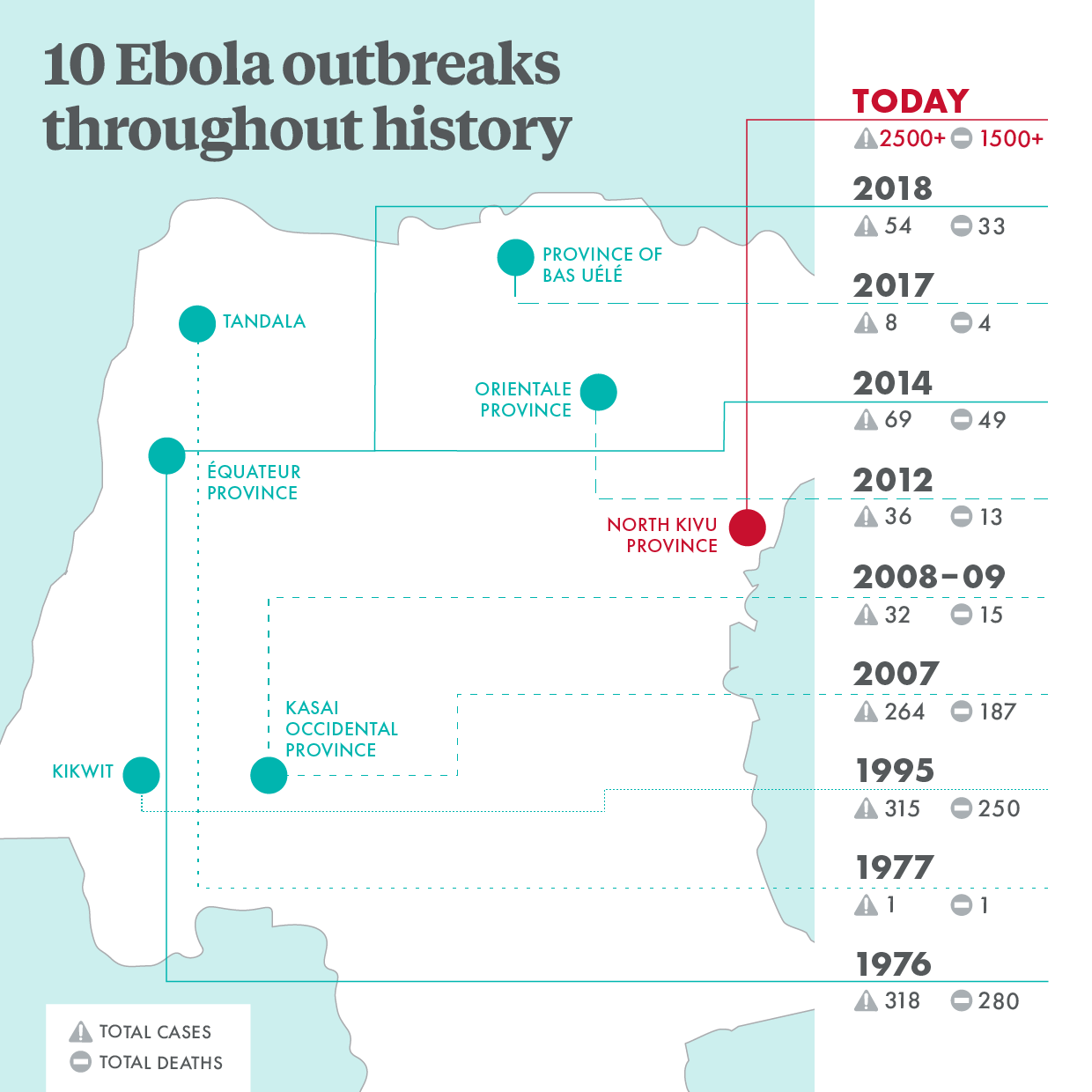 Yes. Ebola is endemic to DRC. The country is currently battling its tenth Ebola outbreak, which has already killed more than 1,500 people. It is now the worst Ebola outbreak in DRC's history. Over 50 percent of the total cases have occurred in the past three months.
On July 17, the World Health Organization declared the Ebola outbreak in DRC a "Public Health Emergency of International Concern" (PHEIC). Previous PHEICs include Swine flu in 2009, Polio in 2014, Ebola in 2014 and the Zika virus in 2016.
"We hope that [this] declaration by the WHO will translate into urgent and practical action, including more funding from international donors," said Laura Miller, Mercy Corps' acting country director in DR Congo. "Every day, women, men and children are dying of the Ebola virus and it is becoming too easy to forget that the ever-climbing case numbers are people."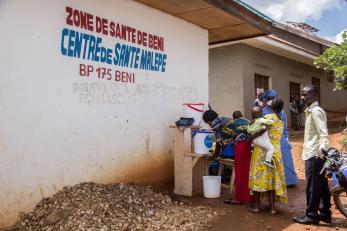 This particular outbreak is happening in the densely populated and conflict-affected provinces of North Kivu and Ituri, making it more difficult and dangerous to access affected people and areas. We are working to help communities near the epicenter of the epidemic to prevent the spread of the disease.
A previous Ebola outbreak in 2018 affected 54 people and resulted in 33 deaths.
What is the Kivu conflict?
The conflict in North and South Kivu began in 1996 in eastern Congo in the aftermath of the Rwandan genocide. The conflict involves numerous armed actors, including the DRC Military, foreign rebel groups such as the Democratic Forces for the Liberation of Rwanda and Allied Defence Forces of Uganda and more than 100 local armed groups. Due to this ongoing fighting, DRC is currently home to the largest UN peacekeeping force in the world, consisting of 21,000 people.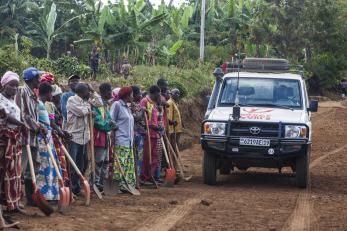 As part of Mercy Corps' programming in eastern DRC, we are working to support stronger local governance and conflict resolution mechanisms, in order to build greater social cohesion at the grassroots level.
Is there still war in DRC?
Not technically. But there is still ongoing conflict, insecurity and a lack of effective governance. There are now more than 100 armed groups vying for territory and control in eastern DRC. The current president, Joseph Kabila, has been in position since 2001 following the assassination of his father, Laurent Kabila. The presidential election in December 2018 has thrown the country into further turmoil. In its 58 years of independence from Belgium, the DRC has never had a peaceful political transition.
How densely populated is the Democratic Republic of Congo?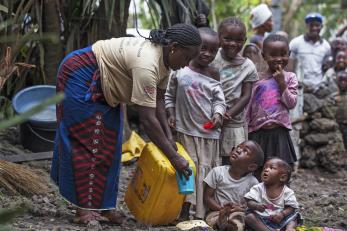 DRC is the size of western Europe and the second-largest country in Africa. Its population of 80 million people is spread throughout the country, with 40 percent of people living in urban areas. Cities in eastern Congo, like Goma and Bukavu, have been experiencing an influx of people fleeing violence from the more rural areas. People are seeking safety and security, and new opportunities to earn an income, as the conflict has forced many of them off their land.
This escalating displacement, coupled with resource mismanagement, is putting increasing pressure on the cities' services. To respond to these needs, we've developed an integrated water initiative to improve access to water for the most vulnerable citizens of Goma and Bukavu. It also aims to provide equitable access to water for all.
How wealthy is the Democratic Republic of Congo?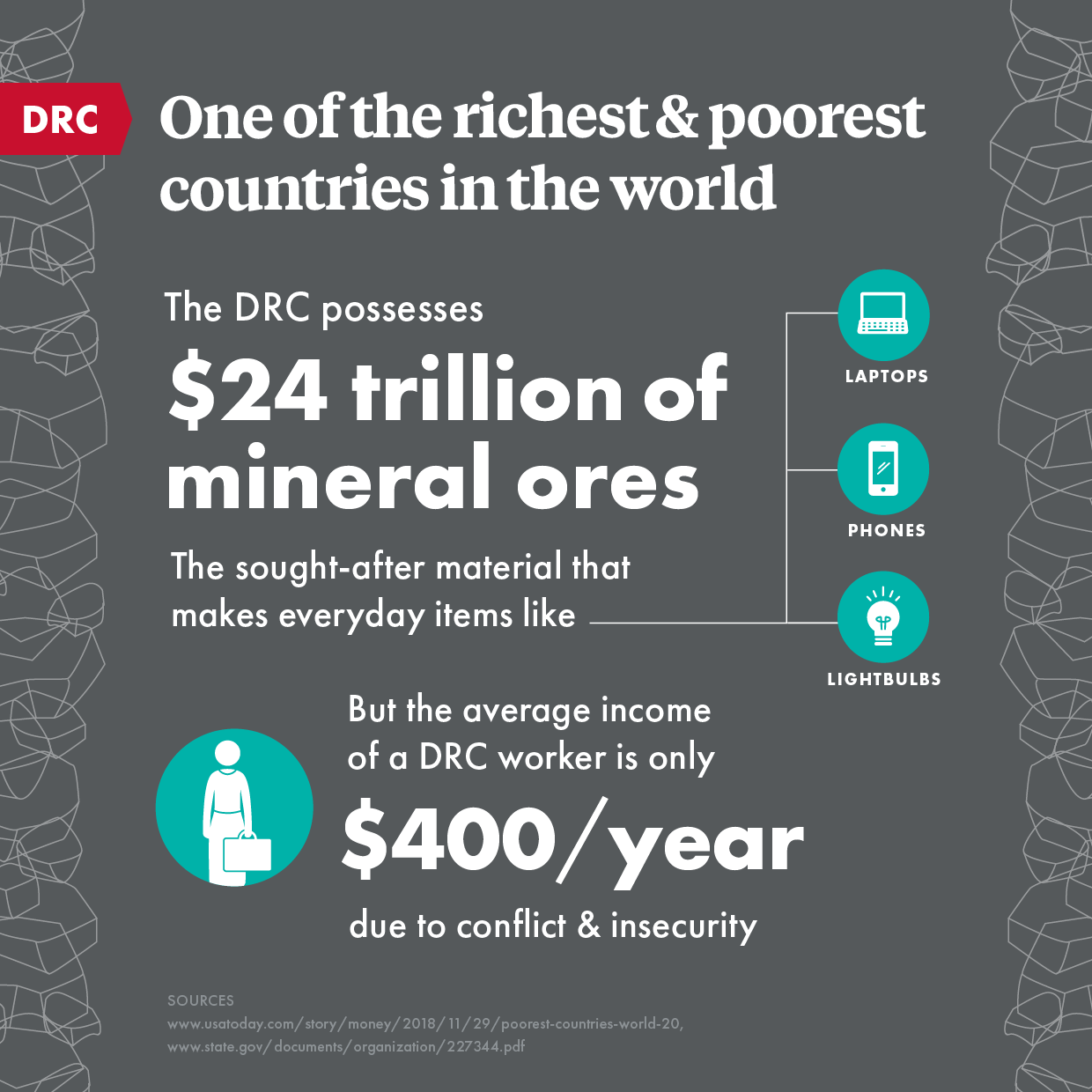 The DRC has vast human and natural resources, which could, arguably, make it one of the richest countries in the world. This Central African country is home to the world's largest reserves of coltan, used in mobile phones and electric cars, as well as significant quantities of the world's cobalt and copper, as well and diamonds, gold and many other minerals.
Yet, because of the ongoing conflict, poor governance and a lack of infrastructure, the Congolese people are not benefiting from this immense wealth. In fact, in 2019, DRC will become the country with the second highest number of people living below the poverty line.
Who is affected by the conflict in DRC?
In the conflict-ridden eastern part of the country, women and children are often most affected by the conflict, as is the case with many crises. More than 2 million children suffer from severe acute malnutrition. One in 10 women and girls experienced sexual violence in 2016. In some cases, women and their children have no choice but to flee the violence and hunger. Women often leave their homes with very little but their children and the clothes they were wearing. Men too are frightened of being killed or forced to join armed groups.
When families are forced to flee their homes because of violence, Mercy Corps' emergency response teams go out to help them and provide cash support so they can meet their basic needs and improve water sources and sanitation so that they don't become ill.
What is Mercy Corps doing to help the crisis in DRC?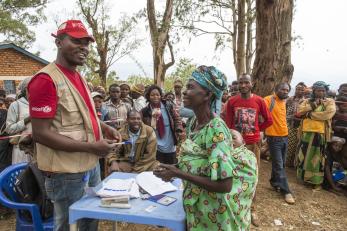 Mercy Corps is currently working in DRC to help families in need survive and help communities recover and build back stronger. Last year alone, 1.2 million people benefitted from our work in DRC. It's important that we meet the most critical urgent needs, while also giving the people of DRC a foundation on which they can build a better future.
Our work in DRC includes:
Providing life-saving emergency assistance, include cash aid, to the most vulnerable families suffering in the current crisis.
Helping large communities access clean and safe water, as well as improving sanitation practices and hygiene information.
Offering financial education and small loans to women and young people to foster economic opportunity.
Helping farmers grow more food and increase their incomes through education, training and crop diversification.
Mercy Corps is responding at the epicenter of the outbreak in Beni, Butembo, Katwa, Komanda, Mandima, Musinene and Lubero, working on infection prevention and control in health facilities, schools and communities. We are also conducting health and hygiene education and communication campaign in health facilities, schools and other public spaces in collaboration with community organizations and leaders.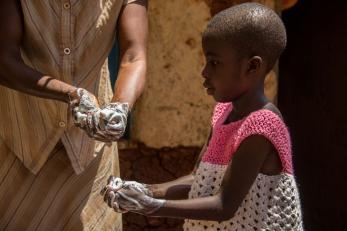 Mercy Corps has been preparing for the potential spread of Ebola to Goma, a city of more than one million people and the capital of North Kivu. With the first case of Ebola now confirmed in the city, sharing good information about how the disease is transmitted will be vital to stopping the spread.
In March 2019 Mercy Corps launched its "Vision Ebola Zero", a new eight-month initiative that aims to reduce the spread and impact of Ebola in three health zones in the city of Goma: Nyiragongo, Karisimbi and Goma. As of mid-June, almost 50,000 people have received information about Ebola risks through Mercy Corps-trained volunteer groups.
The initiative is expected to reach 1.2 million people with behavior change and prevention messages. It will also strengthen a community-based alert system set up to identify possible Ebola cases and identify barriers to disease prevention and improve understanding and perceptions within the community.
Over the next few weeks and months, community engagement will be key to dispelling myths and helping to curb the spread of the Ebola epidemic and we're working to rapidly scale-up our prevention response.
Help us meet the urgent needs of families who are displaced by conflict.