6 ways digital platforms can accelerate growth during COVID-19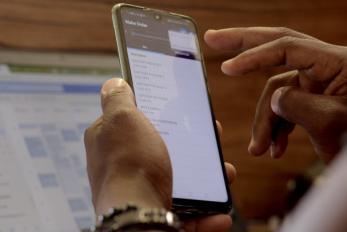 July 15, 2020
In the wake of the COVID‑19 pandemic, technology has proven to be a vital resource, as work-from-home orders and other directives put in place to contain its spread have disrupted more traditional models of product and service delivery.
Under these challenging circumstances, more organizations, businesses and governments are shifting to online platforms to deliver products and services and continue operations, while consumers are adopting new online shopping behavior.
Kenya's digital economy has experienced these shifts in several ways. Reduced foot traffic in supermarkets and open-air markets has caused retailers to move to e-commerce, either by setting up new digital platforms or partnering with existing ones. Likewise, small traders who previously depended on offline retailing have also transitioned to online platforms, now utilizing methods such as social media and e-commerce to reach their consumers.
Consumer demand has also evolved in this crisis. For example, e-commerce platforms noted increased desire for laptops, digital accessories and home workout equipment following the closure of offices and gym facilities. Additionally, customers are buying more of smaller, boutique items online, such as organic beauty products, resulting in higher purchases and increased revenue for platforms.
Though this surge in online demand and activity presents an opportunity for digital platforms to tap into new markets, it is crucial that platforms pivot strategically in order to capitalize on this moment and ensure continuous business operation.
Based on its extensive experience working with digital platforms, Mercy Corps' Youth Impact Labs program, which focuses on technology-based solutions to youth unemployment in Jordan and Kenya, makes the following recommendations for tech companies looking to adjust their businesses for this new digital economy, using examples from the Kenyan context.
1. Diversify product offering
Digital platforms should consider diversifying their product range following increased demand for certain products. Currently, there is more demand for sanitation and hygiene products, and manufacturers have evolved their products to meet these needs. Since there is a ready market for these products, e-commerce platforms can collaborate with manufacturers to stock them.
Digital platforms can also foster their own product diversification. For example, Get Boda, an on-demand logistics platform, evolved from depending on pick-up stations, which are experiencing lesser foot traffic, to focusing on fleet couriers and targeting essential services such as restaurants, pharmacies and grocery businesses. Herdy Fresh, an e-commerce platform, also diversified its reach by partnering with Sendy, another logistics platform that launched a home delivery service in response to the COVID‑19 pandemic.
2. Manage supply chain disruptions through alternative sourcing
With restricted movement and curfews in place, businesses have experienced significant disruptions in the sourcing of their products.
For businesses that rely on imported goods, the grounding of flights has resulted in significant delays or lack of access to goods, resulting in stock shortages. Even where goods are sourced locally, limited working hours and strict regulation of local borders have translated to slower sourcing of goods.
Businesses should aim to smoothen their supply chains by identifying alternative sources of products. Herdy Fresh provides a good example. The Kenyan grocery e-commerce platform, which traditionally sources meat from rural farmers, onboarded new suppliers from the Nairobi area to cope with movement restrictions that disrupted its original trade routes.
However, even as businesses seek to keep sourcing chains intact, it is critical they ensure margins for their products are commercially viable and they maintain high safety and quality standards.
3. Broaden merchant base
As foot traffic drops for most small traders and businesses who depend on walk-in customers, e-commerce platforms are presented with an opportunity to act as a bridge between these traders and consumers. Additionally, some e-commerce platforms have experienced disruption of their supply chains due to constrained movement, resulting in gaps in their product supply.
This situation presents a chance for new mutually beneficial partnerships between traders and e-commerce platforms. By working together, small traders find a market for their existing supply, while platforms get guaranteed supply for a period of time. In light of this scenario, the e-commerce platform Sky.Garden developed digital infrastructure for small traders to sell their wares online, allowing crisis-affected traders to sell merchandise from their mobile phones and access a new market.
By broadening their merchant base in this way, local platforms can streamline and professionalize the informal sector, such as small trade, by providing structures, technology infrastructure and additional services, like financial services, insurance and digital payments, giving previously obscured workers a digital footprint.
4. Optimize human resources
It is paramount for any business to focus on the well-being of its team, especially in a crisis such as the present pandemic.
Following directives to work from home and maintain social distancing, businesses should determine which tasks can continue functioning remotely and which tasks need physical movement, and support their team members accordingly.
When it comes to organizing remote working, businesses need to factor in logistical challenges, such as internet connectivity and affordability, especially in developing countries like Kenya. Under these constraints, it is advisable for them to develop alternate solutions to maintain business continuity, like relying on phone calls or supporting team members with an internet plan. Regarding operational tasks that require movement, like deliveries, platforms should ensure high-level safety measures have been put in place, such as risk-reduction policies or providing personal protective equipment. Sky.Garden, for example, trained its merchants and employees on safety measures to follow when dealing with clients and devised alternative ways of verifying products to prevent human contact during deliveries.
5. Form strategic partnerships
Digital platforms should consider strategic partnerships to ensure business continues running. One such example is a recent partnership between e-commerce platform Jumia Kenya and Twiga Foods, a Kenyan business-to-business marketplace that sources products directly from farmers for delivery to urban retailers.
Under the partnership, Jumia's 1.5 million customers now have access to fresh fruits and vegetables from Twiga Foods, and Jumia remains relevant as customers pivot to buying essential goods from e-commerce platforms.
Similarly, Kenya's Sendy, an e-logistics provider, partnered with Tuskys supermarket chain to facilitate home delivery for the supermarket's customers. And Lynk, a blue-collar job matching platform, partnered with Safe Hands Kenya to coordinate over 800 cleaners to provide sanitation services across Nairobi's suburbs.
6. Apply for legal compliance
Government restrictions in certain geographies continue to limit the movement of goods and services provided by businesses. As enterprises pivot, it is critical to establish whether goods fall within the list of essential services outlined by governments. Getting the necessary approvals and permits allows businesses to legally conduct business with minimal disruptions.
In Kenya, businesses can acquire special passes through the Kenya Private Sector Alliance or the Kenya National Chamber of Commerce and Industry. These passes are essential for businesses that may need to operate within curfew hours or source or deliver goods and services outside restricted zones.
Flexibility is vital to success
As a result of the global economic disruption caused by COVID‑19, businesses must make strategic pivoting decisions in order to survive. What this could mean for some businesses is a complete shift of their business model, or it may involve new partnerships or product lines. But regardless of the route taken, this situation demands flexibility.
It is also important to note that even as things change and governments begin to ease restrictions, the economic effects of the pandemic will stretch into the medium-term, necessitating businesses to remain agile and innovative in order to successfully navigate the recovery phase.
About Mercy Corps' Youth Impact Labs
Catalyzed by funding from Google.org, Mercy Corps' Youth Impact Labs (YIL) identifies and tests creative, technology-enabled solutions to tackle global youth unemployment, accelerating job creation, so every young person has the opportunity for dignified, purposeful work. In Kenya, YIL focuses on digital marketplaces and platforms that offer services to micro and small businesses, agricultural supply chain management, and digital work.
The program supports these enterprises through financial and technical services, issued in the form of milestone-based grants. On-boarded business partners also get access to advisory services to support the development of technology solutions and tailored business support to expand.
Read more about Youth Impact Labs and follow them on:
Facebook, Twitter, LinkedIn, Instagram
Authored by Josphine Kiruku (Communications & Learning Co-ordinator, Youth Impact Labs) and Gituku Ngene (Post Investment & Learning Officer, Youth Impact Labs)