Tales of desperation: Venezuelans fleeing to Colombia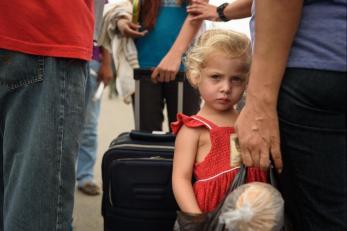 June 07, 2018
The first thing that hits you as you step off the plane onto the tarmac is the heat. It's a physical force here in Colombia's Guajira department, a tropical hot blanket draped over the region, rendering the whole place drowsy, slow-moving and feeling like it's been baked into immobility.
The city itself is a beach town that's seen better days, with juice shops and beer joints abutting the beach, the usual assortment of palm trees, and a grid of narrow streets and roads marking off the sections of the town. Along the beach promenade, retreating to what little shade there is, native Wayuu people sell colorful bags and other handicrafts.
I lived in Colombia for a year back in 2013 to 2014, but mainly stayed to the cooler climes of Bogota and Medellin; this is my first time in this part of the country. An hour or so away, just past the town of Maicao, is the Venezuelan border, and that's what I've come to see. Or, more accurately, the Venezuelans crossing in search of a better life for themselves and their families.
There, my colleagues, photographer Miguel Samper, Colombia communications officer Ana María Olarte, and I tried to get a sense of what was driving the Venezuelans to cross into Colombia by the hundreds of thousands.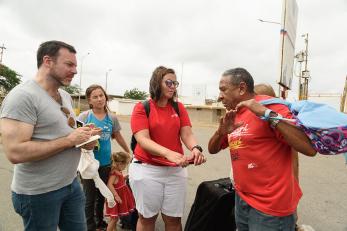 What we saw was overwhelming. At any given moment, hundreds of men, women, children — entire families — were crossing from Venezuela into Colombia. They dragged suitcases or carried their possessions in plastic bags. Most had small children with them, and many of them were young mothers. A boisterous market had sprung up at the border, offering the new arrivals SIM cards, sodas, snacks and the like. The acrid smell of gasoline mixed with that of frying arepas, as buses to take Venezuelans further into Colombia idled next to food stalls.
According to a recent report from the International Organization for Migration, the number of people fleeing Venezuela's imploding economy has jumped from 700,000 in 2015 to about 1.6 million in 2017. Between 600,000 and 800,000 have ended up in Colombia, many of them crossing the 1,380-mile border at hundreds of illegal crossings which are often controlled by armed men who don't hesitate to take what they want, whether it's food, money, clothes — anything.
"We were on a truck and they took us, they pulled us out of the truck and they took all our merchandise and hit us," says Luis Dario Perez Polanco, 29, of Coro, Venezuela. Others tell more frightening stories.
"You have to pay everywhere, every step of the way," says Yasmeli Gomez, 39, a former employee of Venezuela's state petroleum company. "You have to pay each person, each zone. You have to give money to people who are standing there. And there's a part where the military of Venezuelans are and they demand a specific amount of money. And if you don't give them the money, you will just take the stuff you have."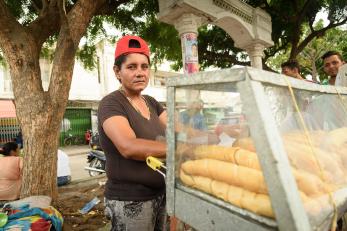 After reaching Colombia, there is little support. Colombia is only now winding down a 54-year conflict with leftist rebel groups which has killed at least 220,000 people and displaced millions more. Its resources are stretched thin caring for its own people. So, Venezuelans make what living they can selling coffee or sweets on the street or doing odd jobs. One former insurance broker we met sells coffee cakes he and his wife bake in their rented home on the outskirts of Maicao. In Riohacha, a lawyer now cleans apartments.
Some 20,000 to 30,000 Venezuelans live rough in Maicao these days, sleeping on the streets, in the parks or, if they're lucky, renting a cramped spot in a bedroom in houses into which some 20 people might be crammed.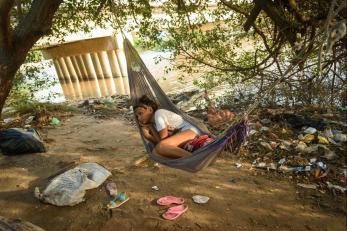 "We, all Venezuelans, we pay a rent," says Yasmeli. "Half a dollar for just a sleeping place. … We have to pay 50 cents each night per person. And that's beside bathrooms." It's 35 cents to use the bathroom each time, she says. And while that may not sound like much, it's a significant portion of daily income.
Most Venezuelans are lucky to make $3 to $4 a day on the streets of Maicao or Riohacha, and paying for daily food eats up most of that. Forget about sending money home to relatives.
We spoke to a number of Venezuelans on our trip here, and the reasons for leaving were much the same: runaway hyperinflation has rendered salaries and savings worthless; political repression is increasing and many are leaving because of threats or fear of reprisal for expressing their opinions and, allegedly, torture; and, most critically, they need to eat.
Thanks to the economic crisis, there simply isn't enough to eat. A recent study by three universities reported that Venezuelans had lost an average of 24 pounds in body weight last year, and more than 60 percent of Venezuelans said they had woken up hungry in the last three months because they could not afford food.
"If I had breakfast, I couldn't have lunch," says Luis. "And if I had lunch, I couldn't have dinner. ... I would have to choose one meal a day."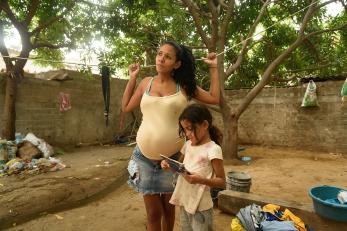 With the Venezuelan bolivar (the Venezuelan currency) buying so little — Yasmeli told us that the minimum wage is worth less than $2 a month — Venezuelans have little choice but to flee if they want to survive.
In this desperate situation, these refugees and migrants are incredibly vulnerable to exploitation. They need access to services and resources that will help them rebuild their lives. That's why Mercy Corps is there.
In March, we conducted an assessment to determine how we could best help. People said that they need three things above all else: legal status in Colombia, a job and healthcare, and food. Now we're working with the Colombian government and other organizations to respond to the crisis.
Initially, we will be helping Venezuelans pay for medical prescriptions at local pharmacies.
"You cannot live there anymore," says Luis. "We are here (in Colombia) working so we can bring our families. Here, we survive, but back in Venezuela, we won't be able to survive."
Working alongside the hardworking Mercy Corps Colombia team, who are committed to helping these families, I am proud to be part of the effort to help these families build a new life and a brighter tomorrow.
As the situation worsens, we are committed to helping vulnerable Venezuelan families who are unsure of what the future holds. Our response is only just beginning.
Your help will allow us to do even more to support these families as they cope with the tragedy of losing their homes and livelihoods.
Help us provide even more support to Venezuelan families and families in crisis around the world.
Ask your friends and family to contribute to our efforts to help families survive, recover and rebuild.