URGENT: Venezuelan refugees struggle to recover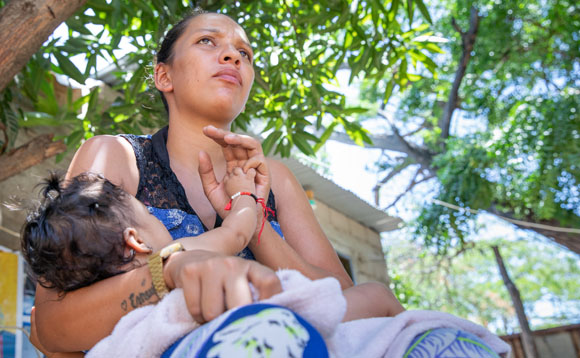 Ana Maria holds her 3-month-old daughter, Fabiola. A cash disbursement from Mercy Corps helped Ana Maria ensure that she had a healthy birth and access to medical care. Without the cash assistance, Ana Maria would not have had a way to get to the hospital. She and her family were also able to buy food and supplies for their shelter while living in Venezuela, until they fled to Colombia.
More than 4.5 million people have fled Venezuela in recent years to find a way to survive and rebuild their lives. Because of economic and social collapse, the average Venezuelan only eats one meal a day, and children are suffering from malnutrition and treatable diseases.* Families arriving in Colombia after fleeing Venezuela need help now.
Make a gift today to Mercy Corps' Humanitarian Response Fund to send relief to Venezuelan refugees in Colombia and other at-risk families around the world. We are on the border responding to the needs of families who've fled into Colombia, helping them access medicine, food, shelter, clean water, hygiene supplies and other urgently needed support.
Your gift will help provide lifesaving aid to the thousands of Venezuelan refugees in Colombia and other vulnerable communities in places like Yemen, Syria and Nigeria. Please give now to help us deliver emergency relief to people around the world.
* "Venezuela's Crisis Is Now a Regional Humanitarian Disaster," The Center for Strategic and International Studies, 2018