The facts: Cyclone Idai's effect on southern Africa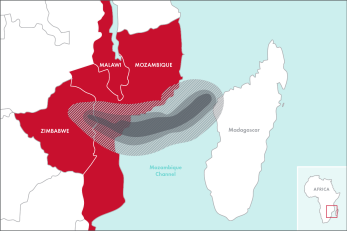 April 15, 2019
In mid-March 2019, a devastating cyclone tore through Madagascar, Mozambique, Malawi and Zimbabwe, killing hundreds of people so far and causing massive flooding.
Cyclone Idai is reported to be the deadliest storm system so far this year — and may be the worst disaster ever to strike the southern hemisphere, according to the UN.
It is estimated that almost 3 million people have been affected, with more than 1,000 deaths across the region and hundreds more missing. We expect these numbers to rise in the coming weeks, especially now that access to isolated areas has improved.
Read on to learn more about the cyclone and find out how you can help:
---
What happened when Cyclone Idai hit southern Africa?
Heavy rains began hitting Mozambique, Malawi and Madagascar on March 6, causing serious damage and destruction to homes and farms. A few days later, on March 9, Tropical Cyclone Idai formed over the Northern Mozambique Channel.
On March 15, Cyclone Idai made landfall near Beira, Mozambique, bringing torrential rains and winds that caused death, destruction to infrastructure, and even communication outages.
The path of devastation continued inland, where Cyclone Idai hit eastern Zimbabwe with more severe rains and wind. Chimanimani and Chipinge, Zimbabwe, were two of the most badly damaged areas.
The death toll continues to rise as government officials and aid groups get more access to some of the hard-to-reach places that are most in need.
What countries were affected by Cyclone Idai?
Tropical Cyclone Idai caused a devastating impact in the southern African countries of Zimbabwe, Mozambique and Malawi.
How many people have been affected?
Almost 3 million people in southern Africa have been affected by Cyclone Idai.
In Mozambique, at least 200 people have died and more than 1,400 have been injured. More than 17,000 houses have been totally destroyed, displacing thousands of families. In Zimbabwe, more than 344 deaths and hundreds of missing people have been reported, mainly in Chimanimani. About 270,000 people have been affected by flooding and landslides and at least 90,000 families are in need of shelter assistance. In Malawi, more than 840,000 people were impacted, with 56 deaths and 577 injuries reported. More than 94,000 people are estimated to be displaced.
Now that access to these areas has increased, all of these death and injury statistics are expected to rise. Hundreds of people are still missing.
How bad is the flooding?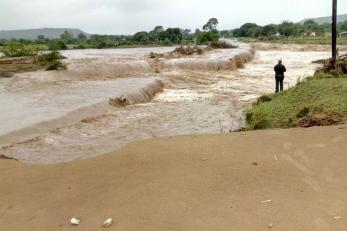 Beria, Mozambique was devastated by the flooding. Hundreds of people were trapped in their homes due to high waters. Even after the cyclone had passed, rain continued for several days, exacerbating an already dangerous situation.
About 270,000 people have been affected by flooding and landslides and at least 90,000 people are in need of shelter assistance. Out of the 270,000 affected people, nearly 240,000 are in Chimanimani and Chipinge districts in Zimbabwe, where Mercy Corps is responding.
What are conditions like now?
Because of flooding and significant damage to infrastructure, thousands of people were trapped in their homes and communities. Many families have yet to hear from their missing loved ones. The death toll is expected to rise substantially in the coming weeks.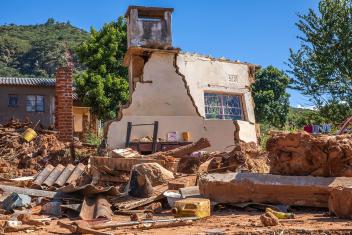 Time is running out to reach communities cut off by destroyed bridges, flooding and landslides. Our teams are striving to reach those who are still isolated. We are relying on air support to take urgent relief items the final mile.
Cyclone Idai also destroyed water sources and latrines — the only water some communities will have access to will be contaminated.
In Chimanimani, the area most cut off from the relief efforts, there is still no power. Key institutions are still relying on generators. Six villages in Chimanimani are still inaccessible by road. The situation is dire.
What is a cyclone, and how does it compare to a hurricane?
A cyclone is a rotating, organized system of clouds and thunderstorms. It starts over tropical or subtropical waters and has a closed low-level circulation.
A hurricane is a type of cyclone — the term is used for any cyclone that originates in the North Atlantic, central North Pacific, and eastern North Pacific.
In the Northwest Pacific, a cyclone is called a typhoon. The generic term "cyclone," like Cyclone Idai, is used in the South Pacific and Indian Ocean.
What are the short and long term concerns about this cyclone?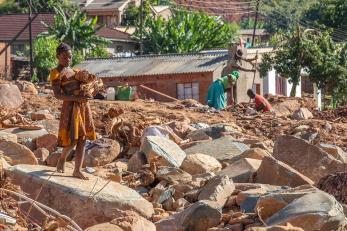 In the short term, these communities need access to clean water and food and hygiene kits to help prevent the spread of disease. Clean water and good hygiene are critical, as Mozambique is now reeling from a cholera outbreak on the back of the cyclone, with more than 3,000 cases already reported.
There are also concerns in Zimbabwe about the risks of a cholera outbreak and spread of malaria if it continues to rain.
The thousands of displaced people will need more permanent shelter while they rebuild their homes and communities. Winter is fast approaching and temperatures are set to drop in the most affected villages in the Eastern Highlands. Permanent housing solutions and rebuilding are going to take months, if not years to establish.
In the next few months, food security will become an issue. Thousands of acres of crops have been destroyed just as harvest season is approaching. People will need opportunities to supplement the food and income they're missing.
In the long term, we are committed to helping the people of Zimbabwe recover and build resilience to future shocks and stresses. Vulnerable communities in Africa are bearing the brunt of climate change, with 65 percent of the African population considered to be directly affected.
As a global organization partnering with communities on the frontlines, we observe firsthand the disastrous effects of climate change, including flooding, drought, scorching temperatures and devastating storms.
We know that the effects of Cyclone Idai will hit Zimbabweans hard and have far-reaching consequences on livelihoods and markets. We're already seeking out ways to support Zimbabwe in the post-disaster phase and to build back stronger communities.
How is Mercy Corps helping those affected?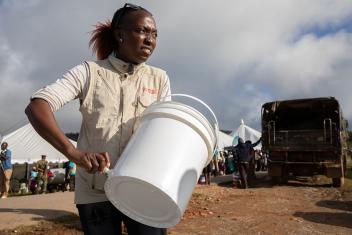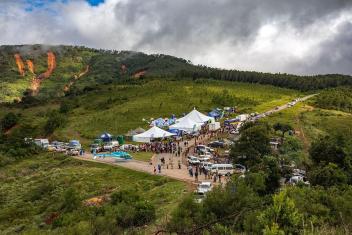 This is the first cyclone in more than a decade to strike Zimbabwe, where Mercy Corps works. Our team has ramped up our efforts to meet urgent needs in the eastern part of the country, which has been badly affected.
We've already distributed hygiene kits to more than 25,000 people in Chipinge and Chimanimani, particularly in the badly-hit areas of Ngangu and Kopa, as well as to the Skyline and Chipinge Hospitals.
The distributed kits include items to keep people healthy such as water purification tablets, soap, buckets with taps, jerrycans, gloves, hygiene promotion and education material.
We have also constructed 77 temporary latrines for 1,051 people who are living in temporary shelters in Chimanimani and established 44 handwashing stations in Chimanimani.
We're also undertaking rapid assessments in the newly accessible areas of Ngangu, Kopa and Machongwe of Chimanimani and other districts Buhera, Makoni, and Mutare to evaluate needs and plan our response.
"Zimbabwe was already in a precarious position before Cyclone Idai struck," says Mildred Makore, Mercy Corps Director of Programs in Zimbabwe. "Erratic rainfall and a fragile economy had led to more than five million people, nearly one-third of the population, in urgent need of humanitarian relief.
"As we work to help those affected recover from Cyclone Idai and build the long-term capacity of villages to withstand future climate shocks, we must consider what role we can play in supporting all Zimbabweans recover and help the country regain its place as the bread-basket of Africa."
How can I help?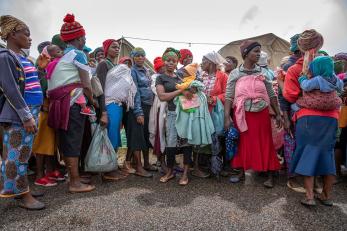 In emergencies like this, Mercy Corps teams are able to respond quickly and effectively because of people like you. Your support helps us reach more families in need during and after disaster and crisis.
You can help us deliver lifesaving relief like clean water, safe shelter, emergency food and other essential supplies — when it matters most.
Make a gift to support Mercy Corps' work in some of the world's toughest places.