Mercy Corps CEO Tjada D'Oyen McKenna on conflict, climate, and the hunger crisis
McKenna appears at Voices, an annual gathering for sharing ideas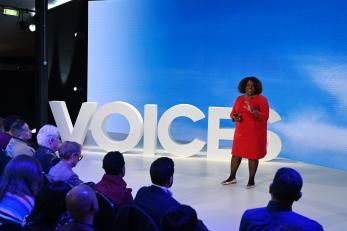 April 24, 2023
"I visited Somalia to see the work our Mercy Corps team is doing to support people there as they try to find a path through this crisis," said Mercy Corps CEO Tjada D'Oyen McKenna. "And frankly, to try to raise attention to the fact that this is happening." Tjada reflected on her trip to a makeshift camp at the outskirts of Baidoa, where she met some of the families who are trying to find a way through a catastrophic crisis. More than 2.3 million people have been displaced in Somalia due to drought and conflict—and the emergency is compounded by crises occurring elsewhere in the world. Ukraine, once known as the breadbasket of the Middle East and Africa and was formerly the largest exporter of wheat to Somalia, has seen their wheatfields turn to battlefields.
Tjada spoke at Voices, an annual gathering of ideas hosted by the Business of Fashion, to share insights from her visits to Somalia, Poland, and Lebanon. She has seen firsthand the stark disparity of humanitarian aid between these regions, and the hard work of Mercy Corps teams to support underserved communities. "I feel like the true lesson of the 21st century must be that in a world that is so interconnected, our future is bound together with people we have never met. Who look different to us. Who are on the other side of the world," she said. "Because in a world of pandemics, climate crisis, global hunger there is no 'us' and 'them.' There is only us." 
Business of Fashion - "Conflict, Climate and Today's Global Hunger Crisis" with Tjada D'Oyen McKenna transcript
Thank you so much, Imran. So this is an unlikely venue for me and I'm so glad Imran brought me into it.
I am a humanitarian. And I'm proud to lead an organization of humanitarians.
There are 6,000 of us, working in more than 40 countries around the world, from Afghanistan to Yemen, from Haiti to Somalia. It's an honor for me to lead this amazing team, and represent them. Whether that's meeting with a small group of United Nations leaders—where I just came from in Geneva—or here, with you all today.
And thank you Imran, I was so grateful and excited for your invitation to speak here. It's amazing for me to share the kinds of things that I'm seeing, in my own efforts to bring the world together and think about how the best of what the world has to offer affects the places where I work. But, like I said earlier, I'm used to talking to a different crowd and I was slightly terrified at the thought of planning what to wear. From the dress, to the shoes, to the necklace—it was a lot.
But as I thought about it, I also reflected that when I travel to the more remote parts of Iraq, Somalia, or Colombia, the people I meet are almost always dressed and adorned in their finest. That everywhere I go, I see the pride people have in representing themselves, their culture and their families and communities.
This session is all about the wider world, and while none of us can fully control the forces shaping our world today, we do get to choose not only how we present ourselves, but also how we engage with the world we find. How we respond to it, and act in it.
I'm sure that for many of us in the room here, our relationship with the wider world has shifted in the past two years. We have collectively been through the trauma of a global pandemic. We have all watched with horror—thanks to the bravery of Clarissa and her colleagues—as war unfolds in Ukraine. And, together, we have seen the reality of the climate crisis in heatwaves, flooding, and ever-greater extremes of weather.
This is the wider world around us today, and many of us have seen the impact of these global challenges in our daily lives. But what you may not have seen, in our news feeds dominated by the revolving door of politicians and elections, soaring inflation and high energy prices, is another story that is unfolding around the world. One that is largely untold, and could not be more urgent, or important for your attention.
Because these forces we are all aware of—climate change, conflict and the Covid pandemic—have created, in 2022, the worst global hunger crisis in a generation. A crisis that will leave one out of ten children around the world malnourished by the end of this year.
How did we get here?
We have seen food crises before. Fifteen years ago, the price of wheat, rice, and other cereals surged—triggering panic, instability, and hunger around the world. In fact, at that time I left my role at the Gates Foundation and joined the Obama administration to launch a global hunger initiative aimed at tackling the crisis.
By the time I left the administration in 2015, we had—together with partners across the world—made such progress in addressing hunger that the world began to raise our ambitions higher. In fact, the Sustainable Development Goals agreed that year set out the target of ending extreme poverty and hunger by the year 2030. Imagine that—in just seven years, we had gone from the depths of crisis to the heights of ambition.
But then came Covid-19 and a global pandemic that reversed, in just two years, the progress in tackling poverty that had taken two decades to achieve. The immediate impact of the pandemic was like a natural disaster in every country around the world. I think we all saw, whether it was from here in London or the U.S. that even though the pandemic was affecting all of us, it was not affecting all of us equally. And when you think about that, around the world, how that hit the world's poorest and most vulnerable hardest.
That was before the war in Ukraine began in February this year, turning wheatfields into battlefields, in the country that was once a breadbasket for the Middle East and Africa, exporting its wheat to Lebanon, Egypt, Somalia, and beyond.
Added to Covid and the conflict in Ukraine, we've seen the accelerating impact of the climate crisis on hunger around the world, from heat waves across India and the Horn of Africa to flooding in Nigeria and Pakistan: where one-third of the country was completely submerged, washing away roads, homes, and crops. The compounding effects of the Covid pandemic, the climate crisis, and conflict in Ukraine and beyond, means that more than 345 million people around the world today are now on the brink of starvation—a number that has more than doubled in the past three years.
I don't think there's anywhere on earth where these challenges come together more clearly than Somalia, where people are facing the worst drought in 40 years, at the same time as food prices spiral due to the impact of the pandemic and the war in Ukraine.
Three months ago, I visited Somalia to see the work our Mercy Corps team is doing to support people there as they try to find a path through this crisis. And frankly, to try to raise attention to the fact that this is happening. I visited a makeshift camp on the outskirts of the city of Baidoa, where people fleeing rural areas—these are mostly pastoralists, people who live on the land—and they are coming. They've basically lost everything. They've lost their animals, all of their crop lands. And they are coming to the outskirts of these cities where organizations like Mercy Corps and others are providing food, water, and medical assistance.
I met people who had faced unimaginable suffering as a result of the drought. For those of us who were alive in the 80's, during the original "We Are the World," I felt like I'd been transported back to that. And even though I've spent a lot of time in tough places, I still needed time to process everything I had seen and heard.
So I met a woman named Sontoy Mursal, she is a grandmother who had walked for 14 days with her family in search of food and water. A lot of the families had traveled for that long. She told me that while she loves all her eight grandchildren, she had a special bond with her sweet and polite grandson, the six-year old Abdullahi. I didn't get to meet Abdullahi, because he didn't survive the journey from their home. He, like many other children, died of starvation along the way to the settlement camp. And Sontoy, together with her daughter, buried that sweet boy's body on the side of the road. Sadly, that wasn't the only story I heard like that. When I went to the hospitals, I saw children who were two years of age, 24 months, who weighed less than seven kilos.
Yet even amongst such unimaginable hardship and grief, as people said earlier, the power of the human spirit really comes alive. People are fighting for themselves and for each other. I met Hawa Issack, who has six children of her own and now cares for another six children who were orphaned by the drought. Like so many people I met, Hawa used to be a farmer and her family had lots of animals, but five successive failed rainy seasons turned her crops to dust. Facing catastrophe, she took the difficult decision to leave home, walking for days in search of help. Now Mercy Corps helps her by providing her with a small cash grant, which she uses to buy and sell fruits and vegetables, which helps her meet her family's needs. It helps her with trading for other goods she needs. And it also gives her children something to wake up to and be a little excited about every day. You see lots of stories like that. Of people who are making a way, not just for survival but because of that hope of a better future for their children.
The challenges we face are immense, but we can rise to them, together. I was inspired by the incredible response we saw when war broke out in Ukraine. People donating to organizations like Mercy Corps. I went to Poland, to the border, to see what was happening. People gave their time, energy, and money to help migrants and refugees. So many of my European friends and colleagues had even put themselves on lists and were hopeful to welcome a Ukrainian family to come live with them and to provide shelter. It was amazing. Yet all I could think of was how every refugee deserves this kind of welcome.
At the same time, I couldn't help but be disheartened by some of what I saw as that response unfolded. The media talking heads who said this was so shocking because it wasn't Afghanistan, Syria, or Africa. It was Europe, and people who 'look like us' or 'could be our neighbors'. The donor governments that pulled funding from crises in Myanmar or Venezuela to redirect it to Ukraine. This is also, I have to say, a very expensive response. Imagine housing and helping all of these people in the heart of Europe. The message that all this sends—and I traveled to Lebanon just after Poland and then was in Africa—is that some lives are worth more than others. That hunger, conflict, and the devastation of climate change is ok 'over there', but not 'over here.'
Sophie alluded to this new non-aligned movement. I was in a session at the UN General Assembly a few months ago. They had 30 heads of state talking. So everyone has their little notes and every single 'global North' person stood up, and before they said anything, talked about Ukraine and how they stand with people in Ukraine and condemned Russia. Every single person from what we call the 'global South' didn't mention it at all. So it was just a stark display.
But, I feel like the true lesson of the 21st century must be that in a world that is so interconnected, our future is bound together with people we have never met. Who look different to us. Who are on the other side of the world. Because in a world of pandemics, climate crisis, global hunger there is no 'us' and 'them.' There is only us.
But this realization should not overwhelm us. It can inspire us to take small actions that make a difference. And figure out ways in our own lives and in our own lines of work where we can contribute.
Lebanon is one of the countries that has been hit hardest by the rising price of food and the war in Ukraine. Before the war, Lebanon imported more than 80% of its wheat from Ukraine. After years of economic collapse, accelerated by the devastating explosion in the Beirut port that you may have seen two years ago, bread was one of the few affordable foods for the half of the population that has now been plunged into poverty.
With the collapse of the domestic economy, my team in Lebanon is helping small businesses and craftspeople to get their product to market abroad, so they can continue to earn a living and support their families and communities. People like Mr. Nader, a craftsman who lives in Saida, a beautiful city in Southern Lebanon and home to ancient monuments. With help from Mercy Corps, Mr. Nader was able to buy the welding machine and grinder he needed to start a business turning used glass from people's homes into upcycled jewelry—in fact, he created this very necklace I'm wearing today.
There's so much more opportunity here. In fact, the handmade market is the second biggest livelihood opportunity in low income countries, after agriculture. Millions of highly skilled people—most of them women— who are depending on their craft for income. And while there's increasing consumer demand for ethically-sourced products, connecting consumers to creators is not straightforward. That's why my team is investing in a new online marketplace that will connect cooperatives, social enterprises and businesses with global retailers. It's just one example of how we are constantly searching for ways to make the world feel more connected and to bring the best of everyone to see the opportunities that can flow from those connections.
Ultimately, this is how we will take advantage of the opportunities that exist, and overcome the challenges we face together. And I hope that all of you will leave with some hope and inspiration to do your small parts as we all are in this together. 
Join us in building a more equitable world.