Dispatches from CEO Tjada D'Oyen McKenna: In Somalia with Mercy Corps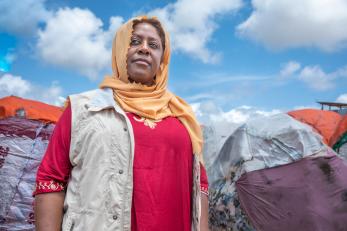 September 29, 2022
On my recent visit to Somalia, I saw and heard Somali people's stories about the stark reality they are facing. In their own words, they shared their devastation of living through a catastrophic crisis brought on by a historic drought, climate shocks, and worsening global food shortages pushing the country to the brink of famine. More than 7.8 million people, roughly half of Somalia's population, are hungry.
In the outskirts of Baidoa, a city in the South West State of Somalia, I walked through a camp crowded with makeshift, temporary shelters. Gusts of dry air coursed through the arid landscape. Over a million Somalis have been displaced from their homes, making the trek to urban areas to seek help. They are from more remote areas and had lived off agriculture, livestock, and were pastoralists. Their crops and livestock died, leaving them with nothing to sell or eat. I met parents who lost children to malnutrition and starvation on their journeys to the camps, forcing them to bury their children on the roadside.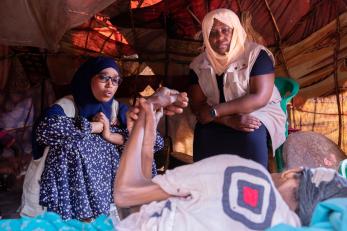 Children and adults suffering from malnutrition must also contend with bouts of measles and malaria. At least 1.5 million children under five are severely malnourished, with an estimated 386,000 children who could die without urgent treatment for severe acute malnutrition. For every person who is able to get to a hospital or to the camps, there are so many who were left behind or couldn't complete the journey.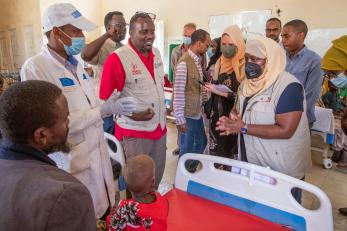 During my time in Somalia, my thoughts turned to what we know about this crisis. Climate change is driving the region's worst drought in 40 years. Somalia's deepening hunger crisis is exacerbated by the economic disruption wrought by COVID-19 and the war in Ukraine, resulting in loss of income and higher food prices. Ukraine and Russia are major suppliers of fuel, food, and agricultural supplies to Somalia. The recent numbers I've seen show fuel costs have increased an average of 43%, vegetable oil by 134% and flour by 35%. The price of different fertilizers has increased by 75%. My visit confirmed for me what the Mercy Corps Somalia team has been reporting for months, that communities in Somalia are facing the collapse of their food systems as the climate crisis hits them first and hardest.
I was so impressed to spend time alongside our Mercy Corps Somalia team, who for the last year have delivered lifesaving humanitarian assistance to almost 600,000 drought-affected people in Somalia. Mercy Corps is distributing water and hygiene kits with essentials like soap and sanitary products to prevent disease spread in Somalia's camps for displaced people. We are providing cash to families to meet their basic needs such as food, shelter, medicine, and clothing while supporting the local economy.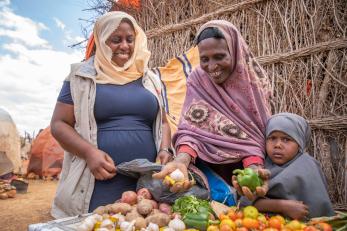 We have worked in Somalia since 2005, and will continue to offer support for long-term recovery. Mercy Corps is helping communities cope today, while laying the groundwork for people to thrive in the future. We're trucking in emergency drinking water for people as well as their livestock. We're rehabilitating dried-out irrigation channels, employing approximately 8,500 Somalis to complete this work so far. We're supplying seeds to more than 11,000 farmers, in addition to offering training on more climate-resilient agricultural practices. Though the path towards rebuilding will not be simple, Somalia and its people are not alone.
As famine looms in Somalia, urgent humanitarian response is critical, and we know that the time to act is now. By providing lifesaving assistance to Somalis in the worst-affected areas, mass starvation can be prevented. Our drought response efforts help communities with immediate aid while also preparing them to withstand future droughts and other shocks. Having seen it firsthand, the magnitude of the crisis in Somalia is devastating but swift action can help to save millions of lives.
Join us in building a more equitable world.