A brighter future starts with an education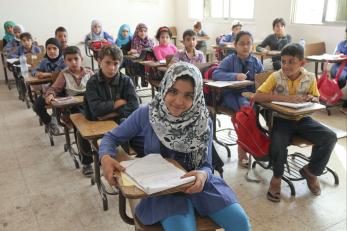 August 31, 2016
When families are in crisis, disaster strikes or poverty is overwhelming, keeping kids in school and on track to succeed can be challenging, if not impossible. Around the world, 124 million children and youth are out of school — some have no school to attend, others can't afford the fees and many young girls are simply kept at home.
We know that a brighter future starts with an education and giving children everywhere the tools and support they need to find success in school and in life.
Thanks to compassionate supporters like you, Mercy Corps has programs around the world that focus on keeping kids in school and offering extra support to children and youth who are out of school due to conflict, disaster or other circumstances beyond their control.
Together, we're helping everyone get the most out of their education. Learn more below about just a few of the ways that Mercy Corps is helping kids learn and communities grow stronger.
Helping Nigeria's girls stay in school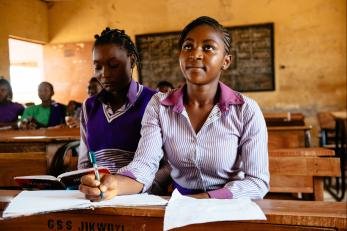 Nigeria has the largest number of children who are out of school in the world — 10.5 million. Most girls in northern Nigeria never complete primary school. That's why it's so important that last year, we helped give more than 49,000 girls in Nigeria the resources they needed to finish school, begin a new career or start a small business. One of those girls was Hope.
A senior in high school now, Hope, 17, was forced to drop out of school for over a year after her father abandoned her family — her mother had no way to earn an income, so school was out of the question. When she was eventually able to re-enroll in school, Hope also joined a Mercy Corps program that gives Nigerian girls the academic support they need to stay in school and do well.
"They helped us understand that we have to be determined — that no matter what, we will make it in life," Hope said. Thanks to the extra instruction hours and life-skills training she received through Mercy Corps, Hope is now well on her way to achieving her dream of becoming an accountant. She expects to attend university soon to continue her education.
Getting the most vulnerable refugees to class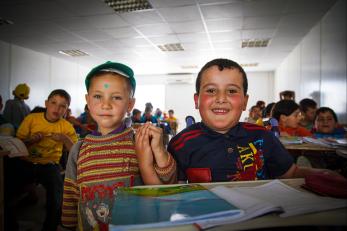 Life as a Syrian refugee has many challenges, and staying in school is just one of them. Whether they are living in a refugee camp or a host community, attending school isn't always an option for refugee children. But as the war in Syria continues, it's critically important for refugee children to continue their education in whatever way is possible.
Khalid, 7, fled to Zaatari camp in Jordan with his stepmother when the violence in Syria became too much to bear. Khalid suffers from muscular dystrophy and, like many other children with disabilities in the camp, he wasn't enrolled in school. Mercy Corps visited Khalid and his stepmother, and offered him everything he needed to attend school again, and succeed.
With support from Mercy Corps' inclusive education program and a dedicated volunteer, Khalid now attends school and is the top student in his class. "I can't explain how happy I am with his achievement," said Dilal, Khalid's stepmother. "When he was awarded at the school ceremony I couldn't handle it and I started crying. I am so proud of him."
And because of your support, Mercy Corps is helping children and youth at Zaatari make the most of their after-school time, too. There are 14 Mercy Corps playgrounds in Syrian refugee camps in Jordan that see about 12,000 children and youth every week. Young refugees can also expand their skills at three IT labs that offer a variety of computer and online classes.
Emergency classrooms for times of conflict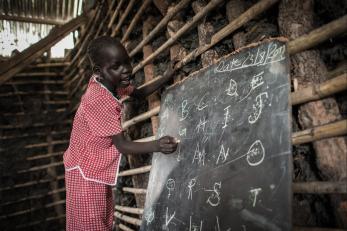 The situation for families in South Sudan is dire. Since the country gained independence in 2011, millions of people have been forced from their homes, and even more don't have enough to eat. In this ever-changing crisis, going to school is often a dream that's out of reach.
But with your help, Mercy Corps is working to keep kids in school, even as the war in their country continues all around them. We build and repair learning spaces so that kids can keep up their education — so far we've built almost 100 new spaces and repaired 46 more that were damaged in the fighting.
The teachers we work with have been trained to recognize signs of extreme stress, and lead activities that help students deal with the trauma they've experienced and learn how to resolve conflicts. Through these emergency schools, we are reaching 12,000 children in South Sudan with educational opportunities they otherwise might not have during the conflict.
Learn more about how we're getting kids back to school during conflict ▸
Rebuilding Somalia's public schools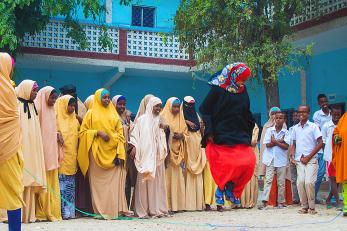 Somalia has been marked by civil strife for decades, and the instability has had many consequences for the people there, including a lack of education. Many schools have closed over the years, and less than half of Somali children are enrolled in primary school. Even fewer make it to secondary school.
But things are slowly changing in Somalia. This year, Mercy Corps celebrated 10 years of work in the country, and we also restored and reopened the only public secondary school in the capital of Mogadishu. "For children who have only known war and conflict in their lifetime, a good quality education offers Somali youth hope for a better future," said Olad Farah, Mercy Corps' program director.
And our work doesn't stop there. To support new and refurbished schools, we're improving formal training for teachers across the country — and encouraging young women, who are rare in the male-dominated education system, to become teachers themselves.
We have built or rehabilitated more than 900 classrooms and trained some 3,000 teachers in 157 schools throughout Somalia. Thanks to caring people like you, we're improving the quality of education for more than 77,000 young Somalis.
How one school is restoring hope ▸
Building leadership through play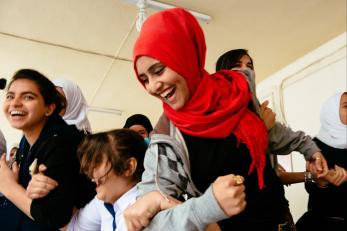 Growing up in the middle of Baghdad isn't easy. As conflict continues in Iraq and the war rages on in neighboring Syria, young people have the daunting challenge of creating a future for themselves in a tenuous and challenging environment. And it's even harder for young women, who are often marginalized or kept at home.
But Zahra, 18, is working with Mercy Corps to change her community for the better. We know that learning doesn't stop when the school bell rings. So we're working with youth leaders like Zahra to encourage young people, especially young women, to come together and enjoy sports, movement and life-skills training after school.
Twice a week, Zahra gathers a group of about 25 peers and together they play games and sports that relate to the lessons they are learning that day — like communication, goal-setting, teamwork and relationships. This new approach seems to be working. "I'm so proud to be part of the project," Zahra said. "I'm trying to encourage [the girls] to do better, to be better. When I encourage them, they really challenge themselves, and they challenge me. I'm really proud of them."
Through this program, more young women like Zahra have the chance to be leaders in their own communities, helping their peers learn important life skills and prepare to build better lives in the future.
Read Zahra's story and see how she's helping others ▸
Making after-school hours count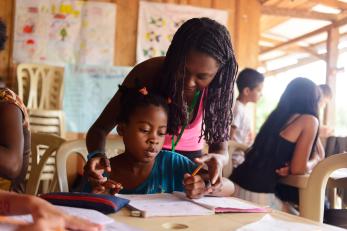 In Colombia, city life is dangerous — the streets are often filled with gangs and the violence that comes along with them. Many families choose to send their children to rural boarding schools instead of keeping them in the city, where recruitment into armed groups is a real possibility.
Their reasons are many: protection, financial burden, instilling discipline, but while kids in Colombia's boarding schools get six hours of class and three meals a day, the rest of their time is largely unstructured and unsupervised. Without after-school support, students can become bored, isolated or fall into trouble.
That's why Mercy Corps is bringing caregivers like Carmen to Colombia's rural schools. Outside of school hours, Carmen provides structure and stability — teaching the kids games or yoga, providing activities that teach lessons like friendship and self-protection, and helping the students with their homework. She's with the children from when school gets out until bedtime, and the kids at Carmen's school are flourishing.
"As caregivers, we're not just here to give them support academically," said Carmen. "We are also doctors, we're mothers, fathers, we're brothers and sisters, we're classmates, we're friends." Through dedicated caregivers like Carmen, we're reaching 46,500 Colombian children with the extra help and support they need to succeed.
Making schools safe havens for Colombia's kids ▸
Thank you!
Your support of Mercy Corps makes this work possible and helps children and youth continue their education despite the challenges they face. Thank you for partnering with Mercy Corps to help transform the lives of so many vulnerable children around the world. Thanks to you, communities are growing stronger every day.
Help families survive crises and hardships in many of the world's toughest places.