A better life grows from four tons of potatoes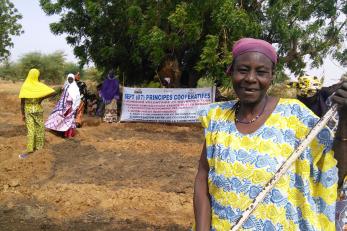 April 14, 2015
Fatoumata Aboubacar and the rest of her gardening association in Ansongo, Mali are awaiting the arrival of four tons of potatoes.
The group recently planted more than 2,000 pounds of potato seeds that they received through a Mercy Corps program helping fight hunger in rural Mali. Through the program, we're providing farmers like Fatoumata with supplies and training to make their agricultural livelihoods — and their food sources — more reliable.
Like most of her community, 55-year-old Fatoumata depends solely on gardening to feed and support her family. But lately, it hasn't been easy.
Ansongo is a small, pastoral community in eastern Mali, in the Sahel region of Africa. More than 80 percent of its residents rely on agriculture to survive, eating what they need and selling the rest in the markets for income. When political conflict erupted in 2012, many of these families' livelihoods were completely dismantled — land was abandoned, farming infrastructure was wiped out, and seeds and tools were nearly impossible to find.
And the situation remains precarious as they try to recover. Farmers in the region also face environmental barriers — unpredictable rains, extended periods of drought and a high risk of flooding — that make it difficult for them to establish consistent production and earnings.
In these vulnerable areas, community members often farm together in gardening associations, which give them access to more land and resources like higher-quality seeds and trainings. Members of the group share the responsibility of making the garden successful and lend one another encouragement in the effort.
But in such harsh conditions, even the additional support of a group is sometimes not enough.
Last year, Fatoumata's gardening association was forced to leave half of their community garden empty because there were not enough seeds available — the small amount of tomatoes and cabbage they planted earned the group only $80.
Without dependable sources of food and income, families like Fatoumata's are increasingly at risk of going hungry. Currently, as many as 90 percent of the people in Ansongo don't have access to the food they need.
That's why we're focused on helping families in the area overcome hunger and improve their lives by increasing the productivity of the gardens they depend on to sustain themselves.
Through our Irtoun program, we supplied emergency food vouchers in exchange for work doing agricultural improvement projects like building irrigation systems and drainage canals and repairing garden landscaping.
We've also been distributing vouchers for farmers to buy the tools and seeds they need to recover their gardening and market activities. Now, farmers and gardening groups in Ansongo have access to seeds for crops that will fare well in the markets and help improve their household nutrition. So far, the groups have purchased 25 tons of potato seeds, as well as okra, chili pepper, onion and tomato seeds.
And we provide seed recipients with hands-on training and demonstrations that teach them proper land preparation, planting and production techniques for their new crops. Fatoumata's gardening association is one of 50 groups that we work with.
"We learned how to compost, how to section off land and create spaces for the potato," said Fatoumata. "And how to better plant potato, shallots and tomato."
"Mercy Corps has made our lives easier," she said. "Now we are using better practices and seeing the gardening going much better. This will improve our living conditions and those of our children, and generate income."
And the benefits of farmer trainings don't stop at the participants. The knowledge circulates from farmer to farmer and eventually throughout the entire community.
Fatoumata even used the tips she learned to help a neighbor with her field.
"The results were amazing," she told us.
Through the Irtoun program we also work with area herders to improve the health and longevity of their livestock. And we provide economic support by establishing village savings and loan programs, and supplying training and microfinance for small business owners.
With the seeds they received through Irtoun, Fatoumata's gardening group was able to plant throughout their entire garden this year. The harvest — estimated to be several tons of produce — will give Fatoumata opportunities she hasn't had since her family's agricultural activities were destroyed several years ago by the conflict.
"I'm truly moved because I hope to make a real income once we share our harvest," she said. "And we're sure the harvest will be a good one thanks to the support of Mercy Corps. I intend to use all the income made from my garden to invest in my family."