7 ways you can prepare for disaster
October 02, 2020
In communities around the globe, the effects of the climate crisis are growing. Extreme weather events and disasters are becoming more intense, frequent and dangerous. Right now, it's more critical than ever to go beyond having your emergency plans and kits ready, and build up your personal strength to improve your recovery after a disaster.
For the past 20 years, our teams have responded to natural disasters with lifesaving support for fragile communities. What we've seen in places all across the globe is that a flood, drought or violent hurricane is often more than an isolated event — it's just one piece of a new reality being shaped by climate change.
After disasters like these, we know that people need more than immediate relief. They need resilience — the tools and support needed for a recovery that better prepares their communities for the storms, shocks and stresses on the horizon. It's through coming together around smart solutions that people can rebuild stronger for the future.
Here are a few ways you can go beyond readying a plan or kit to build up your resilience for an emergency:
1. Stay informed
Make sure you're able to keep up with the latest weather forecasts, disaster updates and information on where you can find power, water and shelter. Find out how to get emergency alerts at ready.gov. Knowing what to expect and where you can go is critical to staying safe after a disaster, particularly if you've lost your home.
2. Know your network 
Friends, family and neighbors are some of your most reliable safety nets. Identify those connections now, so that during an emergency you can quickly access the information, resources and emotional support you need to forge a path forward.
From what we've learned from years of responding to emergencies, people depend on their personal networks to cope and adapt to crisis. Part of how we strengthen people against crisis is to work within the social groups already established across communities. When we support these relationships among farmers, entrepreneurs and neighbors, people are better able to share information, offer emotional help, exchange goods and services, and face the tough challenges ahead.
3. Build trust among neighbors
Under the pressure of an emergency, underlying tension within your local community will likely only get worse. Do the work now to take on the issues that affect marginalized and vulnerable folks in your neighborhood. Foster good relationships and make sure everyone in your community has the resources they need. That way, you can trust each other and pull together during a crisis.
Through our work in Nigeria, we've learned that  peace building is vital in divided communities facing a shared emergency. Preventing violence and mediating conflict can create cooperation and transform difficult relationships for the better, helping people reach common goals.
4. Support local farmers and businesses
In an emergency situation, markets and trade may be disrupted making essential items like food less available than normal. You and your neighbors may need to rely more heavily on the shops and farms in and around your community. By supporting farmers and businesses in your area now, they'll be better equipped to continue operating in the future. You can help them by shopping local and going to farmers markets.
Even ten weeks after a massive earthquake struck Nepal in 2015, we found that access to markets, seeds and food were still not restored. This strain to supply chains caused food shortages and slowed the recovery of communities. Local economies are a driving force behind a recovery. That's why we're working with farmers around the world to connect them with markets as well as financial resources, so they're better positioned to cope and quickly recover from a disaster.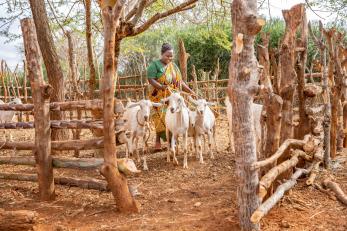 5. Start an emergency fund
After a disaster, your rainy day fund can make all the difference in picking up the pieces. The more you have saved, the faster you and your family are able to recover. If you can, build up your emergency fund by setting aside a portion of your income, and have cash on hand in case a disaster strikes without warning.
In Guatemala, we help people build informal savings with savings groups, where members pool their money together and give each other loans when needed. Sharing your savings goals and working toward them with a group offers a motivating force to save more than you might without support.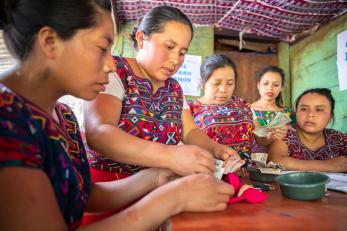 6. Pick up new skills whenever you can
After a hurricane, flood or earthquake, the damage to local economies can be catastrophic. If the company where you work closes, you'll have a better chance of finding a new source of income by growing your job skills now. You can do this by developing a side hustle to support your current income. If you're not in a place where you can diversify your sources of income now, start by thinking about what you'd like to pursue or what your community may need after a disaster. Having that ability to pivot can help you adapt during uncertainty.
Through our research in Borno, Nigeria, the people we talked to often stressed the importance of their own professional development as the best way to take on the challenges in front of them. That's why our teams in Jordan, and so many other countries, work to strengthen individuals and communities through vocational training programs.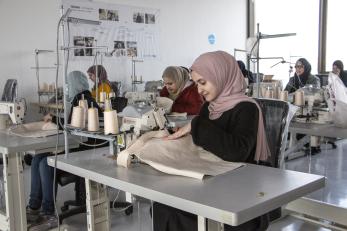 7. Develop your grit
The toughest challenges you face require determination. You can build your ability to persevere right now by proactively solving problems and making things happen for you and your family. And if you need support growing your inner-strength to take on an emergency, you can always turn to your network for help.
In a Syrian refugee camp in Jordan, we created the Family Superhero program to help families develop their coping skills and build strength as a group. Providing tools like these to people facing crisis gives them a foundation of support and motivation to rebuild their lives.
Your support
You can make a better world possible. Start by using this list to build up your own resilience, so you'll be better prepared for a disaster in your area. Then, help our teams around the globe provide support to communities that are disproportionately affected by crisis.
With your help, our teams can continue to provide critical assistance to families in need and strengthen fragile communities against the future of disaster. It's when we work together that we can truly build a better world for everyone.
Help communities across the world prepare for crises.