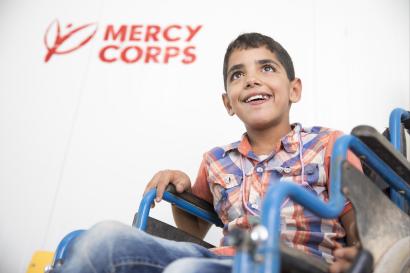 When people need us, we're there. 
With support from people like you, Mercy Corps has been building stronger, more resilient communities for the past 40 years.
Along the way, we've developed our distinctive approach, connecting people to the resources they need so they can survive through crisis, build better lives and transform their communities.
Making real impact, during crisis and beyond
Since conflict broke out in Syria, we've been helping hundreds of thousands of people affected by the crisis each month. When Hurricane Dorian devastated the Bahamas, we remained on Grand Bahama Island to provide survivors with 7,500 gallons of desalinated water every day. And we have continued our presence in the Democratic Republic of Congo through ongoing conflict and recent Ebola outbreaks, providing financial assistance, clean water and training to grow stronger communities.
Long after an emergency or crisis, we're still there. While we create lasting change by carefully identifying the most urgent needs and building programs informed with decades of on-the-ground experience, it's the generosity of our donors that allows us to do this work and make a better world possible.
We are the communities we serve
We know communities are the best agents of their own change, which is why 86% of our 5,900+ team members are from the places where we work. It's also why our approach is to work directly with local leaders and grow local markets. Building stronger communities starts from within.
Increasing your reach through efficiency and transparency
We strive to make the most of every dollar we receive, evaluating the efficacy of our programs with a team of humanitarians who have spent their careers working within a broad range of disciplines, including agriculture, engineering, economics and public health.
To keep ourselves accountable and our supporters informed, we're committed to complete transparency by sharing detailed annual reports, our financials, ethics and policies, and the strategic roadmap that guides our vision and goals for the future.
We also prioritize meeting the highest standards of efficiency, accountability and transparency from charity watchdog groups. Over the last five years, Mercy Corps has used 86% of our resources to fund programs that help people in need around the world.
Have questions?
Get answers by calling our Donor Relations team at (888) 842-0842, Monday through Friday, 8am to 5pm PT, or email donorservices@mercycorps.org.