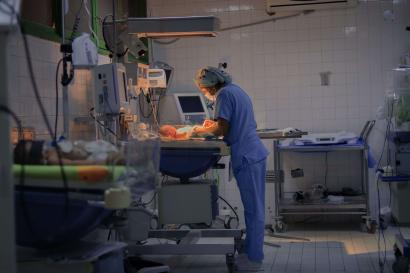 Mercy Corps has been working in Venezuela since 2018, implementing humanitarian and development programs with particular emphasis on water, sanitation and hygiene, health, protection, food security, and nutrition. 
 
The context
Venezuela has faced a severe and complex humanitarian crisis that has left 70% of its population of 28 million in need of urgent assistance since 2014. The country's economy has been in a state of collapse for many years due to various factors including hyperinflation and falling oil revenues—resulting in 75% of Venezuelans living below the poverty line.
Hospitals and medical facilities lack essential supplies, equipment, and medicine, and the exodus of medical professionals from the country has further strained the healthcare system's capacity. Maternal and infant mortality rates are on the rise, with nine out of ten pregnant women without access to proper prenatal care.
More than 7 million Venezuelans have fled their homeland, making it the region's largest migration crisis in recent history. Economic hardship has forced Venezuelans to leave the country in search of better opportunities and living conditions. Neighboring countries, like Colombia, have received large numbers of Venezuelan migrants and refugees who face the immense challenge of rebuilding their lives with limited access to resources to meet their basic needs.
Our impact
Mercy Corps is supporting Venezuelan communities in both Venezuela and neighboring Colombia to meet urgent water, food, health, hygiene, and basic needs while building more resilient futures. Our work supporting Venezuelan communities is focused around the following priority areas:
Providing critical access to healthcare
Through partnerships with local organizations, Mercy Corps has supported health centers and hospitals with acquiring and installing vital equipment, including sterilization devices. In 2022, we distributed more than 50,000 medical supplies like syringes, alcohol, aspiration probes, surgical gloves, gauze, and more.
In Caracas, patients at a neonatal intensive care unit received access to care when Mercy Corps delivered new equipment and repaired broken tools at a maternal and children's hospital. We provided financial incentives to highly-qualified specialists and staff to remain in Venezuela to care for newborns in critical conditions. In addition, Mercy Corps has facilitated safe deliveries for pregnant women.
Delivering essential aid and services to refugees and migrants
Since 2019, along with our partners in Colombia, Mercy Corps has provided more than 446,000 people with cash assistance to meet their most urgent needs —many of whom are Venezuelan refugees and migrants. Mercy Corps also provides entrepreneurship training, job orientations, and savings groups to help communities build stability and resilience.
Mercy Corps is increasing access to critical legal, protection, health, and psychosocial services as well as employment opportunities for Venezuelans living in Colombia and Colombians in communities facing challenges due to the arrival of new residents. Since LGBTQ+ communities face even greater barriers to receiving adequate support and services, Mercy Corps partners with a local organization, Caribe Afirmativo, to serve members of the Venezuelan and Colombian LGBTQ+ community in Colombia. LGBTQ+ participants receive services like support for obtaining gender-affirming identity cards for transgender refugees, workshops on LGBTQ+ rights, leadership, and mental health support.
Join us in building a more equitable world.
Use your voice and urge Congress to take action.