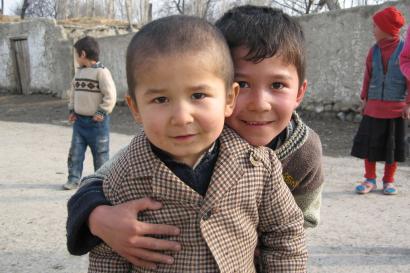 Since 2020, Mercy Corps has been working to improve early childhood education in rural regions of Uzbekistan. We plan to reach 60 preschools and 9,000 students in the initial pilot phase.
The context
Double-landlocked and at the heart of the ancient Silk Road, Uzbekistan gained independence from the Soviet Union in 1991. Twenty five years later, in late 2016, the Government of Uzbekistan issued a reform agenda to improve education and health outcomes, focusing mostly on its bulging youth population. Since then, Uzbekistan has placed a strong emphasis on accelerating economic development and opening the political and civil society space through social, legal and economic reforms.
Despite significant economic development over the last decade, approximately 12 percent of the population lives below the poverty line, of which 75 percent are rural dwellers. The COVID‑19 pandemic helped drive an additional half-million people into poverty as exports and remittances fell, and employment insecurity increased, especially among young entrepreneurs and small business owners.
Upon gaining independence, the Government of Uzbekistan inherited a severe environmental crisis. Intensive irrigation during the Soviet period, combined with climate change, has devastated the Aral Sea, nearly drying up what used to be the fourth largest saltwater lake in the world. This ecological disaster is draining local economies of their livelihoods and wiping out fishing industries that once dominated the region. Crop damage and increased air and water pollution are causing severe health consequences in the region, particularly among women and children. Anemia and respiratory illness among children is particularly high as a result of pollution and poor nutrition. 
In addition to health and malnutrition risks, children in Uzbekistan lack access to quality early childhood education, with only 50 percent of children attending preschool nationwide. While strides have been made in urban centers, enrollment remains disproportionately lower in rural areas with only 30 percent of eligible children in the Surkhandarya region enrolled in preschool. 
In preparation for a demographic boom and the need for youth job creation, the Government of Uzbekistan is investing in children and young people. Improving the education sector, and in particular early childhood education, will help build the foundation needed to facilitate growth and job creation. 
Our impact 
To help meet the growing demand for early childhood development opportunities, Mercy Corps is partnering with the Ministry of Preschool Education to provide school meals, learning materials, nutrition and health education, and improved access to clean water to under-resourced preschools. Funded by the U.S. Department of Agriculture, we are working with local communities to rehabilitate school classrooms, kitchens and sanitation/hygiene facilities to increase preschool enrollment and attendance through the McGovern-Dole Food for Education program. 
We are also responding to the COVID‑19 pandemic by improving handwashing stations, providing sanitation supplies, and sharing key health and hygiene messages in collaboration with the Ministry of Preschool Education and the Ministry of Health.
Explore the Uzbekistan team's impact in greater detail