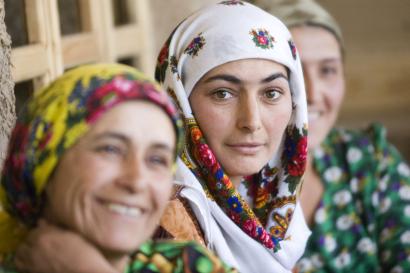 Mercy Corps has worked in Tajikistan since 1994. After 28 years of successful efforts to build stability, improve health, promote economic opportunity, develop youth skills, strengthen community disaster preparedness, and support integration of migrants and refugees, we decided to close down our operations while local stakeholders continue to build on the learnings and models of our work together.
The context
Tajikistan's civil war in the 1990s severely damaged the country's already weak economic infrastructure and caused a sharp decline in industrial and agricultural production. Uneven implementation of structural reforms and widespread unemployment kept the economy in a fragile condition and left families struggling with extreme poverty, poor healthcare, and isolation.
There has been significant progress over the last couple of decades. The poverty rate fell from 83% in 2000 to 27% in 2018, however 12% of people still live in extreme poverty. Tajikistan continues to face critical challenges in providing its growing young population with meaningful and market-appropriate skills, employment, and entrepreneurship opportunities. Because of this, the economy is greatly dependent on labor migration, with a large proportion of GDP drawn from money sent home by Tajiks working in Russia.
Only 7% of Tajikistan's land is arable, posing significant food security challenges, especially in the winter months. Climate change and extreme weather, including floods, landslides, and droughts, also have a significant impact on crops and pose additional economic challenges.
Our impact
Mercy Corps Tajikistan was established in 1994 to build stability, improve health, promote economic development, and strengthen community disaster preparedness. Over the next 28 years we supported the social and economic reintegration of returning labor migrants and a small population of Afghan refugees residing in the country. In response to COVID-19, we adapted our programs so we can continue to safely work alongside the communities we serve. We also introduced new programming to prevent the spread of the virus. Significant progress has been made since 1994, and we believe that local stakeholders are well placed to lead development efforts moving forward. We feel like it is the right time to celebrate the progress and sunset our operations.
Mercy Corps provided older adolescents with life and work readiness skills to facilitate the school-to-work transition. We equipped youth with vocational and business development skills so they had greater potential for employment or self-employment and then linked them to potential employers. To increase our impact, we shared learnings and recommendations for replication to local stakeholders who also work on skills training initiatives.
Join us in building a more equitable world.
Use your voice and urge Congress to take action.