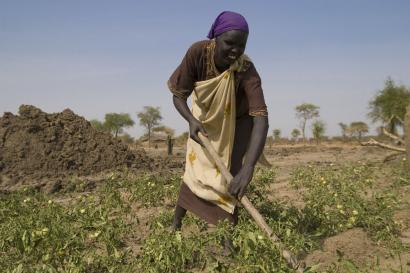 Mercy Corps began our work in Sudan in 2004, and since that time has worked to support hundreds of thousands of Sudanese, displaced households, and refugees from neighboring countries. In 2022, Mercy Corps directly reached over 381,400 people through emergency response, water, sanitation, and hygiene, peacebuilding, agriculture, and climate adaptation programming.

The context
In 2023, Sudan is facing renewed violence, displacement, and an unprecedented need for humanitarian aid. The fierce fighting that began on April 15, 2023, has compounded the crisis across the country. We see the prices of food, fuel, water, and other essentials skyrocketing, as fighting continues and humanitarian organizations confront enormous security and operational challenges in responding to community displacement and rapidly escalating needs. Learn more about this conflict.
Sudan has a population of 40.5 million people across 728,200 square miles. Out of the total population, 5.5 million people are in need of immediate humanitarian assistance, including almost two million people displaced in Darfur. The ongoing economic crisis characterized by rapid inflation and increasing food prices means that the number of people in crisis is expected to increase to 5.8 million in 2019.
Decades of conflict, limited investment in agricultural production, and growing environmental shocks and stresses have resulted in cyclical food insecurity in many communities. It is estimated that one in six children are acutely malnourished. In a country where food security is dependent on agriculture, Sudan is inherently vulnerable to climate change. Desertification is encroaching on valuable agricultural land, affecting the livelihoods of Sudanese farmers. Annually, more than 200,000 people across the country are impacted by flooding. The floods in Sudan lead to fatalities, displacement, loss of crops and more.
Nearly half of the population — around 20 million people — live in poverty, making access to basic necessities like food and clean water increasingly limited.
At the end of 2017, over 690,000 Sudanese had fled to neighboring countries, including South Sudan, Ethiopia and Chad, to escape conflict. More than 2 million people are displaced inside Sudan. A majority of internally displaced people in Sudan currently reside in Darfur.
Sudan is also one of the biggest host countries in the world for refugees. At the end of 2017, an estimated 900,000 refugees from Yemen, Syria, Chad and other neighboring countries came to Sudan to seek asylum. Sudan is also hosting the largest number of South Sudanese refugees in the region, with more than 840,000 seeking safety in the country.
Despite these challenges, Mercy Corps is committed to supporting communities in Sudan to effectively manage conflict and disasters, thereby strengthening recovery, and leading to secure, just, productive and dignified lives.
Our team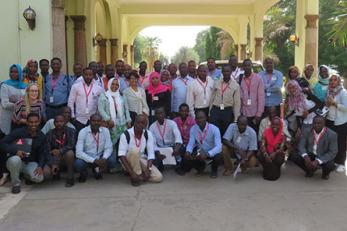 Mercy Corps currently leads humanitarian and development assistance efforts in conflict-affected South Darfur and South Kordofan states. We are also engaged in the South Sudanese refugee response in refugee camps and vulnerable host communities in White Nile state, and is currently expanding into Kassala and Gedaref states in Eastern Sudan.
Our work covers a range of issues facing the people of Sudan. We are enhancing self-reliance through community managed and funded WASH services for conflict-affected communities, including long-displaced populations. We are responding to the emergency nutrition and protection needs of populations. We are increasing disaster preparedness by developing emergency response plans with local government officials. We are increasing the resilience of conflict-affected families to economic and social shocks by increasing their access to market-driven livelihood.
Our impact
Since 2004, our work in Sudan has reached hundreds of thousands of people. Here are a few of our most recent results:
We have assisted over 23,000 small farmers in South Darfur and South Kordofan states in growing enough food to cover their own yearly needs while still having surplus to sell in the local market.
We have built the capacity of 10 community-based organizations in emergency preparedness, response and coordination in South Kordofan state.
We improved the food security of 15,429 South Sudanese refugees through the development of sustainable livelihoods opportunities.
We have delivered clean drinking water to more than 265,000 individuals in conflict-affected communities in South Darfur and South Kordofan States.
Join us in building a more equitable world.
Use your voice and urge Congress to take action.