Palestine (West Bank/Gaza)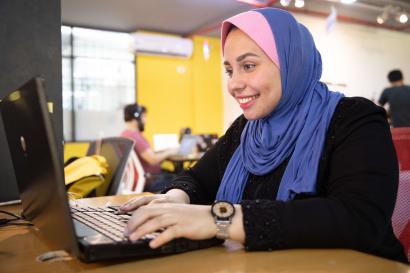 Since 1986, Mercy Corps has helped Palestinians in the West Bank and Gaza access critical services and become more economically self-sufficient. Last year we reached over 37,000 people through our work.
The context
Palestine is the longest-running human-made humanitarian crisis and remains among the world's most challenging places to deliver humanitarian assistance.
For over four generations, Palestinians have faced ongoing violence, an unresolved refugee crisis, and restrictions on everyday life. Since the end of the 1967 war, Palestinians have been required to obtain and carry specific permits issued by Israel to travel between Gaza and the West Bank and across borders. This means that more than 5 million Palestinians cannot travel freely to access adequate health care, find work opportunities, or visit their families. Gaza, in particular, is being driven to the brink of collapse as it remains cut off from the rest of the world without access to basic services like power and clean water.
Today, 2.4 million Palestinians rely on humanitarian assistance to meet their basic needs. The number of people in severe need has increased by 20% in the last year. High levels of food insecurity, poverty, and chronic unemployment are some of the challenges that Palestinians face. It is estimated that 64% of people in Gaza and 30% in the West Bank are living in poverty.
Only 4% of the water coming from Gaza's sole aquifer is safe to drink, and the aquifer is on the brink of irreparable damage due to over extraction. The amount of water needed for domestic and agricultural use is approximately four times as much as the natural recharge rate from rainfall runoff. As the water levels in the aquifer drop below sea level, salty seawater seeps in contaminating the water. The water quality is also impacted by untreated wastewater and improperly designed solid waste dumping sites. As a result, only 10% of Gaza's 2 million people have access to clean water, creating a severe public health hazard.
Magnifying the water and sanitation issue is the fact that on average there is only 8-10 hours of electricity a day in the Gaza Strip, with some only receiving 6 hours of electricity, disrupting nearly every aspect of life, especially the delivery of these essential services. Power and fuel shortages limit water treatment facilities' ability to desalinate the water, further reducing Gazans' limited access to clean water.
In Palestine, the population is young and among the most highly educated in the Middle East, yet unemployment remains staggeringly high, especially in Gaza where restrictions on movement and goods are even more severe.
Gaza's youth unemployment rate is nearly 70%, one of the highest in the world. More than a decade of isolation from the outside world has crippled Gaza's economy and thwarted many young people from securing meaningful work. Despite having one of the highest youth literacy rates in the world, many see no way to earn a living and support a family or a future. Interestingly, unemployment increases in populations with high levels of education, reflecting the fact that the market is too small to absorb the high number of new university graduates each year. One of the few bright spots continues to be the information and communication technology sector which provides an important avenue for job creation and income opportunities.
Despite comparable levels of education with men, women remain severely underrepresented in the workforce. Women make up less than 20% of the Palestinian labor force, one of the lowest rates in the world. The additional restrictions imposed to prevent the spread of COVID‑19 have only amplified these challenges, causing unemployment to reach an all-time high across Palestine.
Our impact
Our programs empower Palestinian communities to direct their own path toward self-sufficiency, build a thriving economy, and create a more inclusive society. We are currently focused on:
Helping communities cope with crisis
Increasing economic opportunities
As Palestine continues to face the COVID‑19 pandemic, we are taking the necessary precautions so we are able to continue supporting communities safely while actively working to prevent the spread of the deadly virus.
Helping communities cope with crisis
We are committed to finding solutions that give people more options and resources to meet their immediate needs, become more self-reliant, and be more resilient to future challenges.
In Gaza, we are working to develop sustainable access to affordable and safe drinking water. We recently built a desalination plant to treat contaminated water and a 13 km long piping network giving 20,000 residents access to clean water. The operating costs are less than other delivery methods such as water trucking, making it more affordable for the consumer. And the gravity-fed system can operate during the daily periods without electricity, allowing families to access clean, safe drinking water 24 hours a day, 365 days a year.
We know that women are disproportionately impacted by the COVID‑19 pandemic, but we wanted to better understand the specific impacts of COVID‑19 on women in Palestine and be able to recommend steps to address these challenges. Through this study, we learned that women have been underrepresented in official emergency-response planning bodies, directly leading to cuts in services vital to women, children, and people with disabilities.
Increasing economic opportunities
Mercy Corps is leveraging technology and Palestine's widespread internet connection to expand access to opportunities not bound by borders. Launched in collaboration with Google for Startups in 2011, Sky Geeks is focused on nurturing innovation and entrepreneurship, and creating a vibrant Palestinian tech community.
Through Gaza Sky Geeks, Mercy Corps prepares young people across Gaza, the West Bank, and East Jerusalem to work in the global tech economy by training coders, linking freelancers to international markets, and creating a pipeline of early stage startup companies that can compete regionally. We bring online freelancers, outsourcers, and startup founders together under one roof to share ideas, learn, innovate, code, and geek out.
Today Gaza Sky Geeks is the lead co-working space, startup accelerator, and technology education hub in Palestine. To learn more about Gaza Sky Geeks, please visit gazaskygeeks.com.
Mercy Corps also helps to build the resilience of businesses in the West Bank. We work in partnership with local business associations to help small and medium enterprises (SMEs) find new markets for their products and grow. A key area of focus is the agribusiness and technology sectors. In 2020, Mercy Corps focused on giving these vital businesses the financial and technical support needed to help them survive COVID‑related shutdowns, keep their staff, and adapt to new opportunities.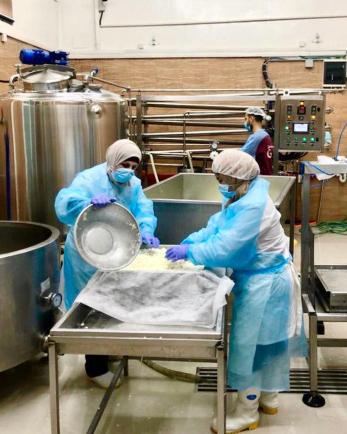 Supporting marginalized and vulnerable youth
Mercy Corps, in partnership with International Youth Foundation, is implementing the 5-year USAID-funded Positive Youth Engagement program, designed to address the challenges of Palestinian youth in Gaza, the West Bank, and East Jerusalem. Through a selected group of national partner organizations and community-based organizations, Positive Youth Engagement will support marginalized and vulnerable youth by improving education, health, employment, community engagement, and other needs as identified through diverse, community-supported assessments. By increasing opportunities, the goal is for Palestinian youth to realize their potential, effectively contribute to social and economic development, and engage with their communities.
To set youth on positive and peaceful pathways to become productive, contributing citizens, Positive Youth Engagement will offer programming that supports, protects, prepares, and engages adolescents in safe spaces located within community-based organizations. The program will also provide activities, resources, and referrals that will set youth on individually selected pathways building on the core curriculum. Finally, Positive Youth Engagement will deliver opportunities for sustained community engagement and leadership through youth-led councils, community and social media campaigns, and mentorship of subsequent cohorts as part of sustainable community youth networks.
Join us in building a more equitable world.
Use your voice and urge Congress to take action.