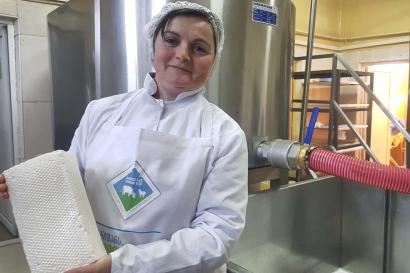 Mercy Corps has been working in Georgia since 2000, building productive, resilient, and equitable communities. Last year, our programs reached over 650,000 people across the country.
The context
Georgia is a former Soviet republic located at the intersection of Europe and Asia with the Black Sea to its east, Armenia to the south, Azerbaijan to the east, and Russia to the north. The Rose Revolution of 2003, which ousted the president and marked the end of the Soviet era of leadership, left a shaky civil society and an impoverished rural population.
Until 2020, Georgia experienced an extended period of economic growth and a rapid decline in poverty. However, the economy fell into a recession in 2020 as COVID‑19 related lockdowns brought industries to a standstill, particularly the transport, tourism, and construction sectors. The unemployment rate is now at 20%, a 12% increase from the end of 2019, and poverty increased by 5%. Young people in Georgia, especially from rural areas, face many challenges in accessing work opportunities.
Our impact
Since 2000, Mercy Corps has been supporting rural economic development, with a specific focus providing opportunities for women. As Georgia continues to face COVID‑19, we are adapting our programs so that we can continue to safely support the communities we serve and help prevent the spread of the virus. Today, we focus on three priorities:
Rural development
Working with the private sector, we analyze, invest in, and scale improvements in the dairy, beef, sheep, and honey sectors. We provide business development services as well as export opportunities within the larger region. We also help small scale semi-commercial farms access finance and technical support so they can grow into professional commercial farms.
Additionally, we established a model for a new municipal service in Georgia called the Women's Room. It helps improve rural women's access to local government and decision-making processes, and supports them in accessing funds for their business ideas. Over the last nine years, 31 Women's Rooms have been established, 30 in Georgia and one in Armenia, and over 110 female entrepreneurs received small grants to start their own business.
Higher incomes and employment opportunities
We promote the needs of rural small and medium businesses to key stakeholders to help integrate them into the formal economy and increase their access to financial services. We also help develop more diverse and tailored financial products to meet their specific needs. At the same time, we create a demand for these products by working with rural entrepreneurs and small businesses to have the skills to identify, apply for, and utilize the financial products that can help them grow.
Social entrepreneurship
We create new economic pathways for youth in the border regions of Georgia and Armenia by strengthening the social entrepreneurship sector. We do this by providing them the knowledge and skills necessary to establish sustainable social enterprises, and then we help them access finance, business support, and networks to increase their chances of success. We prioritize disadvantaged youth and businesses that are seeking to address the most pressing social and environmental issues.
Join us in building a more equitable world.
Use your voice and urge Congress to take action.