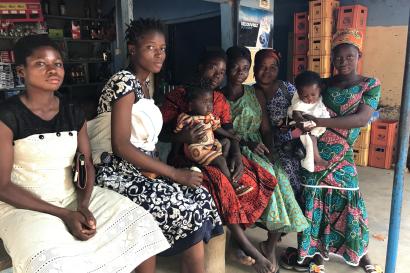 The context
Burkina Faso is one of the poorest countries in the world, with an annual per capita income of less than $720. The country faces serious underdevelopment, with high population growth and low education rates. Recurrent droughts are exacerbated by climate change, undermining the country's agricultural potential. The country's situation is being aggravated by a humanitarian crisis due to widespread insecurity and violent conflict that has led to massive population displacement and inter-community strife.
Our impact
Mercy Corps has been working in Burkina Faso since 2016 and implements its activities by partnering with local communities, local government, and Burkinabé organizations and research institutions. Through our program activities we are making an impact across the areas below:
Providing new socio-economic opportunities to youth
With support from USAID, we are providing vulnerable youth with new socio-economic opportunities by focusing on agricultural, technical and soft skills development, emphasizing flexible, short training modules, as well as extensive post-graduation support. This is bolstered by additional activities through which we break down the barriers separating youth from productive civic involvement. We also support small business incubators, private training institutes, and other skills development and employment organizations that operate out of Ouagadougou.
Supporting social cohesion and peacebuilding
In 2017, with support from USAID, we worked with a local partner organization to collect evidence in the Sahel region on how different factors and conditions make communities and individuals more or less vulnerable to extremist groups, and developed adaptable tools that can be widely used in efforts to combat violent extremism. Our work has enabled national, regional, and local state and civil society practitioners to identify communities most vulnerable to engagement with extremist groups, increased community resilience to extremist groups, and led to a more peaceful and stable West Africa.
Improving livestock practices for rural farmers
We are contributing to the improvement of animal husbandry practices by strengthening the ecosystem for effective, accessible, affordable and scalable animal feed, fodder and animal health products and services for small ruminants in Niger and Burkina Faso. Our work in this area, while increasing resilience capacities, will promote the adoption of the technologies promoted by women in general and the more vulnerable segments in particular. To increase the chances of reaching women and the poor, Mercy Corps focuses on small ruminants and integrates animal nutrition, as well as parasite management.
Strengthening aid effectiveness
The Sahel Collaboration and Communication (SCC) project focuses on resilience, learning, and adaptive management, exemplifying USAID's collective impact in the Sahel. SCC enables USAID's implementing partners, civil society, government partners, and research institutions to jointly understand and prioritize development actions and continuously adjust them based on real-time results.
Join us in building a more equitable world.
Use your voice and urge Congress to take action.