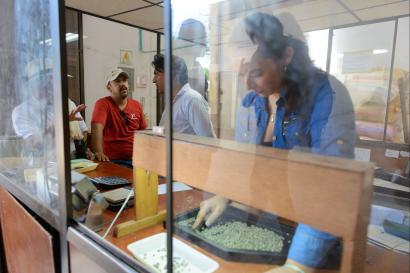 Some 25 million women and men in Latin America don't have jobs. Youth unemployment in the region is at particularly alarming levels: one in five young people ages 14-25 are unable to find work. Youth and other underrepresented populations (e.g., women, people with a high school education or less) are often discriminated against (sometimes unconsciously) in the formal hiring process. So, when they do manage to find a job, the chances are it's an informal opportunity — with no contract, benefits or social security rights. These "off the record" jobs are high risk, and offer limited opportunities for continued skills development or increased income.
Employment challenges have been exacerbated by ongoing crisis in the region. More than 4 million Venezuelans have fled ongoing humanitarian, political and economic crisis and many are looking for new work in neighboring countries. The UN estimates there will be 5.3 million Venezuelan refugees by the end of this year, rivaling the scale of the Syrian refugee crisis and stretching the capacity of Venezuela's neighbors to their limits. Colombia has received the largest number of Venezuelans to date — nearly 1.5 million — and the influx presents a critical employment challenge, as thousands arrive to settle in communities already struggling with poverty and lack of opportunity.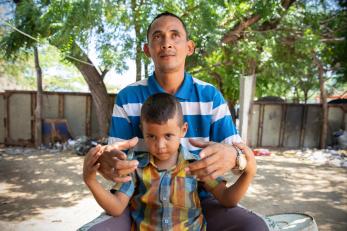 Addressing the employment challenge has become even more urgent given the rapid advance of technology. While advances are eliminating some jobs, they're also opening up new professions and career paths that didn't exist before. One of the biggest challenges in this rapidly changing marketplace is to remove barriers in the search, hiring and skills assessment process.
Long-term jobs and short-term work opportunities are often available — qualified job seekers and employers just fail to find each other. Those who are self-employed or part of the informal economy (about two-thirds of workers in emerging economies) spend a substantial portion of their time seeking their next gig. And businesses looking to hire for entry-level or low-skill positions spend a considerable amount of time on the hiring process, yet still experience high turnover as they fail to find candidates with the right skills for the job. 
Matching workers with formal job opportunities
The evidence for reducing barriers to employment is compelling. Levee aims to reinvent productivity and the future of work by using artificial intelligence and machine learning to connect informal, unskilled workers to formal, more secure and higher-paying jobs. 
Based in Sao Paolo, Brazil, Levee validates an individual's skills, work history and other key personal information to create an accurate and comprehensive profile. The company's algorithm then analyzes dozens of the most relevant predictors of performance, including geo-location, and connects the individual directly to a shortlist of pre-screened job opportunities, allowing him or her to schedule an interview. The process is simple and streamlined for both prospective employees and employers.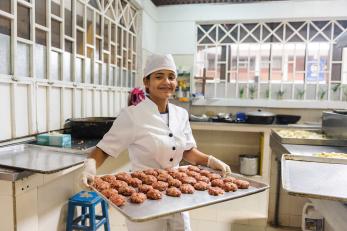 Through the testing of new technologies, methods and data, Levee's visionary products bring intelligence to the decision-making process, helping companies reduce the US $100 million in yearly losses caused by low productivity in their operations. Levee's solution contributes to democratizing access to job opportunities for anyone, anywhere, anytime, delivering thousands of job opportunities to where workers are most active: their mobile phones. 
Composed by a group of top scientists, economists and engineers, Levee's solution is bringing expressive social and economic impact to companies, people and the world: shortening distances from home to work, helping to increase productivity and improving quality of life of millions of workers.
Building connections for greater impact
When we speak with Venezuelans in Colombia, they tell us that the number one thing they need is a job. Without work, there's no money, and without money, there's no food, medicine or shelter.
Jobs are more than just avenues to income — they help bring meaning and purpose to our lives. They help to form our identity and secure a sense of belonging. Behind the striking unemployment statistics are human stories — stories of people unable to realize their fullest potential and of large amounts of under-utilized talent.
We're integrating the Levee solution as part of our ongoing effort to connect the unemployed to income-generating activities in Colombia, specifically, and beyond. We're also connecting Levee to our networks in the region, while simultaneously sharing our own regional experience to help the venture expand its capacity to provide training resources and reach more employers and prospective employees.
The job search is never easy — but imagine being forced to start over and find work outside of your own country. In Latin America right now, a region overwhelmed by crisis, it's more important than ever to facilitate connections between those seeking employment and employers seeking workers. With solutions like Levee, we can effectively support thousands of refugees and migrants in finding the foundation they need to restart their livelihoods, build their security and recover from crisis.