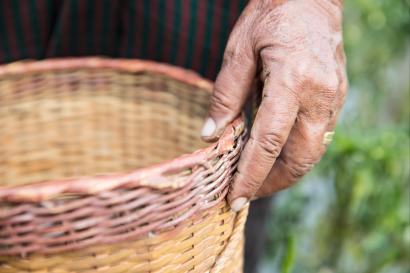 The world's 500 million small farmers grow 70 percent of the food in developing countries, yet most live on less than $2 a day, without access to the knowledge, services and tools they need to climb out of poverty. These farmers are the most financially underserved group in the world — less than 10 percent have access to finance — and women and youth are at a particular disadvantage.
Increased financial opportunity could yield significant improvements for small farmers. In fact, greater access to inputs such as quality fertilizers, better seeds, improved livestock and micro-irrigation could result in 80 to 140 percent increases in income. That's huge.
But farmers face a range of complex, interconnected challenges that deter financial service providers (including weather variations, seasonal cash flows, fluctuating prices and unreliable buyers). Financial institutions often avoid lending to these farmers or developing tailored services because of the perceived risks, despite the size of the potential client base and its critical importance to economic growth, food security and employment worldwide.
Small farming households are diverse in what they grow, where they sell, their mix of household income sources and the technologies they use – and understanding the details of these circumstances is crucial to designing and delivering impactful services. Due to a lack of valid and holistic data, lenders struggle to serve small farmers with appropriate products and services, while other actors the agriculture sector (e.g., suppliers and buyers) attempting to work more directly with farmers are unable to do so at scale.
It's clear our food systems are ripe for (positive) disruption, but there is a fundamental lack of data inhibiting development. Without more information, financial service providers are unable to efficiently and effectively engage these farmers with products and services that could substantially improve their livelihoods. 
Providing actionable insights to inspire financial inclusion
Seeing this information deficit and untapped potential, Harvesting has set out to collect and deliver the data needed to better understand and serve small farmers 
Harvesting is providing actionable insights to financial institutions via its software-as-a service (SaaS) solution: An "agriculture intelligence engine." This platform processes a massive amount of global data sets, such as weather, satellite and agronomic data, and applies machine learning algorithms to help reduce risks for businesses and financial institutions.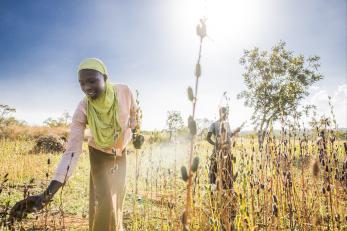 Rather than lending directly to farmers, Harvesting collaborates with financial service providers who already have agri-lending portfolios. Providers using the venture's agri-lending suite can leverage the power of AI and alternative datasets (climate data, remote sensing) to manage the entire lending life-cycle, from lead generation to portfolio management and monitoring. In doing so, Harvesting hopes to make agri-lending more efficient, scalable and responsive to farmers' needs and demands. 
By collecting and analyzing a range of localized and remote data points, Harvesting's platform aims to accelerate the development of an ecosystem of lower-cost, more inclusive and effective products and services for millions of farmers around the world.
Though still early on in its journey, the venture has already created pathways to provide its agri-lending suite in India and Myanmar and forged a partnership in Uganda to build a credit risk scoring system. Long term, as Harvesting grows into a rich dataset, it's positioned to channel many other services to small farmers, including insurance, market access, inputs, mechanization and precision agriculture.
Building connections for greater impact
We envision a future where small farmers, including women and youth, are more resilient and empowered to take control over their livelihoods — with access to all the tools they need to feed their families and generate enough income to thrive.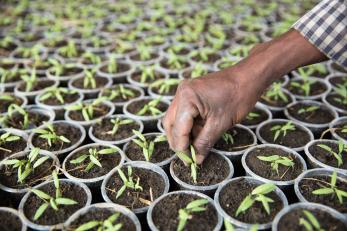 To help realize this vision, we're connecting Harvesting to our extensive network of microfinance institution partners and agricultural programs. These relationships, resources and expertise will allow Harvesting to continue to grow their data set and guide the development of more successful products and services to reach more small farmers.
We think the most exciting advances in leveraging big data for small farmers are just over the horizon, and we're excited to work with Harvesting in driving this revolution.
We are super excited about this opportunity as Mercy Corps brings in their extensive network and understanding of regions and communities we want to serve. They get smallholder agriculture and agtech. We believe that this partnership will help us further fuel our growth in both micro-lending as well as micro-insurance in agriculture. — Ruchit Garg, CEO and Founder of Harvesting