More than 4.5 billion low-income consumers — mostly youth and women, small rural farmers and micro-entrepreneurs — lack access to the information and tools they need to break out of poverty.
But there's a way to reach them: 90 percent of these individuals do have access to mobile phones. 
Millions of phones still lack access to the internet, though, creating a large market opportunity to deliver value-added services through basic mobile devices.
Delivering information through SMS
Tapping into the potential of mobile phones, Arifu is helping the world's least served people access the information they need, when they need it.
Arifu's digital learning tools can be delivered to any mobile phone and are customized to meet the needs of large consumer goods and development organizations.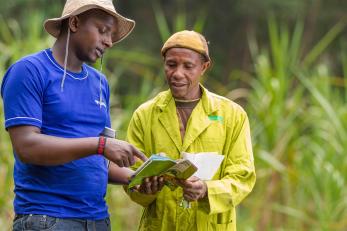 Arifu works to develop learning campaigns for multinational companies, international NGOs and social enterprises operating in the agriculture, financial services and consumer goods sectors. These campaigns serve as an affordable and effective way for global organizations to educate and train large net works of employees and businesses, while offering low-income consumers an education marketplace. 
"To create, grow and secure a good income, working women and men must be able to access the knowledge and capital they need to thrive. Doing this can be both difficult and expensive. Arifu is a new kind of platform that's making quality education affordable and scalable." — Craig Heintzman, Arifu Founder
Customer spotlight
Gladys is a mother, farmer and entrepreneur who grows and sells fruits and vegetables in Baringo County, Kenya. Before becoming an Arifu customer, Gladys struggled to afford the fertilizer necessary for improving her soil and plant health. Then she learned about Arifu's free financial management and agronomy training. Through an SMS-based chat, she learned alternative, low-cost techniques for improving her yields, and her vegetables are flourishing. And because of Arifu, she is financially savvy, "no longer scared of loans" and investing in growing her business.  
Building connections for greater impact
Arifu's work addresses several of our key focus areas, including last-mile distribution, agriculture and youth employment.
Together, Arifu and Mercy Corps' AgriFin Accelerate program are reaching thousands of small farmers with digitally-enabled products and services. a DigiFarm product (designed for Safaricom) that bundles discounted inputs, farmer learning, input financing and other complementary value-added services.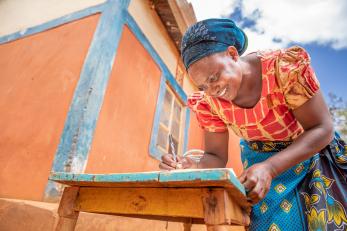 "Arifu has already demonstrated impact with its platform. It allows farmers to direct their own learning and provides data on learner performance that can link them to services such as farm inputs and loans." — Leesa Shrader, AgriFin Accelerate Program Director
We're also working to incorporate the platform into our youth employment work in Kenya, where we support tens of thousands of young Kenyans with the tools and resources they need to build a stronger tomorrow.
The Arifu solution proving to be applicable to other fragile countries and contexts in which we work. For example, we're partnering with Arifu to demonstrate new ways to reach refugees in Tanzania's largest camp and exploring how this may affect our work with refugees in Jordan. 
Arifu is standing at the frontier of what is possible, and the opportunity to scale is massive.