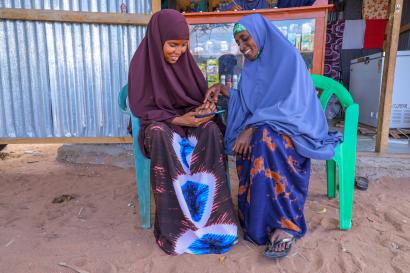 Technology for Impact was a 5-year partnership between Mercy Corps and Cisco, centered around the shared goal of using technology to deliver aid and development assistance faster, better and to more people. Cisco generously supported seven specific technology initiatives with $8.5 million in funding, nearly $3.4 million in product and technical expertise, and an additional $3 million for tech-based COVID response. Cisco employees have also supported Mercy Corps with nearly $875,000 in employee giving.
This partnership has helped extend the Technology for Development (T4D) team's influence across Mercy Corps teams, integrating tech solutions into all of our program priority areas, and centering technology and innovation as an organizational commitment.
Learn about the culmination of the program in our full Year 5 report
Building a reputation for digital peacebuilding
One of the exciting developments we've seen over the course of our partnership is the cross-pollination between programs and focus areas. For example, as Mercy Corps learned more about how to plan for, develop, and implement digital and informational tools for community engagement, natural linkages have emerged with our governance and peacebuilding sectors. The digital ecosystem analysis that has been core to our Digital Communities initiative can also be used to understand how social media is being weaponized in ways that lead to physical conflict and violence, and what can be done to address that.
We're now applying a digital lens to programming across our peacebuilding work both at the strategic and tactical levels. This shines through in our partnership with AIfluence, a Kenya-based company offering Africa's first AI-powered influencer marketing program. By engaging micro-influencers– real people with established audiences who trust their messages and information– Mercy Corps harnessed the power of social media to spread messages of peace and trust in democracy during the August 2022 elections in Kenya. This locally-led, community-based approach results in greater impact than messages coming from the government itself, helping to depolarize online discourse and set the stage for more peaceful elections.
In Iraq, our peacebuilding program team began to account for an understanding of online mis- and disinformation. Social media in Iraq, like everywhere else, can amplify and deepen intergroup tensions, enable the spread of hate speech (which further marginalizes communities), and breed echo chambers. Mercy Corps worked with a group of 81 young people on a project called Iraqi Youth Against Disinformation (IYAD), in which they chose topics to analyze based on Mercy Corps' Digital Peacebuilding framework and developed responses designed to reject extremism and increase tolerance. The entire project was designed, developed and implemented by young people, and 67% of program participants (70% male, 64% female) reported that the initiatives were effective at addressing mis- and disinformation in their communities.
Transforming operations with upgraded equipment
Prior to the partnership, an IT audit revealed that one-third of Mercy Corps' offices had "unacceptable" connectivity, impeding on our team members' ability to carry out operations in a timely manner. Ad hoc networking systems, often sourced in-country and without centralized administration, meant reduced functionality with team members struggling to download files, send emails, or participate in calls. Cisco generously provided $3.4 million in Meraki hardware equipment and licenses, which have been installed in 188 offices in 34 countries. Now, just 6% of Mercy Corps offices have unacceptable connectivity levels, largely due to the lack of network infrastructure and internet provision in more remote locations and IT members at Mercy Corps headquarters can now block malware from a central location.
Then in July 2021, Mercy Corps and Cisco worked together to establish networking equipment in Indonesia — a country that has faced numerous natural disasters — so that it would be accessible in a time of crisis. When Mt. Semeru erupted in December of that year, our response teams were able to establish an emergency response center and provide hygiene, cooking, and COVID protection supplies. A year later when the earthquake hit, the prepositioned equipment was easily transportable to support the response teams in Cianjur. Office equipment upgrades and prepositioned equipment have improved bandwidth for our global teams, freeing our time and resources to focus on delivering aid quickly and more efficiently.
Testing, learning and building a new era of humanitarian aid
Testing, prototyping and piloting are standard steps to take in developing and implementing any kind of technology. Failure and lessons learned are normal parts of the process. The humanitarian context presents unique challenges given the remote and complex environments   
and the ethical dilemmas of applying unproven ideas with vulnerable communities– innovations are not a panacea for the challenges facing our sector. Instead, we believe that technology's transformative impact is unlocked when program teams layer it with existing programs, taking into account the specific contextual needs and opportunities.
Together with PESITHO, T4D piloted a tech-driven solution to reimagine how families cook in Uganda's Bidi Bidi refugee camp. For vulnerable communities without electricity, an act as simple as cooking dinner can be hazardous. Fumes from burning wood, coal or kerosene in traditional stoves or open fires can lead to stroke, lung cancer, heart disease and other illnesses, while also polluting the environment.
The solar stoves we financed through a pay-as-you-cook model also has two USB ports and two rechargeable lamps, enabling families to meet cooking needs and also charge phones and study or work after dark. Some participants started generating additional income by offering phone charging capabilities to others. The innovative model addresses issues of poverty by financing the cookstoves through a cell-phone based, pay-per-use approach, lowering the barriers to entry. Mercy Corps and PESITHO are now working to improve and scale the program to make solar cooking accessible to more people in Uganda.
By co-designing technology trials with team members who are experts in the unique contexts of the countries where we work, we were able to ensure that pilots led to pragmatic solutions rooted in communities' particular needs and challenges. In the process, we've nurtured a culture of innovation at Mercy Corps, helping tie pilots to larger programs in order to have greater reach. We have learned that innovation goes beyond what type of technology to use and where — it is just as much about the enabling environment. For us, that meant investing the time and effort necessary to build capacity around technology and create a willingness to try new ways of working.