Behind Them, a Homeland in Ruins: The Youth of Europe's Refugee Crisis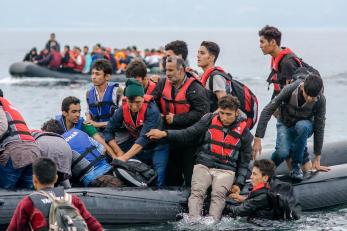 October 14, 2015
Download the full report ▸
Download the Key Findings & Recommendations in Français ▸
Download the Key Findings & Recommendations in Deutsch ▸
Every day, thousands of refugees continue to arrive on the shores of Europe. They come from countries like Syria, Iraq, Afghanistan and Somalia, driven from their homes by conflict and instability. And most of them are young, with 67 percent aged between 14 and 34.
In the debates on how to manage this crisis, there is a real danger that policy choices will be driven by ignorance or fear rather than an informed understanding of who these people are and why they are moving. If communities and politicians focus on keeping refugees out or marginalizing them, they may trigger the tension and conflict they are trying to avoid.
This report aims to help policymakers better understand who these refugees are and design policies accordingly. It is based on research conducted on Lesvos, Greece, in late September 2015, combined with Mercy Corps' long experience and knowledge of working with youth in conflict-affected countries and displaced communities.
We conclude that Europe must choose engagement over isolation. Research findings include:
These young people are typically motivated by hope, a desire to build a new life and to contribute to a new country. They see no prospect of doing that in overcrowded and underfunded refugee camps where they cannot work. Many have given up hope of ever returning home.
They will not stop coming until the push factors are addressed. Short term measures like upping border controls will not deter them. However, these young people can be a positive opportunity for destination countries willing to welcome them.
We recommend:
Local and national leaders in destination countries should welcome these refugees and adopt policies that help young people integrate into host communities.
International leaders should agree on a comprehensive plan of action to resettle significant numbers of refugees from the Middle East — not just to Europe but to North America, Latin America, Asia and the Pacific.
Governments in the Middle East, supported by donors, should improve conditions and the dignity of refugees, particularly by enabling them to work.