What Next For Nepal? Evidence of What Matters for Building Resilience After the Gorkha Earthquake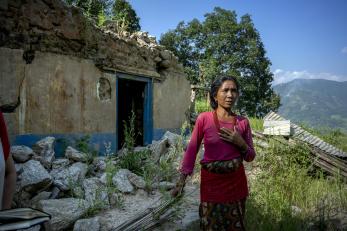 November 26, 2019
When a 7.8 magnitude earthquake struck Nepal in April 2015, the effects were devastating: over 9,000 people were killed and 800,000 homes destroyed or badly damaged, displacing approximately 2.8 million people. Yet as in nearly any disaster, not all households were equally impacted. Some people managed to cope better, and begin recovering more quickly — even when they experienced the same magnitude of earthquake damage. Mercy Corps wanted to understand why, and to identify the sources of their resilience.
Mercy Corps' rapid response to the Gorkha earthquake enabled us to collect data from nearly 1,200 households in severely affected areas. Ten weeks after the earthquake, we found these households varied greatly in their levels of food security, shelter, and abilities to regain their livelihoods. Mercy Corps undertook this research to generate evidence into what types of interventions are most likely to support the resilience of disaster-prone communities. The research set out to understand: What capacities, if reinforced, hold the greatest potential to enhance coping, promote recovery and strengthen the resilience of communities to future natural disasters in Nepal and similar contexts?
Key Findings and Recommendations
Traditional disaster risk reduction (DRR) is often not enough. Existing approaches to community-based DRR may be insufficient to support disaster resilience in contexts of weak governance. Greater emphasis is needed on strengthening household DRR capacity and government responsiveness in DRR.
Who you are, and who you can count on, matter. Caste, gender, and social relationships can determine household welfare after a crisis. Humanitarian actors must do more to support trusted and diverse community groups to maintain mutual support functions following disasters, while ensuring humanitarian responses do not reinforce structural inequalities.
Financial services are critical to resilience, but some help more than others. Informal savings and formal credit appear to be vital in post-crisis contexts. More investment is required to ensure financial institutions can maintain their operations following disasters, when their services are needed most.
Enabling people to get back to work quickly post-disaster is essential. Restoring livelihoods and market functions as part of early response can make major contributions to household coping and recovery. Humanitarian actors should use rapid cash transfer approaches that can meet immediate social protection needs, kick start market functions, and increase economic opportunities.