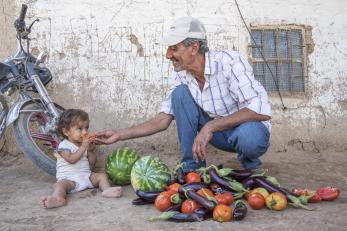 February 20, 2018
Learning from how Syrians have adapted their livelihoods through seven years of conflict
The scale of death and suffering in Syria is monumental. What began as a peaceful protest in 2011 has spiraled into a humanitarian crisis unprecedented for our modern times: The war has killed as many as 400,000 Syrians and displaced 11 million more. Humanitarian needs remain enormous as the conflict wages on. The U.N. estimates that 8 in 10 people in Syria — including 6 million children — require humanitarian assistance. The crisis has set Syria's development back nearly four decades. Despite these immense challenges, Mercy Corps' work in Syria has found that some households are managing the devastating impacts of war better than others. We undertook this research to understand why.
Read the report (US) ▸
Read the report (UK) ▸
Read the policy brief ▸
The importance of data from inside the conflict
While existing research has shown how people rebuild their lives and livelihoods after war, little is known about how people cope and adapt in the midst of a conflict. This study builds on an emerging body of evidence that examines the strategies conflict-affected Syrians employ to protect and adapt their lives and livelihoods and how they feed, clothe and shelter their families. The stakes for development organizations are high: Research in crisis settings has shown that when humanitarian actors fail to understand a population's existing coping strategies, they may inadvertently undermine them.
Identifying and strengthening the conditions that enable Syrians to improve their household welfare can help us meet them with more responsive humanitarian assistance that strengthens the markets they access and the social connections they depend on. The findings and recommendations are based on the original survey and qualitative research in North, Northeast, and South-Central Syria, and they build on the voice of the Syrian people.
While this research is crucial to understanding how best to meet Syrians where they are, it is imperative above everything else that Syria's people be able to live in peace again. The men, women and children of Syria will not be able to build stable lives until they no longer have to worry about dodging bombs and bullets. Peace in Syria is essential and must be achieved as soon as possible.
Key findings
How has the crisis affected Syria's people, and how are they adapting?
Nine out of 10 Syrians live with moderate to severe fear — fear for themselves and their families and the fear of not being able to provide for their families.
Two-thirds of Syrian households have lost one or more of their main income sources since the start of the conflict.
Three out of every four households received humanitarian support in the past year. Despite this, two-thirds of households do not have secure access to food.
Despite the widespread impact of the conflict, one-third (34%) of Syrians are finding ways to adapt their lives and livelihoods. Such adaptation is most present in South-Central Syria.
Households that have started new livelihood sources are better off than "non-adapters." They have better food security and higher expenditures (a proxy for income), despite similar circumstances before and during the conflict.
What enables Syrians to adapt their livelihoods and improve their welfare?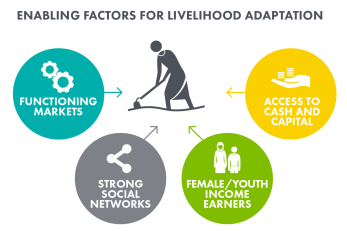 Functioning markets. Markets are largely functioning in even the most conflict-affected communities in Syria. Access to functioning markets is one of the strongest predictors of better household welfare and livelihood adaptation. Stable bread prices, proximity to markets and greater market activity are all positively linked to better household food security and psychosocial well-being.
Access to loans and capital. Syrian households that can borrow money, as well as those who have received remittances in the past six months, have significantly better food security and are more likely to have started a new income-generation activity. Syrians report that loans — primarily from friends, relatives, and local businesses — are most often used as startup capital to initiate new economic activities.
Social networks. Social capital is critical to income-generation opportunities — the vast majority of Syrians state that they found new jobs through friends and family. Additionally, households that have more robust interactions with people outside their communities have significantly better food security, higher expenditures and better housing conditions.
Women and youth income earners. Syrian women and youth income earners overwhelmingly report a positive bump in self-esteem and increased self-reliance. These households also do better on a range of welfare outcomes. However, these changes in household labor come with an opportunity cost: Many youth have abandoned their education, and women's overall burdens have increased. Additionally, men frequently cite the negative psychosocial effects of movement restrictions and their inability to find gainful employment to provide for their families.
Humanitarian assistance. A uniform theme across all respondents in all regions was a clearly stated preference for cash assistance, followed by livelihood-related programs and in-demand skills training. There was a recurrent emphasis on the dignity and flexibility of cash and livelihoods to increase people's self-reliance.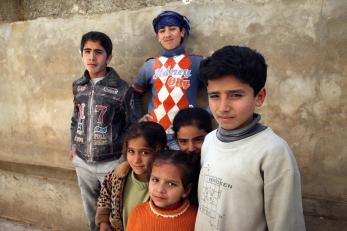 Key recommendations
Livelihood adaptation is not an aberration but rather a regular pattern in the lives of Syrians. In a complex and protracted crisis like Syria's, the aid sector's definition of "lifesaving" must evolve to include "livelihood saving." This central tenet drives our recommendations for NGOs, donors and policymakers:
Support the delivery of unconditional cash assistance. Cash transfer programs must be intentionally designed to stabilize Syrian households, allow them to self-prioritize their household needs, and give them much-needed capital to invest in livelihoods. Cash assistance should also extend to market actors — including agriculture and livestock producers — to strengthen marketplace supplies and increase the availability of locally produced food to benefit the wider community.
Ensure that humanitarian aid strengthens social networks. Dividing communities into "eligible" and "ineligible for aid" based on socioeconomic vulnerability can be particularly divisive between aid recipients and their friends and neighbors whom they depend on in times of crisis but who may not be "eligible" for aid. Aid actors should match the right type of aid — food, cash and livelihood support — to a larger segment of the community based on households' pre-existing skills and capacities and should not solely base it on their vulnerability. The elderly may need food or cash support, but their able-bodied friends and neighbors may be better placed to utilize humanitarian assistance, such as livestock, to generate an income, and market actors that supply key inputs may be best served with cash and business expansion support. A more differentiated approach to targeting humanitarian support can help improve communities' economic self-reliance, spread the benefit of aid, and maintain crucial reciprocity and sharing within communities.
Engage women and youth in meaningful economic opportunities, but don't ignore men. Women and youth have the potential to be positive change-makers in their communities. They need targeted programs that provide meaningful economic opportunities and additional support to mitigate the cost of a missed education or the lack of a support system. That said, don't forget about men. Men are differently and differentially impacted by the Syrian conflict. We must engage vulnerable men in economic opportunities, as well as in a dialogue toward shared domestic and financial responsibilities alongside women. In the longer term, this approach has the potential for positive change.
Remove funding barriers that parse human needs into emergency, early recovery and development phases. This study shows that many Syrians want to recover from the crisis and rebuild their lives and livelihoods as soon as possible. In a protracted conflict like Syria's, humanitarian actors must combine pots of money reserved for "emergency," "recovery" and "development" with the goal of livelihood recovery. For example, we can jump-start livelihood recovery for Syrians by combining "emergency" funds for the provision of cash to meet households' needs, "early recovery" funding that supports income generation, and "development" aid that helps strengthen markets.