Time to Turn Around: The Decline of UK Peacebuilding
The UK is no longer a global leader in conflict prevention and peacebuilding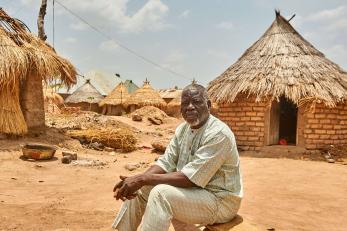 March 13, 2023
Download the brief ▸  
Download the methodology ▸
As the UK's Integrated Review Refresh launches on 13 March 2023, new analysis from Mercy Corps and Saferworld  highlights the government's neglect of its commitments on conflict prevention and peacebuilding spending.
Even as global peacefulness has declined for ten of the past 14 years, UK spending on civilian peacebuilding, conflict prevention and resolution has plummeted by USD$300 million between 2016-2021. This marks a decline from being the largest investor in peacebuilding and conflict prevention in 2016 to the fourth largest, behind Germany, the EU and the US in 2021.
Based on the Organization for Economic Co-operation and Development (OECD) Overseas Development Assistance (ODA) spending data, Time to Turn Around: The Decline of UK Peacebuilding further finds:
This spending fell from $514 million in 2016 to $184 million in 2021.
In 2016, this represented over 4% of the total aid budget. By 2021, only 2% of UK overseas development assistance (ODA) was spent on peacebuilding despite numerous government commitments and a clear global need.
Multiple UK strategies have committed to addressing the root causes and issues driving conflict, including corruption, injustice and unequal access to services and opportunities. Yet the proportion of the UK aid budget spent on tackling these issues has rapidly declined. 
Within the UK's peacebuilding portfolio the UK increased the proportion of its peacebuilding spending which supports gender equality as a principal objective from just 1% in 2016 to 7% in 2019, but it still has a way to go to be on a par with other donors and to meet the United Nations' own 2010 recommended target of 15% of peacebuilding funds
The infographic briefing offers several recommendations to turn around spending for the present government and for political parties to reprioritize the UK's peacebuilding capabilities to address security challenges and prevent conflict overseas.